20 Best Neighborhoods in The Villages Florida in 2023: Ultimate Guide
The Villages, Florida is home to over 100,000 people in multiple neighborhoods and sections. We've put together a list of the best neighborhoods in The Villages Florida so you can get a feeling of what the community has to offer. Then, you can choose the perfect neighborhood for you based on your preferences.
We want to help you find the best fit for your lifestyle to ensure that you can take advantage of all the amenities The Villages has to offer. There are great neighborhoods for those looking for an active social community as well as for those who prefer a more quiet way of life.
There are officially 17 community development districts within The Villages and over 80 neighborhoods, so we reviewed them all and determined the best section to live in The Villages based on different criteria.
Please note that some links below are affiliate links, which means that we receive a small commission if you make a purchase through our links, but at no extra cost to you. Thank you in advance for your support!
Best Neighborhoods near Town Squares
There are 3 town squares that have been built across The Villages. These community centers offer residents numerous shopping, dining, and entertainment activities within a small mini-village that are easily accessible by foot or golf cart. The 3 town squares are:
Spanish Springs Town Square
Lake Sumter Landing
Brownwood Paddock Square
Best Neighborhoods near Spanish Springs Town Square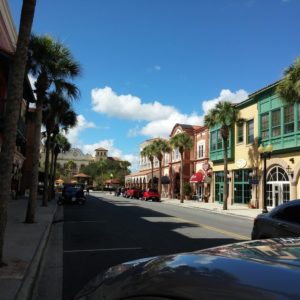 Spanish Springs Town Square is located in the northeast corner of The Villages, where the original community was formed. It offers numerous stores and restaurants, such as Publix, Target, and The Home Depot, and also has a movie theater. This area is great for residents who want the amenities of the community, but also want easy access to the big brand stores.
The best neighborhoods in the Villages Florida near Spanish Springs Town Square are:
Hacienda
Del Mar
Rio Grande
Silver Lake
Orange Blossom Gardens
Country Club Hills
Best Neighborhoods near Lake Sumter Landing
Lake Sumter Landing is a lively market built right on a lake in the middle of The Villages and gives the impression of a quaint seaside village. It offers many bars and restaurants alongside a handful of boutiques. There is even a Starbucks to satisfy your coffee cravings.
This area may very well be the best section to live in The Villages for people who want the feeling of a small downtown while being able to easily access golf courses and swimming pools.
The best neighborhoods near Lake Sumter Landing are:
Bridgeport at Lake Shore Cottages
Bridgeport at Lake Sumter
Bridgeport at Creekside Landing
Virginia Trace
Caroline
Best Neighborhoods near Brownwood Paddock Square
Brownwood Paddock Square is the latest market square to be constructed in the southwest corner of the newest development of The Villages. Completed in 2012, it is modeled after an early 19th century Florida cattle town. It offers restaurants, bars, and a movie theater, as well as free live music 365 days of the year!
The best Neighborhoods near Brownwood Paddock Square are:
If you can't choose among the town squares, then why not consider a neighborhood that is in proximity to all three, but still in a quiet area? There are several neighborhoods in the middle of The Villages that are just a short golf cart ride away from all three, but are still nestled in their own area:
Duval
Hemmingway
Bonita
St. Charles
Best Neighborhoods for Golfing
The Villages offers 12 golf courses totaling almost 700 holes, which makes it the largest golfing community in the world. There are several standout courses that have been routinely rated among the best in the area, which are:
Nancy Lopez Golf Course
Sandhill Executive Golf Course
Bonita Pass Golf Course
Redfish Run Golf Course
Cane Garden Golf Course
The best neighborhoods in The Villages Florida for golfing are:
Green Briar Meadow – near Nancy Lopez Golf Course
Gilchrist – near Sandhill Executive Golf Course
Buttonwood – near Bonita Pass Golf Course and Redfish Run Golf Course
Pennecamp – near Bonita Pass Golf Course and Redfish Run Golf Course
Best Neighborhoods for Walkability
The Villages is a huge, sprawling area with its amenities spread across the region. Most residents can use a golf cart to get around to their nearest town hall, recreation center, restaurants, and golf courses.
But, there are some neighborhoods that offer many amenities nearby and also have some nice, scenic walking trails, making them perfect for those who want to keep fit and walk rather than rely on cars or golf carts.
The best neighborhoods in The Villages Florida for walkability are:
Virginia Trace & Sabal Trace – walking distance to Lake Sumter Landing with easy access to the scenic walking trail around the lake
Country Club Hills – walking distance to Spanish Springs Town Square, tennis and pickleball courts, swimming pool, and restaurants
Fenney – newly developed area with easy access to multiple recreation centers, a golf course, and a nature trail
Linden & Monarch Grove – newly developed neighborhoods in the southern area within walking distance to Magnolia Plaza (with a Publix)
Most Affordable Neighborhoods in The Villages Florida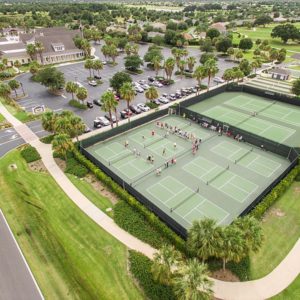 The average sale price for a home in The Villages is currently about $300,000 and they stay on the market for only an average of 1 month. But there are still many pockets of affordable housing within The Villages.
In the Northeast section (the spot of the original development), check out these neighborhoods:
Rio Grande
Tierra Del Sol
Del la Vista
Right in the middle of The Villages, there are 2 neighborhoods that currently have some affordable options:
A lot of homes in the northwest corner of The Villages in Marion County (see the full list below) are also quite affordable. This area may be a bit secluded from the main attractions, but that is also a benefit for those who want a quieter lifestyle:
Springdale
Woodbury
Calumet Grove
Summary – Best Neighborhoods in The Villages Florida
There is really no wrong neighborhood to choose in The Villages. If you combine the elements of affordability, proximity to the town squares, and the level of amenities, we think that Rio Grande, Del Mar, Duval, and Pennecamp are some of the best places to live in The Villages.
But, keep your eye on the new developments in the southwest of The Villages near Brownwood Paddock Square and south of State Road 44. This is an exciting area that has the potential to become the best section to live in the Villages.
Complete List of Villages in The Villages Fl – Updated for 2023
Source – The Villages Community Development Districts website
Lake County:
Country Club Hills
Del Mar
El Cortez
Hacienda
La Reynalda
La Zamora
Mira Mesa
Orange Blossom Gardens
Pine Hills
Pine Ridge
Silver Lake
Valle Verde
Marion County:
Briar Meadow
Calumet Grove
Chatham
Piedmont
Springdale
Woodbury
Sumter County – North of Country Road 466:
Alhambra
Belle Aire
De Allende
De La Vista
Glenbrook
Hacienda
Palo Alto
Polo Ridge
Rio Grande
Rio Ponderosa
Rio Ranchero
Santiago
Santo Domingo
Summerhill
Tierra Del Sol
Sumter County – South of Country Road 466:
Amelia Bridgeport at Miona Shores
Ashland
Belvedere
Bonita
Bonnybrook
Bridgeport at Creekside Landing
Bridgeport at Lake Miona
Bridgeport at Lake Shore Cottages
Bridgeport at Lake Sumter
Bridgeport at Laurel Valley
Bridgeport at Mission Hills
Buttonwood
Caroline
Duval
Hadley
Hemingway
Largo
Liberty Park
Lynnhaven
Mallory Square
Pennecamp
Poinciana
Sabal Chase
St. Charles
St. James
Sunset Pointe
Tall Trees
Tamarind Grove
Virginia Trace
Winifred
Sumter County – South of Country Road 466A:
Charlotte
Collier
Collier at Alden Bungalows
Collier at Antrim Dells
Dunedin
Fernandina
Gilchrist
Hillsborough
LaBelle
Lake Deaton
Osceola Hills
Osceola Hills at Soaring Eagle Preserve
Pinellas
Sanibel
Sumter County – South of State Road 44:
Bradford
Chitty Chatty
DeLuna
DeSoto
Fenney
Hawkins
Linden
Marsh Bend
McClure
Monarch Grove