The 18 Best Places to Live in Arizona in 2023 | Update with New Rankings
After looking through all the data and speaking with locals who actually live there, we have found the 18 best places to live in Arizona for 2023. All of these best cities and towns in Arizona provide an authentic experience with a great quality of life.
They also offer tons of entertainment options and an overall strong sense of community. We also made sure to find places that allow you to easily take advantage of Arizona's majestic outdoors.
To rank these cities and towns, we factored in things like:
Affordability

Nightlife and entertainment

Parks and recreation

Quality of education

Arts and culture scene

Overall vibe and ambience
So, let's take a look at the best cities in Arizona to live in 2023 and find out what makes them so desirable so that you can decide on where to move to next.
Please note that some links below are affiliate links, which means that we receive a small commission if you make a purchase through our links, but at no extra cost to you. Thank you in advance for your support!
18. Flagstaff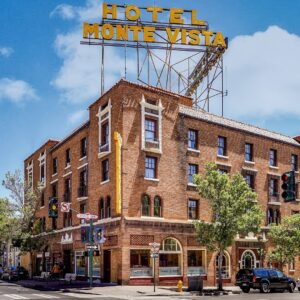 Location: Check on Google Maps
We start our list of the best places to live in Arizona with Flagstaff, which is the largest city in Northern Arizona. It is where Northern Arizona University is located, which gives the city an immediate cool vibe with a strong college town ambience.
Go to its historic downtown and you will find buildings still styled in old architecture that house numerous independent boutiques, locally-owned restaurants, and cozy cafes.
Flagstaff's proximity to nature and the Grand Canyon also allow its residents to take advantage of excellent hiking and biking trails as well as skiing in the winter.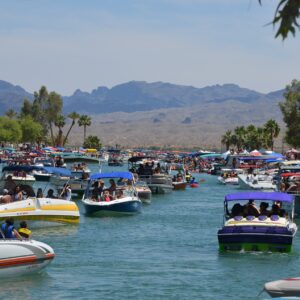 Location: Check on Google Maps
Lake Havasu City is possibly the most lively and energetic place on this list, at least during the spring. The city is situated right on the lake on Arizona's western border with California and has a reputation of being the place to be for college kids during Spring Break.
Lake Havasu City is truly a place to have fun and relax. The waterfront is filled with beaches and resorts while the city streets are packed with restaurants, bars, and nightclubs that keep the party going all night long.
However, it's not just for the young. Lake Havasu City is also a cool place to bring the whole family to get out on the water and enjoy a laid-back atmosphere.
16. Surprise
Location: Check on Google Maps
Don't be so "surprised" to see Surprise, Arizona on this list of the best places to live in Arizona. It has been growing nicely since it started as a 1 square mile plot of land in 1938.
Today, there are over 140,000 people living in this suburb of Phoenix that offers an extremely affordable way of life, especially compared to the other cities in the area.
The cost of living in Surprise is just 2% higher than the rest of Arizona, which is a great deal considering that it is only 40 minutes from downtown Phoenix.
15. Arcosanti
Location: Check on Google Maps
There is no other city in Arizona (or in the world even) that is quite like Arcosanti. Located in a secluded part of the desert about an hour north of Phoenix, Arcosanti was created in the 1970s as a planned city for the future. It was designed by Paolo Soleri, an Italian architect, whose vision was to develop a city that could live self-sufficiently and in harmony with nature and be the answer to issues of suburban sprawl.
This "urban experiment" is now home to about 80 part-time residents who live in the futuristic buildings that look like a colony from Mars, making it one of the quirkiest and coolest places to live in Arizona.
14. Sedona
Location: Check on Google Maps
Sedona is quite possibly the prettiest city on this list (it's own motto is "The Most Beautiful Place on Earth"). It is located in the heart of the desert among majestic red rocks and a never-ending landscape of mountains, canyons, and forests.
In the city itself, you can find over 80 art galleries that offer fine art paintings, contemporary jewelry, beautiful wood carvings, and much more.
Additionally, there are many fantastic small restaurants, bars, and cafes that line the streets of this picturesque and artistic town, making it a fine choice as one of the best cities to live in Arizona.
13. Scottsdale
Location: Check on Google Maps
Scottsdale is a suburb of Phoenix, but it has developed into its own city with its own identity as well. It's one of the swankiest communities in Arizona and has been called "The Beverly Hills of the Desert."
Here, you will find an endless array of upscale places to eat and luxury resorts and spas to relax in. There is also a neighborhood dedicated to the arts called the "Arts District," where you can find attractions like the Scottsdale Museum of Contemporary Art alongside dozens of other art galleries that offer local pieces, making it one of the most cultured places on this list of the best places to live in Arizona.
12. Bisbee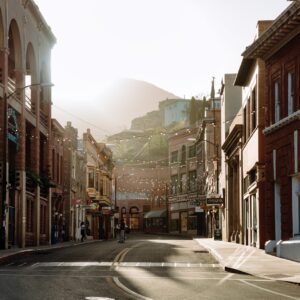 Location: Check on Google Maps
This old mining town that is just a few miles away from the southern border with Mexico has developed into a haven for hippies and eclectic personalities in Arizona. The streets of Bisbee are lined with beautiful, colorful buildings that house one-of-a-kind galleries, antique stores, and specialty boutiques.
This is a place where you definitely can feel the creative energy in the air.
There are also numerous bars, breweries, and restaurants that also offer a similar feeling here, with many of them being locally-owned.
We think Bisbee is one of the best cities to live in Arizona for those looking for a small and quiet, yet tight-knit community.
11. Phoenix
Location: Check on Google Maps
Of course, Phoenix makes our list of the best places to live in Arizona. The state capital offers an endless list of entertainment choices that the whole family can enjoy, ranging from sports to the arts to dining and nightlife options.
Don't miss the Roosevelt Row Arts District, which is filled with boutiques and art galleries. Also, check out one of the many museums that Phoenix has to offer, like the world-renowned Phoenix Art Museum or the Arizona Science Center.
10. Tempe
Location: Check on Google Maps
Tempe is best known as the college town home to Arizona State University, one of the largest colleges in the nation. It delivers one of the best nightlife scenes in Arizona and constantly exudes a lively, young energy that the 50,000+ students bring each semester, making it one of the best and coolest places to live in Arizona for students and young professionals.
Of course, this flourishing city also offers many other entertainment options for people of all ages. There is always live music coming from the bars and venues, theaters that host plays year round, and galleries that showcase some of the best local talents.
9. Buckeye
Location: Check on Google Maps
Not only has the sprawling city of Buckeye become one of the most popular cities in Arizona, but also in the whole U.S. as well. It is one of the fastest-growing cities in the entire nation and is now home to over 100,000 residents. Not bad for a community that started as a small suburb one hour from Phoenix.
What has attracted so many people to Buckeye? It's likely due to its beautiful landscape, affordable housing, and family-friendly amenities.
Buckeye is located at the frontier of the vast Arizonian deserts and offers tons of outdoor experiences for nature-lovers. Its expansive growth has also attracted many new restaurants, shops, and entertainment options.
The best part is that housing in Buckeye is about 10% lower than the Arizona state average, making it an extremely affordable place to settle.
8. Marana
Location: Check on Google Maps
Marana is located just 20 miles from downtown Tucson and is the perfect community for those looking for excitement, nature, and many things to do in a charming small town environment.
Outdoor explorers can enjoy easy access to Saguaro National Park, which is just 15 minutes away, as well as the Tortolita Mountains, which are only 20 minutes in the other direction.
Additionally, the city provides entertainment and events for the whole family to enjoy, including the Heritage River Park Splash Pad and numerous festivals throughout the year.
Marana has also earned a reputation for offering some of the best Southwestern food delicacies in the region and even offers UNESCO-approved Gastronomy Tours.
7. Peoria
Location: Check on Google Maps
This rapidly growing suburb of Phoenix offers an attractive mix of outdoor recreation, expansive public spaces, and a lively entertainment district that makes it one of the most well-rounded cities on this list.
Residents here can enjoy a visit to Lake Pleasant and its Regional Park or take a trip to the modern P83 Entertainment District that features places to shop, eat, drink, and have fun. It also houses the sports complex that is the spring training home of the Seattle Mariners and San Diego Padres.
Peoria also offers a historic old town neighborhood that has developed into a thriving hub for arts and entertainment.
6. Goodyear
Location: Check on Google Maps
Goodyear has been experiencing tremendous growth recently, in both its population as well as its things to do and job opportunities.
This Phoenix suburb is also the ideal place for baseball lovers, as it is the spring training home to the Cincinnati Reds and Cleveland Indians.
Nature lovers will also enjoy Goodyear, especially the beautiful Estrella Mountain Regional Park that is just 5 minutes from the center of town.
It even has its own private airport, the Phoenix Goodyear Airport.
5. Gilbert
Location: Check on Google Maps
What makes this suburb of Phoenix so desirable is its small town feel that is matched with large city amenities. Downtown Gilbert features the Heritage District, which is a mix of over 30 restaurants and bars that adds to the city's liveliness. Gilbert even made it on to Money's latest list of the best places to live in the nation.
It has a low crime rate and a strong school system, making it a great choice for families as well. Its proximity to Phoenix also adds to its attractiveness.
4. Mesa
Location: Check on Google Maps
Mesa started as a small suburb of Phoenix, but has developed into the largest suburb in the whole US. 504,000 people live in this community that is just 20-30 minutes away from downtown Phoenix.
The city itself has developed into its own attraction with many things to do, such as the Arizona Museum of Natural History, Mesa Arts Center, and Hohokam Stadium, which is the spring training home of the Oakland Athletics.
Mesa is also one of the most affordable suburbs in the area, with home prices that are just 1% higher than the state average.
3. Tucson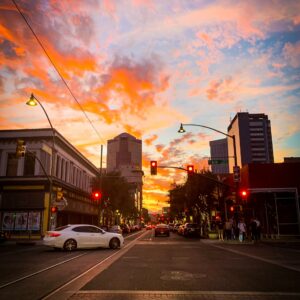 Location: Check on Google Maps
Tucson is the 2nd most populated city in the state and is full of culture and cool neighborhoods in virtually every part of town.
It is home to numerous museums, like the Arizona-Sonora Desert Museum, Tucson Museum of Art, and Pima Air & Space Museum. It also offers tons of things to do and culture to absorb in its historic neighborhoods.
Tucson was even ranked as one of the most popular hipster cities, which was based on how many trendy places like vegan cafes, microbreweries, and thrift stores there are in each city, making it one of the best places to live in Arizona for living an alternative lifestyle.
If you ever get bored of the city, you can always explore the beautiful and vast expanses of nature that surround Tucson. For example, the world famous Saguaro National Park is just 15 minutes from downtown.
2. Prescott
Location: Check on Google Maps
This small city of just over 40,000 residents sits alone in the desert about 1.5 hours north of Phoenix. Yet, we think it is one of the best areas to live in Arizona.
It is close to tons of nature and offers several lakes and phenomenal hiking trails. There is also the beautiful Prescott National Forest that is located directly next to the city.
Additionally, Prescott features a historic downtown district that gives you the feeling of being in the Old West. If you want something a bit more contemporary, you can visit Whiskey Row, which is the lively core of Prescott's energetic nightlife.
Meanwhile, you can also relax while strolling around Courthouse Plaza, which is a grassy public square that is surrounded by unique boutiques and gourmet restaurants.
1. Chandler
Location: Check on Google Maps
Chandler tops our list as the best place to live in Arizona in 2023. This thriving suburb of Phoenix is located just 30 minutes from downtown Phoenix. But, it is a great place to live on its own, with a well-developed community, a thriving downtown, and numerous job opportunities as well.
Many large companies have their headquarters in Chandler to access its well-educated population, which in turn has led to higher salaries.
Meanwhile, Chandler is also still relatively affordable, especially compared to neighboring Scottsdale.
It is also one of the most established suburbs of Phoenix and is a great place to live in Arizona for virtually all ages, from young professionals to retirees.
Summary – Best Places to Live in Arizona
Here are the top 18 places to live in Arizona:
Chandler
Prescott
Tucson
Mesa
Gilbert
Goodyear
Peoria
Marana
Buckeye
Tempe
Phoenix
Bisbee
Scottsdale
Sedona
Arcosanti
Surprise
Lake Havasu City
Flagstaff
These are definitely the best cities to live in Arizona based on what they have to offer and their overall culture. This list features a wide range of cities and different reasons that make them so great for all ages. It is now up to you to decide which one suits you the most.