12 Best Places to Live in South Carolina – New 2021 Rankings
We've looked through all the cities in South Carolina to find the 12 best places to live in South Carolina for 2021. Our team evaluated stats from many different databases to ensure that we covered all aspects of what makes a city great, including:
Cost of living
Job prospects
Desirability
Crime rates
Commute time
Things to do
We also cross-referenced our findings with the most recent ratings from large news sources such as US News & World Report, Wallethub, Niche.com, and Marketwatch.
Our list includes both large cities and small towns to make sure that there is something for everyone, including young professionals looking for a new job, families who want a safe and quiet community, and retirees who want to enjoy the best years of their life with a high standard of living.
South Carolina has been gaining popularity recently. This state of 5.2 million people saw an increase of 1.2% in 2020, which made it the 6th fastest growing state in America.
It is easy to understand why South Carolina has been attracting so many new residents. It offers many large cities and charming small towns with fun things to do at an affordable price.
There are also miles of beaches and coastlines on the Atlantic Ocean on the eastern border of the state, giving you tons of opportunities to enjoy the warm summers and mild winters that make South Carolina so famous.
Don't forget about the mountain region, too, giving you wonderful options for hiking and biking.
South Carolina was also one of the original 13 colonies of America, so it has a rich history and offers many museums for history buffs as well.
Sounds like a nice place to live, right? So, read about the 12 best places to live in South Carolina and start planning your move to the Palmetto State today.
Please note that some links below are affiliate links, which means that we receive a small commission if you make a purchase through our links, but at no extra cost to you. Thank you in advance for your support!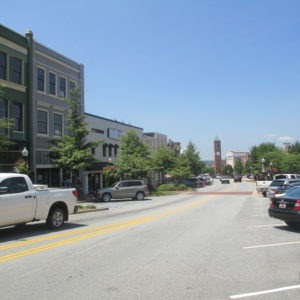 Spartanburg is a small city of 37,000 people in the north part of South Carolina. It is well-known for its beautiful scenery and proximity to the mountains. The city itself offers a small town feel, but actually has lots to offer.
The revitalized downtown is home to many gourmet restaurants, cafes, and craft breweries. The economy has also been experiencing a boom, with several large corporations setting up offices in or around the area, such as BMW and Denny's.
Spartanburg is also a major education hub in South Carolina, featuring Wofford College, Spartanburg Methodist College, Converse College, USC Upstate, and Spartanburg Community College.
The best part about Spartanburg is its affordability. It made US News & World Report's "Cheapest Places to Live" list, coming in at #25.
Tega Cay
Tega Cay is a great choice for families looking for a safe area with a great school system. This quiet community of 7,600 sits right at the border of South Carolina and North Carolina and is only 20 miles from downtown Charlotte.
It's a planned city that was built on a peninsula along Lake Wylie, allowing it to be surrounded by the water.
Tega Cay also offers numerous leisure activities around town, with golf courses, tennis courts, pickleball courts, baseball and soccer fields, and miles of walking trails scattered across the town.
Its proximity to Charlotte and relaxed living right on the water make Tega Cay one of the most desirable small towns to live in South Carolina. It was even ranked the #1 best place to raise a family in South Carolina.
Hilton Head Island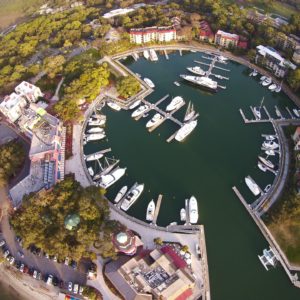 Hilton Head Island is not just for tourists and vacationers. It is actually one of the best places to live in South Carolina as well. It is especially great for retirees, as it was named the 3rd best city to retire in South Carolina.
It is located right on the shores of the Atlantic Ocean, allowing residents to access the beach all year round and take advantage of South Carolina's great weather.
It is also just 40 minutes to Savannah, Georgia and 1.5 hours away from Charleston, giving you the choice to enjoy a bigger city and its amenities or to relax on the waterfront at home.
But, it does come at a price. Hilton Head Island's high standard of living comes with its high cost of living. It is about 34% more expensive than the national average.
Lexington
Lexington, South Carolina is a small, tight-knit community of 20,000 residents and is a suburb of Columbia that is only 20 minutes away from the state capital. It has been growing in popularity recently, especially among young professionals and families.
Geographically, it is located right on Lake Murray, giving residents easy access to boating and fishing, while it is also just a short drive away from the mountains.
Meanwhile, the town itself offers many things to do. There are many locally-owned stores and a small town feel, but also with enough big city amenities, with large chains like Walmart, The Home Depot, Starbucks, and Chick-fil-A all present within the city limits.
The University of South Carolina is also nearby in Columbia.
Fort Mill
Fort Mill is another small suburb of Charlotte that sits right at the northern border with North Carolina. It is surrounded by nature and offers tons of hiking and biking trails nearby. There are numerous parks around the city as well.
Fort Mill also features a cute downtown area with many locally-owned shops, bars, and restaurants lining its historic Main Street.
To top it all off, there is a strong focus on education and Fort Mill's school system has been consistently rated as one of the best in the state, earning an A+ rating from Areavibes. Meanwhile, its crime is also low – 52% below the national average.
Columbia
Columbia is South Carolina's state capital and it offers a diverse amount of things to do for all ages. It is the 2nd largest city in the state, with a population of 131,000 scattered among its revitalized downtown core and surrounding suburbs.
Columbia's relatively low cost of living, especially for a state capital, makes it quite an attractive place to live. It is 4% cheaper than the national average, while housing costs are 11% lower.
The University of South Carolina is also located right in the middle of the community, giving the city a youthful energy with the buzz of a college town, especially when the USC Gamecocks are in town.
Residents also have easy access to many state parks and lakes nearby, while its downtown offers many amenities, such as top-tier restaurants, fun bars, and cozy cafes.
Clemson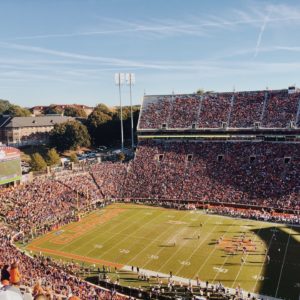 Clemson is a picturesque college town of 13,900 people that sits near the northwestern border of the state, close to North Carolina and Georgia. It is home to Clemson University and is a family friendly community filled with students and professors.
The university provides a strong lift to the local economy and offers tons of things to do, including a great nightlife scene and excellent amenities for a town this size.
Clemson is also home to the South Carolina Botanical Garden and is close to Lake Hartwell and many local parks.
The cost of living in Clemson is 1% below the national average, which makes it a pretty good deal considering the high standard of living that it offers.
Myrtle Beach
Myrtle Beach is well-known as a hotspot for roughly 14 million vacationers and beachgoers each year. But, it is more than just a tourist town. Of course, residents can benefit from all the amenities that have been built to attract tourists, including the beachfront, amusement park, boardwalk, golf courses, shopping malls, and live music venues.
Additionally, there are many green areas around the city, including Myrtle Beach State Park and the Waccamaw National Wildlife Refuge, which is a 55,000 acre wetlands and forest.
There are also an endless number of restaurants, bars, and cafes to try around the city, making it a great choice for young professionals, too.
If that is not enough, Myrtle Beach also has its own international airport, making it very convenient for frequent travelers.
Rock Hill
The charming city of Rock Hill is home to 70,000 residents and is the 5th largest city in South Carolina. It is close to Charlotte, sitting at the border between North and South Carolina. Rock Hill is near the smaller towns on our list of Tega Cay and Fort Mill, but is quite a bit larger and thus offers more opportunities for its residents.
For example, the city has a rich history and is filled with museums and art centers. Rock Hill is also home to Winthrop University, which helps add to the cultural vibes of the city.
Meanwhile, there are tons of parks and public plazas in and around Rock Hill that make it an outdoor lover's dream. If you combine that with the strong sense of community that has been cultivated here, it is easy to see why Rock Hill is one of the best places to live in South Carolina.
Greenville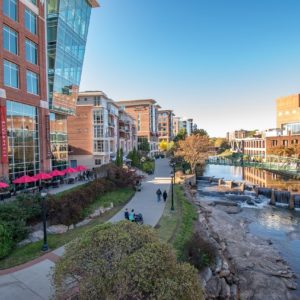 Greenville has been generating a lot of buzz recently, based on its revitalized downtown and continued economic growth. Big companies such as Michelin and GE have established a large presence in Greenville and the city continues to attract new businesses.
But, Greenville's expansion doesn't mean it has lost its small town charm. There is the beautiful and walkable downtown district that is home to many top restaurants and bars. In fact, Greenville has become an emerging hotspot for foodies across the state.
Meanwhile, nature lovers will benefit from Greenville's ideal location at the base of the Blue Ridge Mountains. There is also ample green space across the city, most notably Falls Park on the Reedy, which includes a waterfall of the Reedy River that runs through the city.
Greenville was also named the 2nd best place to live in South Carolina by US News and World Report.
Mount Pleasant
Mount Pleasant is a large suburban city of Charleston that is less than 20 minutes from downtown Charleston. But, it offers a quieter and more relaxed lifestyle than the big city, yet still provides many things to do.
The strong job market around Mount Pleasant and Charleston has attracted many young professionals, while the above-average school system makes it a good choice for families. Retirees (and everyone for that matter) can also enjoy the easy access to many different beaches and parks in the area, too.
Meanwhile, crime rates are very low, coming in at 46% lower than the national average. However, this high standard of living does come at a price. The overall cost of living is almost 30% higher than the rest of the US.
Charleston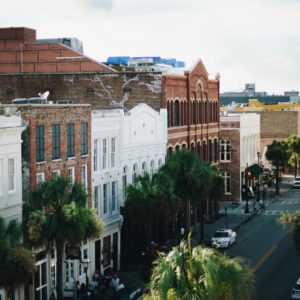 After all our research, we have found Charleston to be the best place to live in South Carolina. It has recently become the biggest city in South Carolina and is the crown jewel of the state.
Sitting right on the shores of the Atlantic, its prime location allows for easy access to some of the best beaches on the eastern shores. It is also just 2 hours from Myrtle Beach and Savannah, Georgia.
The city itself is something special. Its historic, tree-lined, cobblestone streets stir up feelings of nostalgia and wonder, while it blends in modern amenities such as a buzzing nightlife and award winning dining options all across the city.
Meanwhile, it offers a strong job market, good schools, and relatively low crime, making it a great blend for all residents.
Charleston's sense of community is also very strong and you can really feel the warmth of its southern hospitality.