10 Most Economically Resilient Cities in the US – 2022 Edition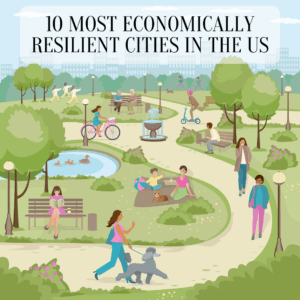 Resilience. Toughness. Grit. The economies of some cities have proven to demonstrate these traits and have been able to weather financial storms like recessions and periods of inflation better than others.
But, what makes a city economically resilient? Is it even possible that some places are recession-proof or antifragile and can actually grow and benefit from volatility? Also, is there a way to quantitatively measure these aspects?
With today's soaring inflation and a looming recession, it is the perfect time to find America's most resilient economies in 2022.
We wanted to identify places that feature a diversified economy that could weather any financial storm and a robust infrastructure that will ensure sustainable success.
To determine the most economically resilient cities across America, we examined seven key metrics across three main categories, which include:
Workforce Diversity:

how well the the city's economy can attract and maintain a diverse set of high-value employees and provide job opportunities that mix traditional and cutting edge industries together
Planning & Support:

leadership from local officials and non-governmental organizations to provide funding, programs, and the right investments and expansion projects to future-proof the city, provide fair and inclusive opportunities, and promote economic mobility
Economic Outcomes:

the financial results of a city's workforce structure and support on recession resistance, inflation defense, and overall productivity over the long-run
For the last category, we specifically looked at each city's performance during the last three major recessions (the Dotcom Bubble Burst of 2001-2002, The Great Recession of 2008-2010, and the COVID Recession of 2020) as well as how each city has fared with inflation and GDP growth over the last 20 years.
Finally, we looked for communities that are not only fiscally strong, but also provide a vibrant and fun place to live in regardless of the economic conditions.
Our Research Methodology
To determine the eligibility of a city for this study, we set a minimum criterion of a population size of 100,000 residents. That left us with 331 cities to examine across the US.
Here is a detailed breakdown of the seven metrics across our three categories that we evaluated each city on:
Workforce Diversity
1. Demographic Diversity – variety of the workforce, including age, race, and education, sourced from the US Bureau of Labor Statistics' "Labor Force Statistics" database
2. Job Diversity & Creation – measure of the different types of industries available along with job creation figures per industry, sourced from the US Bureau of Labor Statistics' "Labor Force Statistics" database and Chmura Economics & Analytics' "Economic Diversity" index
Planning & Support
3. Local Programs – evaluation of past, present, and future efforts to provide a robust foundation for the city, sourced from various official city government plans, non-governmental organizations, and third-party reports
4. Population Stability – the change in the city's population from 2000 to 2020 as a proxy for how well the city can attract and maintain a community, sourced from the US Census Bureau's "Census of Population and Housing" database
Economic Outcomes
5. Recession Resistance – seasonally-adjusted unemployment rates for three distinct recession periods during the last 20 years, 2001 to 2002, 2008 to 2010, and 2020, sourced from the US Bureau of Labor Statistics' "Local Area Unemployment Statistics" database
6. Inflation Defense – seasonally-adjusted annual Consumer Price Index for all items from 2001 to 2022, sourced from the US Bureau of Labor Statistics' "CPI for All Urban Consumers" database
7. Productivity – real GDP by Metropolitan Statistical Area from 2001 to 2022, sourced from the Bureau of Economic Analysis' database
We then developed a database to measure every city in each of these metrics and chose the top ten cities that scored the highest overall across all the categories.
However, we chose not to rank the finalists in any order since these categories are not directly comparable to each other. There is a mix of cause and effect variables here and we don't believe that you can combine them for a final score. A weighting system would also be too simplistic and may not capture the appropriate impact of each category.
Instead, their overall high ranking is relative to the performance of the rest of the cities in America.
The 10 Most Economically Resilient Cities in the US
Arlington, Virginia
Arlington has managed to weather virtually every period of economic hardship over the past 20 years and was one of the top performers on this list when it comes to recession resistance.
In fact, Arlington managed to beat the US unemployment rate by 20% to 30% in each recession since 2000. At the height of the 2008 to 2010 Great Depression, Arlington's real GDP was only down 0.4% while the rest of the US reduced its output by almost 3.0%.
How has Arlington been able to provide such consistent results?
One of the primary drivers of their strong performance is due to the city's well-educated and diverse workforce, where 75% of the adult population holds a Bachelor's Degree or higher. Additionally, the city benefits from a pipeline of new graduates from 60 major colleges and universities in the area.
These factors continue to attract significant investments into the city, including the construction of Amazon's HQ2 that is slated to bring in an additional 25,000 jobs by 2030.
Austin, Texas
Austin's meteoric rise towards becoming one of the country's hottest tech hubs and startup scenes has been well-documented, but it is the city's sustained economic resiliency over the long-run that has propelled it to where it is today.
In fact, the city has gotten stronger over the past few years, posting the highest change in real GDP growth on this list over the last 20 years. Austin's GDP has expanded 142% since 2001, which is even more impressive given that three recessions have taken place during that time frame.
The city's GDP even grew 1.2% in 2020, a year where the rest of the US declined by 3.5% on average.
As the second fastest-growing city on this list, the City of Austin has also done a tremendous job in adapting its policies and infrastructure to promote such prosperity. The city's preparedness is best exemplified by Downtown Austin Alliance's "Roadmap to Recovery and Resilience," a specific and detailed strategy that helped identify and execute impactful community projects, including new investments related to the I-35 corridor update as well as the South Central Waterfront Initiative.
Boise, Idaho
Boise is another city that has received a lot of attention recently, from its title as the fastest-growing city in 2018 to having one of the hottest post-pandemic housing markets in the nation.
But, long-time residents know that Boise has always provided a solid foundation during both prosperous and turbulent times.
Let's start with the facts. Throughout every major recession of the last 20 years, Boise's unemployment rate has consistently managed to be lower than the US average. In fact, Boise's unemployment rate continues to hover around historic lows now in 2022.
It also helps that both the city and the state of Idaho are fiscally well-managed. Idaho was recently upgraded to an AAA credit rating from Moody's, while the city continues to secure a significant amount of federal funding for initiatives like affordable housing and public parks.
Boise has also launched their Climate Action Roadmap, which will help strengthen the city's long-term resiliency.
Finally, the city's workforce benefits from being the regional center of knowledge and gets a perpetual boost from the 20,000+ students at Boise State University.
Des Moines, Iowa
Nothing seems to disturb Des Moines from its relentless pursuit towards resilience. It's not one of the fastest growing cities on this list. In fact, its population change of just +8% over the last 20 years is actually below the US average. It's also not perceived to have a thriving startup culture or an ultra-diverse industry compared to other cities on this list.
However, that makes Des Moines' resiliency all the most impressive.
Des Moines was surprisingly the strongest economy on this list when it came to performance during recessions. Its average unemployment rate during all three recessions during the last 20 years was 36% better than the US average. No other city on this list was even 10% within this figure.
It also had the 5th best growth in real GDP since 2001, which is quite impressive for the 2nd smallest city listed here.
So, how does Des Moines manage to continuously provide such excellent performance?
It starts with a local government and partners that invest time and money into the capital city. $3 billion have been invested over the past 10 years while there are an average of 40 improvement projects underway at any moment across the city.
Des Moines is also very transparent with its developments and invites its residents to monitor all of its ongoing projects through this interactive map.
Fort Collins, Colorado
Fort Collins is the smallest city on this list with just 169,000 residents, but it has proven to be one of the most resilient economies within the US.
Since 2001, Fort Collins has endured all three recessions significantly better than the rest of the US on average, with some of the lowest unemployment rates on this list during each economic downturn.
In fact, Fort Collins' employment figures during the 2020 recession was the 3rd best on this list, which shows their ability to maintain a resilient economy in modern times as well.
In turn, the city has been able to attract many new residents. Since 2000, Fort Collins has added 43% more residents, which only trails Raleigh and Austin as the fastest-growing on this list. This sustained population boom has also led to the 3rd largest real GDP growth over the last 20 years.
One of the primary drivers behind this growth has been Fort Collins' ability to bring in new and diverse businesses. It is routinely ranked as one of the best places in the US for businesses and for job growth.
The city's finances have also been well-managed. It received the highest credit rating from Moody's, which is achieved by only 4% of governments nationwide. Additionally, Fort Collins uses their resources on many impactful community projects that help improve the city's overall livability and economic resilience, including previous programs to reduce flooding and a distinct "Resilient Recovery Plan" after the pandemic.
There are also local movements like "Transition Fort Collins" that aim to support resiliency and sustainability for the local economy.
Jacksonville, Florida
While Jacksonville has long been considered the financial hub of Florida, its economy is actually much more diversified and has fostered numerous emerging industries that have kept it resilient.
Its unemployment rate was below the US average during both the 2001 to 2002 recession as well as the most recent 2020 recession, while it matched the US average during The Great Recession.
Meanwhile, its GDP growth only slipped by 0.2% in 2020 when the rest of the US decreased by 3.5% on average.
These strong results have clearly been boosted by Jacksonville's diverse and educated workforce. The city has gone beyond finance to also target advanced manufacturing, aviation and aerospace, and information technology companies.
Additionally, Jacksonville received the 2nd largest inflow in population in 2021, increasing its job force by 6.5%.
It is also serious about how the climate could impact its resiliency. Therefore, the Jacksonville City Council established "Resilient Jax," a proactive committee tasked to develop a strategy to become more resilient against the climate, which will undoubtedly benefit the city's economy as well.
Kansas City, Missouri
Kansas City has turned out to be an extremely stable place economically over the past 20+ years. Inflation numbers in Kansas City have routinely been below the US average since 2000, while its job market remained relatively strong during each of the three most recent downturns.
While growth across the rest of the Midwest has been pretty stagnant, Kansas City has continued to attract new residents, growing by 15% in population and 35% in real GDP since 2000.
This growth has been spurred by the substantial investments and efforts by numerous local initiatives. Here, planning for the future lets the people of Kansas City know that there is a bright one ahead.
There are many active programs today that focus on the city's resilience, including the Climate + Health Declaration, the collaborative update of the City's Comprehensive Plan, and even a community resilience archive.
Meanwhile, there have been significant (and successful) efforts to revitalize Downtown Kansas City, with $9 billion being poured into the community.
But, these investments have not been made haphazardly. The City offers a transparent list of many community projects on its official website, which reflects its ongoing accountability that has been instrumental to its long-term resilience.
This strong planning has led to an extremely dynamic economy that ranks 4th in the nation in terms of economic diversity, which is the highest on this list.
The world is even taking notice, as Kansas City was recently chosen as one of the cities in North America that will host the 2026 World Cup, beating other top cities like Orlando, Nashville, and Washington D.C.
Minneapolis, Minnesota
Minneapolis has emerged as one of the most consistent modern economies in the nation. It is one of only four cities on this list that posted unemployment rates that were 20% or more lower than the rest of the US during the last three recessions. It has also been below the US average for inflation virtually every year over the last 50 years.
Minneapolis' steady prosperity starts with its progressive infrastructure, which continues to develop to truly meet the needs of its community. It is one of the most bike-friendly cities in the world and offers one of the best public transit systems in America. Minneapolis also provides the most green space per capita out of any large city in the US.
Education plays a large part in Minneapolis' sustained economic resilience. The city has done an exceptional job at attracting and retaining college-educated residents. It has routinely been named as one of the best cities for new graduates, while over half of its population holds a four-year degree, which has also helped to promote greater economic mobility within the city.
It helps that the region offers a vast range of industries that provide stability during different economic cycles. Sectors like manufacturing, transportation, and financial services are balanced with other large categories like healthcare, educational services, and agriculture over the long-term.
This dynamic mix of businesses has propelled Minneapolis to become one of the most economically diverse cities in the US.
Raleigh, North Carolina
The Research Triangle has proven to be fertile ground for Raleigh to cultivate its economic resilience, especially over the past quarter-century. In fact, it seems like the city gets stronger as the years go on.
No set of figures exemplify this trend more than Raleigh's performance during the last three major recessions. Its unemployment rate was just 4% lower than the US average during the early 2000s recession, but improved to being 10% lower during the Great Recession, and then around 24% lower during the 2020 recession.
Raleigh also bounces back quicker than the average US city and has shown tremendous experience on how to consistently expand their economy. They posted the 2nd best growth in real GDP on this list, up an astounding 100% since 2001.
This sustained level of resiliency hasn't gone unnoticed as Raleigh continues to attract new residents who want to partake in its reliable economy. The city has added almost 70% more residents since 2000, the highest percentage change on this list.
It is also ranked as one of the best cities for new college grads, which the city does a good job of retaining as well since it also has the 4th highest portion of a population with a four-year degree in the nation.
There is little doubt that Raleigh will continue to flourish regardless of the economic situation as their diverse industries are positioned well to withstand a downturn. Of course, the Research Triangle is famous for its research & education and life sciences opportunities, which are generally quite recession resistant, but it also features many forward-looking sectors like cleantech and advanced manufacturing that will help to future-proof Raleigh's economy.
Tampa, Florida
Tampa has been one of the nation's leaders in actively planning for the future, undoubtedly due to the climate risks they face sitting on the water on the western shores of Florida.
But, the city has chosen to take this challenge as an opportunity and developed a "Resilience Roadmap" in 2021 with a four-pronged approach – providing more opportunities and economic mobility, developing neighborhoods, improving its infrastructure to withstand the climate, and continuing to grow the city in an inclusive and equitable way.
This plan reflects the local government's dedication to their residents, which is nothing new since their continued efforts have allowed Tampanians to enjoy tremendous prosperity, especially over the past few years.
The nation's 7th most diverse economy has produced consistent results, even during the most recent recessions. Tampa posted a lower unemployment rate compared to the rest of the US in two out of the last three major recessions and has grown by almost 50% in real GDP since 2001.
Successful projects like the revitalization of downtown Tampa and the Tampa Riverwalk have acted to attract new residents and provide more opportunities for work and leisure for all.
With $13 billion worth of new projects currently being built, there is no doubt that the city will continue to thrive as well.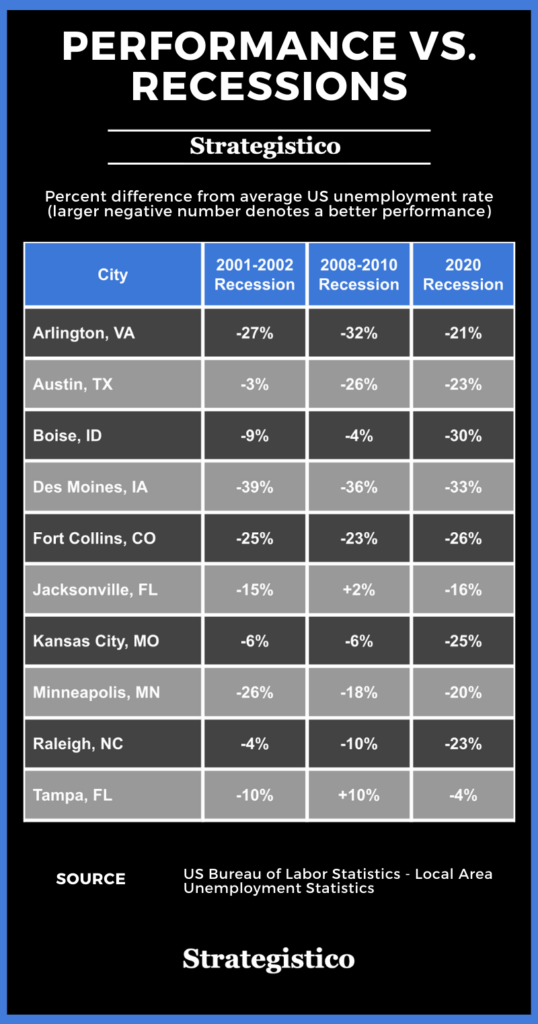 Data Sources
Bureau of Economic Analysis – GDP by County, Metro, and Other Areas
https://www.bea.gov/data/gdp/gdp-county-metro-and-other-areas
Chmura Economics & Analytics – Economic Diversity Index
https://www.chmura.com/blog/chmura-economic-diversity
Federal Reserve Economic Data, Federal Reserve Bank of St. Louis – Consumer Price Index for All Urban Consumers
https://fred.stlouisfed.org/series/CPIAUCSL
US Bureau of Labor Statistics – Labor Force Statistics
https://www.bls.gov/data/
US Bureau of Labor Statistics – Local Area Unemployment Statistics
https://www.bls.gov/data/
US Bureau of Labor Statistics – CPI for All Urban Consumers
https://www.bls.gov/data/
US Census Bureau – Census of Population and Housing
https://www.census.gov/topics/population/data.html