9 Top Beaches in Florida with the Highest Quality Waters & Sand
Florida is well-known for its miles and miles of pristine coastlines and offers some of the most exquisite beaches in the US (and even the world). Its location between the Gulf of Mexico and the Atlantic Ocean creates a variety of stunning waterfronts that present options for the whole family.
There are majestic, white-powered beaches with warm waters on the Gulf side as well as sandy stretches with awesome waves on the Atlantic side. There are even the unique stretch of islands and beaches among the Florida Keys that are unlike any other destination in America.
On top of that, the beaches in Florida offer something for everyone. There are numerous family-friendly areas that also include entertainment options like an amusement park or boardwalk, while there are other beaches that are more quiet and have many resorts that cater to adults. There are even some nude beaches for the brave.
Additionally, there are many beaches that are part of a state park that combine the surf and sand with numerous hiking and biking trails.
We made sure to identify the most magnificent shorefronts in the Sunshine State by evaluating them based on several factors:
Quality of sand
Quality of water
Activities and things to do
Access to cities
Options for all ages
Whether you are just visiting or looking to move, this list of the most exceptional sandy areas in Florida can help you determine where the ideal spot is based on your preferences. Then, you will be able to enjoy your slice of interrupted paradise.
Please note that some links below are affiliate links, which means that we receive a small commission if you make a purchase through our links, but at no extra cost to you. Thank you in advance for your support!
9. Miami Beach – South Beach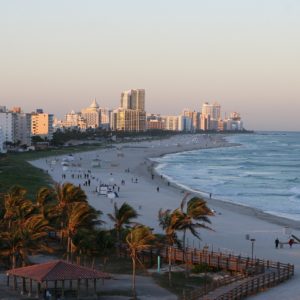 Location: Check on Google Maps
There is a reason why Miami always attracts the big crowds and is a place to see and to be seen. It's not just its trendy, Art Deco inspired city, but it is for the ample stretches of white sand that is just 10 minutes from downtown.
The parties in Miami Beach and South Beach are legendary and it is usually crowded with beautiful people and generates lots of energy, so these beaches are perfect for those who are looking for a lively atmosphere with entertainment available day and night.
8. Fort Myers Beach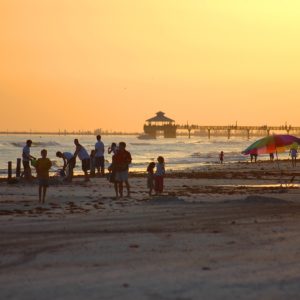 Location: Check on Google Maps
Fort Myers Beach offers pristine shores and the feeling of an authentic beach town. Located just 30 minutes from large cities like Fort Myers and Cape Coral, Fort Myers Beach offers 7 miles of tranquil, sandy beaches along the balmy waters of the Gulf of Mexico.
It is popular with kids, adults, and retirees due to the quality of its soft, white sand and all the activities its offers, such as jet skiing, parasailing, windsurfing, and even dolphin watching.
Additionally, at the heart of Fort Myers Beach, there is a lively town center called Time Square that is filled with great restaurants, fun bars, and little boutiques.
If this mix of easy living and beachtown vibes appeals to you, then be sure to check out our guide to living in Fort Myers.
7. Naples Beach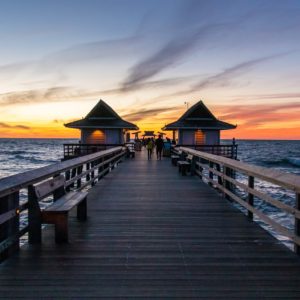 Location: Check on Google Maps
Naples Beach provides visitors and residents with an upscale atmosphere, with numerous high-end restaurants, luxury boutiques, world-class golf courses, and many top resorts just a few minutes from the shore.
Meanwhile, the beach itself is one of the highest quality waterfronts in all of Florida. Its soft sand and the calm, warm waters from the Gulf create a calming environment that is great for the whole family.
There is also the historic Naples Pier at the center of the beach that is perfect for fishing, dolphin-spotting, and watching the sunset.
Naples, Florida even made our list of the best places to live in Florida due to its charming downtown and excellent beach.
6. Clearwater Beach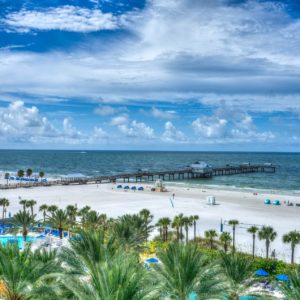 Location: Check on Google Maps
Clearwater Beach is another top choice on the shorts of the Gulf. It is located about 40 minutes from Tampa and St. Petersburg and attracts many families due to its numerous attractions and easy going nature.
Of course, it also offers some of the best sand in the area along with gentle, shallow waters that are fit for everyone to enjoy.
Clearwater Beach is famous for Pier 60, a large pier that stretches out over 1,000 feet into the Gulf. It also contains a park with a huge playground that kids are sure to love.
Additionally, there is the Beach Walk promenade that is built for bicyclists, rollerbladers, and pedestrians to enjoy along the coast.
Don't miss the Clearwater Marine Aquarium that is also situated just 5 minutes from the beach.
5. Jupiter Island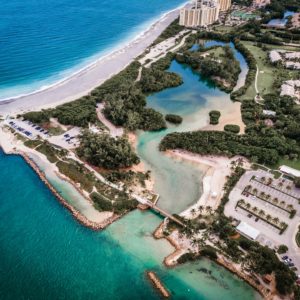 Location: Check on Google Maps
Jupiter Island is a barrier island on the Atlantic side of the state, less than an hour from bigger cities like West Palm Beach and Port St. Lucie. Its clear waters are ideal for swimming, surfing, and snorkeling.
On top of that, it offers a diverse range of beach experiences. There is the Nature Conservancy Blowing Rocks Preserve, which is an oceanfront habitat that offers sea caves, spray plumes, and a breathtaking sight of limestone formations.
There is also Jupiter Dog Beach, which is a dog-friendly, off-lease part of the beach that your four-legged friend will definitely enjoy.
4. Fort Lauderdale Beach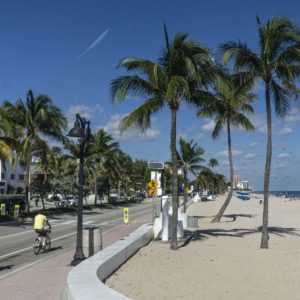 Location: Check on Google Maps
Fort Lauderdale Beach has evolved from its days of being a top spring break party destination to a more refined experience with events and entertainment along the boardwalk for the whole family to enjoy.
The sparkling blue ocean and pillow soft sand combine to offer a pristine paradise for beach lovers and is a great alternative to the busier Miami beaches nearby.
Meanwhile, there are tons of things to do in and around Fort Lauderdale Beach. Tourists and locals enjoy swimming, snorkeling, and scuba diving in the waters, while there are also award-winning dining options and a lively nightlife to be found downtown just 10 minutes from the shore.
3. Sanibel Island
Location: Check on Google Maps
Sanibel Island is routinely lauded as one of the most distinguished beaches in America and the pure quality of its beach is one of the best on this list. Sanibel Island's quiet and calm shores with sugar white sand and gentle waves is perfect for those who just want to relax and forget about life for a while.
The easy waters of the Gulf also makes it an ideal spot for windsurfing and sailing when you are tired of swimming or laying on the beach.
Additionally, Sanibel Island is filled with beautiful seashells and offers families the relaxing option to go "shelling" and collect a variety of beach souvenirs.
2. Dry Tortugas National Park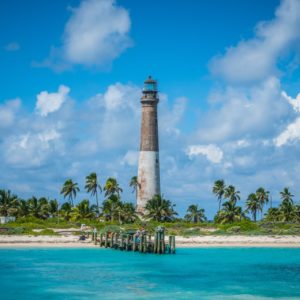 Location: Check on Google Maps
Dry Tortugas National Park is the most exclusive beach on our list, as it is only accessible by seaplane or boat. It is located about 70 miles west of Key West, so it is really out there in the Gulf of Mexico.
But, once you get there, you will discover an undisturbed oasis of 64,000 acres that is teeming with marine life and is ideal for snorkelers. You can expect to see coral reefs, sea turtles, and tropical fish that span the colors of the rainbow in its calm, clear waters.
There is also a huge 19th century fortress called Fort Jefferson that you can visit. It was built starting in 1846 originally as a prison camp and now are the grounds for the national park.
1. Destin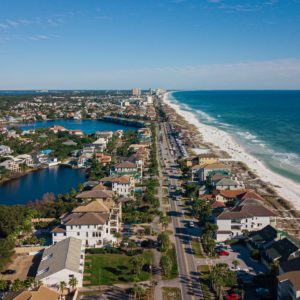 Location: Check on Google Maps
Destin is our top choice for in all of Florida. Its combination of gorgeous, white sand, glistening clear waters, and overall feeling of calmness makes it the most superior coastline you can find in Florida.
It is the only beach on this list that is on the Florida Panhandle and it offers a unique experience compared to the rest. Its soft, sugary sand is made of super fine, polished quartz that originated from the Appalachian Mountains.
Its bright white color also allows it to reflect the heat from the sun, making it always cool to the touch.
The city of Destin is also a picturesque beach town that offers tourists and residents an endless list of things to do.
Don't miss the Destin Harbor Boardwalk that is right on the shores that offer a great choice of lively bars, gourmet restaurants, and specialty shops.
If you are interested in learning more about Destin and other cities in this area, then check out our review of the best cities to live in the Florida Panhandle.