Is Fort Myers a Good Place to Live? 12 Pros and Cons of Living in Fort Myers
Fort Myers is certainly a great place to visit, but is Fort Myers a good place to live? There are several key pros and cons of living in Fort Myers that you should consider. We did our research and also reached out to several locals who have been living in Fort Myers for their opinion on the city.
To give you the best insights, we tracked down a wide range of residents as well. Some have been living in Fort Myers for a few months while some have been there their whole life.
Fort Myers is the fastest growing large city in Florida and is probably best known for its relaxed mix of urban and suburban lifestyles with quick access to some of the best beaches in the world. But, is Fort Myers a good place to live instead of just a nice place for a vacation? Let's find out with the full analysis of the pros and cons of living in Fort Myers, Florida.
Please note that some links below are affiliate links, which means that we receive a small commission if you make a purchase through our links, but at no extra cost to you. Thank you in advance for your support!
Pros of Living in Fort Myers, Florida
1. Weather
Fort Myers' climate is classified as sub-tropical and it is blessed with 266 days of sunshine per year, which is 73% of the time. The warm climate means that you never have to worry about shoveling snow, as the average low temperature in January is still a mild 55 degrees.
We spoke with Rachel and her husband Jeff, who relocated to Fort Myers 2 years ago from New Jersey, and they could not be happier with the weather. "It is so nice not having to deal with the cold and snow anymore," she said. "We find ourselves going outside more, too, and it really lifts our mood."
"I still can't believe how we can just hit the beach almost any time of the year. Everyday feels like a vacation."
2. Beaches and Outdoor Activities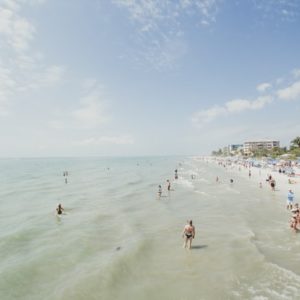 Since it is located right on the western coast of Florida, residents of Fort Myers can choose to visit an almost unlimited number of beaches in the area. There is Fort Myers Beach, which is a 7 mile long barrier island just south of Fort Myers that also contains the famous Estero Island. Across the bay, there is also the beautiful Sanibel Island and its Causeway Islands Park beaches.
But, Fort Myers doesn't just offer the surf and the sand. There are plenty of other year-round outdoor adventures available through the numerous hiking and biking trails around the beaches and the mainland.
Don't miss Six Mile Cypress Slough Preserve, a 3,500 acre wetland with a 1.2-mile boardwalk trail and wildlife to see less than 20 minutes from downtown Fort Myers.
3. Charming Downtown
The historic Fort Myers River District has recently undergone a revitalization and has come alive in the last few years. The city spent $52 million to redevelop this dining, nightlife, and entertainment hub that offers attractions for Millennials, young professionals, retirees, and families.
All of Fort Myers is a haven for foodies with tasty cuisines available from around the world, including Cuban, Peruvian, and of course, local Southern style food. There is also the bustling Downtown Farmers Market.
Jennifer, a 27-year old marketing manager, moved to Fort Myers in 2019 and commented on the thriving downtown scene. "I really think Fort Myers is a nice place to live. I love heading downtown after work on Fridays and sitting outside on the patio at the Downtown Social House or on the sidewalks at a café. There is a nice energy here and there is always something for everyone."
4. Affordability
Fort Myers offers numerous affordable neighborhoods and housing options and a lower cost of living compared to other large cities in Florida. In fact, the cost of living in Fort Myers is 4% lower than the national average. A big part of that is housing costs, which are 15% lower than the average across America.
Zillow estimates that the average value of homes in Fort Myers is around $210,000 to $230,000 and is steadily appreciating. There are still good values on the market, but that may not last long and more people continue to flock to the area. Its popularity can become both pros and cons of living in Fort Myers.
Still, Fort Myers is quite affordable and residents also benefit from the lack of a state income tax.
5. Centrally Located
The city is conveniently located near many other major cities in Florida and even has its own regional airport, making Fort Myers a good place to live and set as your base. Tampa is just 2 hours away, while Miami and Orlando can be reached in about 3 hours.
For air travelers, there is Southwest Florida International Airport that is located just 30 minutes away from downtown Fort Myers.
For baseball fans, Fort Myers is also a great base to catch some Spring Training action across the state. The Boston Red Sox and Minnesota Twins both call Fort Myers their spring home.
Be sure to check out our complete list of the best places around Florida to see how close they are to Fort Myers.
6. Great for Retirees
With so many amenities and activities around town, U.S. News and World Report named Fort Myers as the 2nd best place to retire in America.
There are over 30 retirement and 55+ communities that are designed specifically to cater to a more relaxed, yet engaging lifestyle.
Cons of Living in Fort Myers, Florida
1. Weather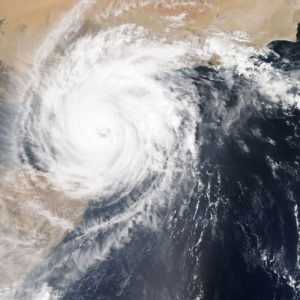 The weather plays both parts of the pros and cons of living in Fort Myers. While year-long warm weather may sound pleasant, it also comes with thick humidity and scorching temperatures, especially in the summer months. There are often rain showers every afternoon in the summer as well.
Don't forget about the hurricanes, either, which are in season from June to November every year.
Michael, a 55 year-old early retiree from Pennsylvania, moved with his wife to Fort Myers in 2018, but they were not ready for such brutal and unpredictable weather. "It's true that it is nice to be able to walk around in a t-shirt most days, but the summer heat is really grueling, especially if you're not used to it."
"It feels like you're swimming through the humidity sometimes and the rainstorms don't actually offer so much relief."
2. Underdeveloped Arts & Culture
If you are expecting the same level of arts and cultural entertainment that you are used to in a major city like New York or Los Angeles, then you may want to look for another city. Although there is the Fort Myers Beach Art Association and Gallery, there really isn't a strong enthusiasm for a more developed arts and theater scene as the city caters to the beachlife mentality. However, it is slowly improving, and hopefully you will see more live performances, ballets, and art galleries pop up over time.
3. Flat Geography
Adventurers who are seeking breathtaking heights and rolling hills may be disappointed with the relatively flat landscapes of Fort Myers and the surrounding areas. You will have to travel further away to satisfy your mountain biking or hiking fix on more challenging terrains.
4. Poor Public Transportation
Getting around Fort Myers, just like the rest of Florida, is primarily achieved via cars. The city has been designed with automobiles in mind and, as a result, there are limited public transportation options to get around town or even to another city.
That also means that you need a car to live in Fort Myers and everything from going to work, school, or to the beach will require a short drive and is generally not walkable.
Brandon, a 30 year-old lifelong resident of Fort Myers, commented that, "I don't think I know anybody that uses public transportation frequently. It's not so reliable and doesn't really reach everywhere. It's much easier driving around or grabbing an Uber."
5. Tourist Invasions
The beautiful beaches around Fort Myers and relaxed way of life attract many visitors throughout the year and can be a nuisance to a full-time resident. There are the snowbirds that come for the winter, then the spring breakers around March and April, and then the summer beachgoers that last for the majority of the year.
These visitors help stimulate the local economy, but they also bring extra traffic and rowdiness.
6. Effects of Global Warming on the Coast
Since Fort Myers sits on the coast, it may be at a higher risk of flooding if the sea levels continue to rise. That may then impact the future value of real estate, making it a potential risky investment.
There was a research study in 2020 that found home prices in at-risk areas across Florida were 5% to 10% lower vs. houses in lower risk parts of the state.
On top of that, global warming may also cause more extreme conditions, such as more hurricanes and hotter temperatures.
Check out our study on the biggest regrets and reasons not to move to Florida before deciding to head down.
Summary – Pros and Cons of Living in Fort Myers, Florida
Fort Myers offers many opportunities and continues to be an attractive up and coming destination, but it is not without its flaws. We hope that this list of pros and cons of living in Fort Myers can help you decide if it is worth it for you.
Frequently Asked Questions
Is Fort Myers a good place to live?
Overall, Fort Myers is a nice place to live and one of the top cities in Florida to consider. The active downtown, endless number of beaches, and affordable cost of living make it an excellent choice.
Is Fort Myers a good place to raise a family?
Yes, Fort Myers is a good place to raise a family and offers a strong education system and numerous indoor and outdoor activities that the whole family can enjoy. There are also 2 large amusement parks nearby, Zoomers Amusement Park and Sun Splash Family Waterpark, if you ever get tired of the beach.
What are the best small towns near Fort Myers Florida?
If you are interested in the Fort Myers area, but are looking for a more laid-back atmosphere, then check out these small towns that offer a slow pace of life in paradise:
Sanibel, Florida
Captiva Island, Florida
Venice, Florida
Boca Grande, Florida
Anna Maria Island, Florida