8 Best Family-Friendly Islands to Visit in the U.S. – 2022 Edition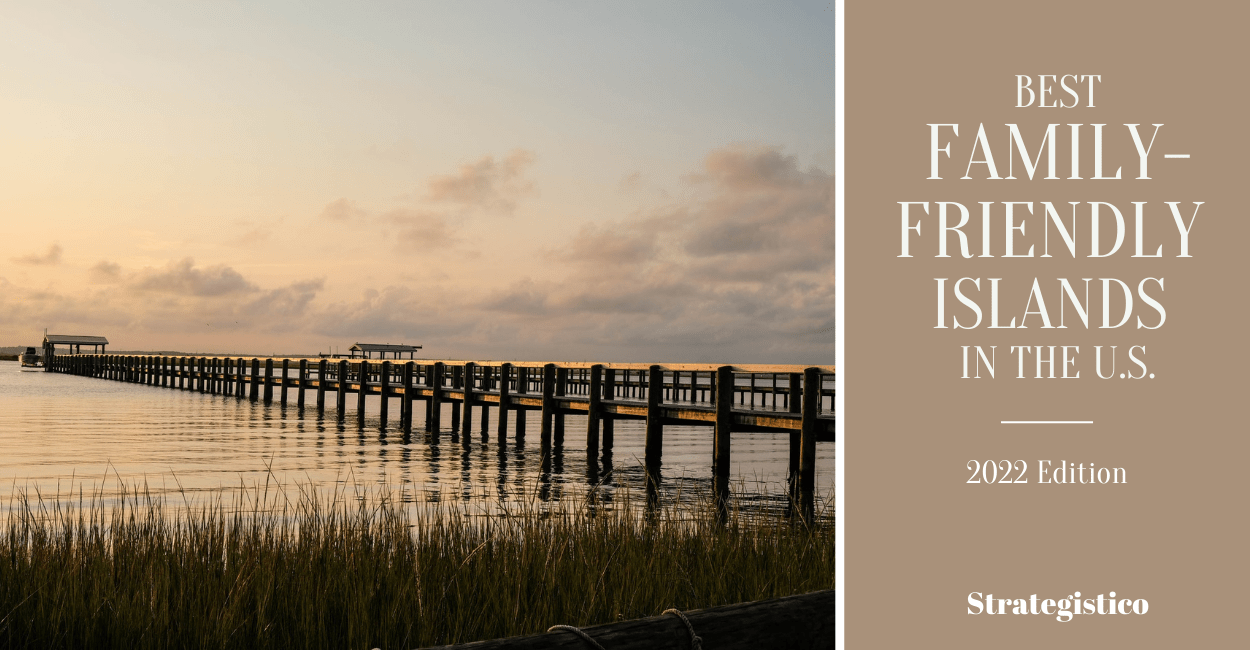 There is something special about the allure of an island adventure. Usually, that means traveling on a long plane ride to an expensive exotic location. But, you can also enjoy an exclusive island getaway without even leaving the U.S.
There are many beautiful, secluded islands that are both fun and family-friendly that are available from coast to coast. Therefore, we used our data-driven methodology to find the best all-around islands that are sure to delight you on your next vacation.
During our evaluation, we made sure to find islands that provide a family-friendly atmosphere while also offering essential amenities, such as a vibrant dining and entertainment scene, tranquil beaches, and availability of other outdoor activities.
We also looked for islands that are easily accessible. We made sure to include islands that are generally reachable for a weekend trip for those who live near the coastlines. In fact, you could actually drive onto the majority of the islands on our list as well.
Research Methodology
To thoroughly evaluate the best island getaways for families in the U.S., we first had to define what the perfect vacation island should offer. So, we developed a rating system based on five major metrics that include:
Dining & Entertainment:

Volume of restaurants, cafes, bars, lounges, and shops on the island along with the number of activities for children and families to enjoy. Source: U.S. Census Bureau – County Business Patterns.

Outdoor Attractions:

Availability of family-friendly beaches, public parks, and nature-based activities in or around the island. Source: National Environmental Public Health Tracking Network and The Trust for Public Land.

Affordability:

Cost of major expenses like food, transportation, activities, and entertainment within the island. Source: Council for Community and Economic Research and the Bureau of Labor Statistics – Consumer Price Index.

Walkability & Bikeability:

The quality of the island's infrastructure to promote walking or biking to major points of interest around the island. Source: Walk Score.

Overall Atmosphere:

The culture and vibe of an island based on reviews and feedback from past visitors and residents. Source: social media platforms and review aggregator sites.
We then created a database to review all the inhabited islands across the U.S. and chose the top eight that received the highest aggregate scores.
The 8 Best Family-Friendly Islands to Visit in the U.S.
Amelia Island, Florida
The majestic landscape of Amelia Island can be found in northeast Florida, just 40 minutes by car from Jacksonville.
Located right on the shores of the Atlantic Ocean, this island paradise offers a mix of pristine sandy beaches, ample outdoor adventures, and a dynamic historic culture that is fit for the whole family to enjoy.
Families can try horseback riding on the beach, kayaking around the island, or just relaxing at one of the 40+ public beaches around the island.
Chincoteague Island, Virginia
This quaint island is proudly devoid of any high-rise condos or bustling boardwalks and actually feels like a quiet village.
Yet, Chincoteague Island is quite accessible to many large metropolitan areas on the Atlantic Coast like Washington, D.C., Philadelphia, and even New York, so you might not have to travel far to reach your secret paradise.
Highlights include its famous wild ponies that run free along its shores as well as the Chincoteague National Wildlife Refuge, an expansive 14,000 acre sanctuary where families can immerse themselves in the wonders of nature.
Golden Isles, Georgia
The beautiful and serene Golden Isles are located about halfway between Savannah and Jacksonville and offer visitors a taste of unspoiled coastlines along with cute little towns where you will want to settle in forever.
The Golden Isles actually include several barrier islands, which include St. Simons Island, Sea Island, Little St. Simons Island, and Jekyll Island, as well as the historic city of Brunswick.
The warm and welcoming culture that permeates across these islands is perfect for families, along with the diverse events and numerous things to do that it offers.
Don't miss the sea turtle season, where families can see baby turtles being hatched or learn more about them at the interactive Georgia Sea Turtle Center on Jekyll Island.
Hilton Head Island, South Carolina
Although Hilton Head is one of the more popular island destinations in the U.S., it still offers a laid-back vibe where time slows down and vacationers have their space to truly relax and unwind.
The island is renowned for its world-class golfing, luxurious wellness spas, and delectable food scene.
But, it also offers many things to do for the whole family to enjoy, including the free Coastal Discovery Museum, the majestic Pinckney Island National Wildlife Refuge, and the exceptional Hilton Head Island Bike Trails that span across the whole island.
Additionally, you can find tons of entertainment at the Shelter Cove Towne Centre right in the heart of the island.
Ocean City, New Jersey
Ocean City is a classic resort town on the famed Jersey Shore. It is often regarded as one of the nation's best family-friendly beach communities and features an excellent mix of fun, relaxation, and top-notch amenities.
The island offers eight miles of pristine beachfront right on the Atlantic Ocean as well as a quaint boardwalk that is packed with locally-owned restaurants, boutiques, and amusements for the kids. Don't miss the lively Ocean City Music Pier for live music and entertainment as well.
The fact that it is a dry town adds to its family-friendly atmosphere, making it a great choice for those looking for wholesome fun.
San Juan Islands, Washington
You can find this collection of islands way up in the Pacific Northwest along the Salish Sea. Located just 70 miles north of Seattle, this archipelago offers a bucolic lifestyle that focuses on authentic experiences and a true connection to nature.
Visitors can enjoy biking within the three main islands of San Juan, Orcas, and Lopez and can discover charming small towns like Friday Harbor and Eastsound.
Kayaking and whale watching are also popular pastimes around this laid-back group of islands that exudes pure peacefulness and being at one with nature.
Tybee Island, Georgia
Tybee Island is located just a 20 minute drive from historic Savannah, making it one of the most accessible islands on this list.
Despite its proximity to a large city, Tybee Island delivers a starkly different vibe that prioritizes slow living and features some of the best beaches in the U.S.
Families can indulge in the island's 25 gourmet restaurants, many of which sit right on the beachfront. Or, they can visit the Tybee Island Marine Science Center to learn more about the region's sea turtles and other sea creatures upfront and personal.
When it's time to relax, you can head over to the five miles of public beaches or take a relaxing stroll on the Tybee Beach Pier and Pavilion.
Three Island Beaches – Wilmington, North Carolina
These three island beaches – Carolina Beach, Kure Beach, and Wrightsville Beach – are located just a 10 to 20 minute drive away from downtown Wilmington and offer a large variety of activities that the whole family can enjoy.
For example, you can visit the beachfront boardwalk in the down-to-earth Carolina Beach community or go surfing in the waters off of Wrightsville Beach, which is renowned as one of the best surfing spots in the U.S.
You and your family could even mix in a little culture and history with a stop at the NC Aquarium at Fort Fisher and Fort Fisher State Historic Site in Kune Beach.