The 8 Most Charming Small Towns in California – 2022 Edition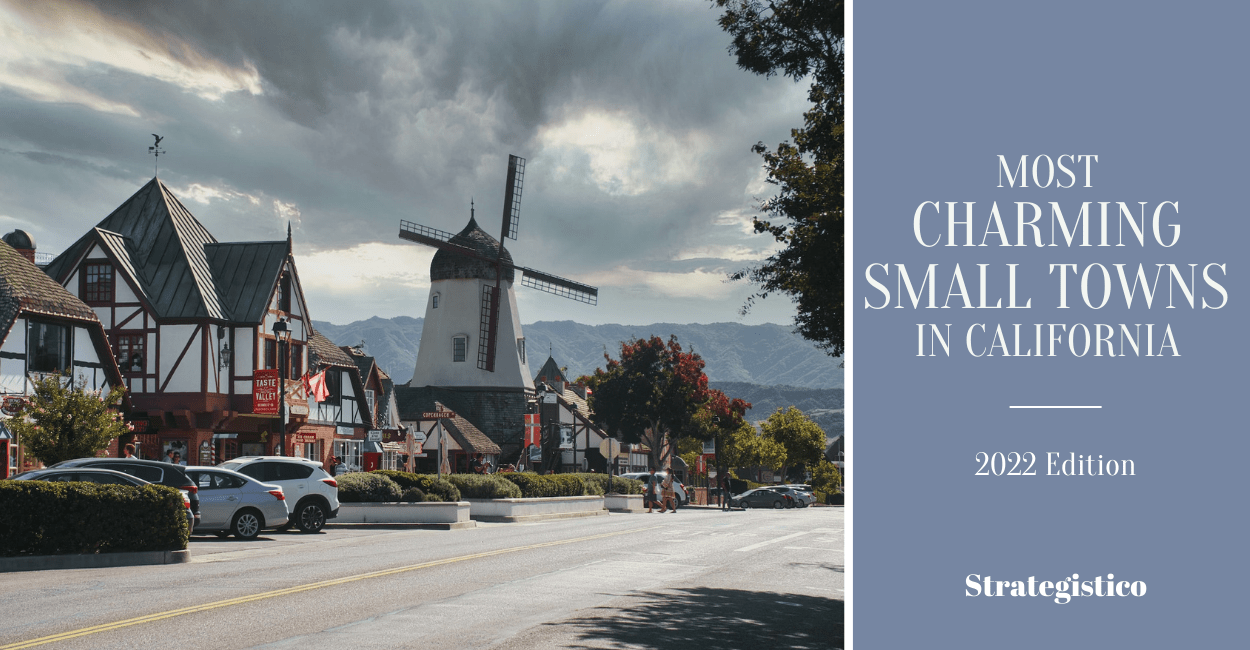 California's bustling metro areas often overshadow the quaint small towns that are scattered across the Golden State. But, these tight-knit communities can offer visitors and residents a notable difference in energy and lifestyle that will make you fall in love with their slower pace of life and sense of belonging.
Of course, these towns are not just charming in their beautiful aesthetics, but also offer a well-rounded way of life that both travelers and people looking to relocate can enjoy all year round.
Therefore, we determined the best small towns in California in 2022 based on the blend of living, leisure, and overall atmosphere that they provide.
Our research evaluated all of the 1,180 small towns across California with a population of 35,000 people or under and scored them based on key factors including cost of living, access to entertainment, cultural events, safety, and walkability.
Research Methodology
To determine the most charming small towns in California, we developed an in-depth rating system based on seven metrics that helped to quantify the assets of each community:
Cost of Living:

Affordability of a town for residents and visitors based on current prices for major expenses like housing/accommodations, food, transportation, and entertainment. Data from the Council for Community and Economic Research and the Bureau of Labor Statistics – Consumer Price Index.

Access to Dining & Entertainment:

Density of restaurants, cafes, bars, lounges, shops, and boutiques in a town. Data from the U.S. Census Bureau – County Business Patterns.

Access to Arts & Culture:

Availability of arts and culture based on the density of museums, historic sites, community events, and performing arts venues. Data from the U.S. Census Bureau – County Business Patterns and official town events calendar.

Outdoor Amenities:

Ease of access to nature via public parks, lakes, rivers, beaches, and mountains in or around the town. Data from the National Environmental Public Health Tracking Network and The Trust for Public Land.

Walkability:

The ability for people to get around the town by foot. Data from Walk Score.

Crime Rate:

Measure of safety based on the number of reported crime incidents. Data from the FBI – Uniform Crime Reporting.

Overall Atmosphere:

The culture and vibe of a town based on feedback and reviews from visitors and residents. Data from various review aggregator sites and social media platforms.
Next, we created a database to review all 1,180 small towns in California. We then chose the top eight small towns that received the highest overall scores across all of these categories.
The 8 Most Charming Small Towns in California
Monterey
Population: 30,218
Location: Check on Google Maps
Monterey is a picture-perfect seaside town located less than two hours south of the Bay Area. Visitors and residents alike can enjoy a taste of the town's culinary and cultural flavor along its famed Cannery Row or make a visit to the outstanding Monterey Bay Aquarium.
The town also hosts numerous community events throughout the year, including music festivals and holiday celebrations. Some notable events include the Monterey Jazz Festival and Monterey Car Week.
Morro Bay
Population: 10,757
Location: Check on Google Maps
Morro Bay is another seaside gem located on California's Central Coast. Don't miss the excellent locally-owned restaurants and boutiques that line Morro Bay Boulevard and the Embarcadero right in the heart of the town.
You can also take time to enjoy the serene stretches of the Morro Strand State Beach that is located just a 20 minute walk from the town's center.
Morro Bay is also noted as one of the nation's best spots for bird watching. It even hosts the annual Morro Bay Bird Festival that is a delight for all ages.
Paso Robles
Population: 32,153
Location: Check on Google Maps
Paso Robles is the biggest community on this list, but it retains a distinctly small town atmosphere that is the perfect place to check out for the weekend or even relocate to.
Situated in the hills and basically equidistant from San Francisco and Los Angeles, Paso Robles is probably best known for its first-class wineries.
But, there is plenty more to discover around the town, including hot springs, horseback trail rides, and hot air balloon rides.
Don't miss the intimate Vina Robles Amphitheater, where you can catch some live music after a wine tasting next door at the Vina Robles Vineyards & Winery.
Solvang
Population: 6,126
Location: Check on Google Maps
This magical SoCal town is located directly in Santa Barbara's wine country and is well-known for its old world Danish architecture, earning it the nickname as the "Danish Capital of America."
Solvang is just 45 minutes north of Santa Barbara and offers plenty of dining and wine tasting opportunities around its quaint and walkable streets as well as numerous events and festivals throughout the year.
Don't miss the popular 3-day Solvang Danish Days or the Hans Christian Andersen Museum while you immerse yourself in a completely different culture.
Tahoe City
Population: 1,557
Location: Check on Google Maps
Tahoe City is a small town located right on the northwestern shores of Lake Tahoe. It is the smallest community on this list of the most charming small towns in California, yet still offers plenty of family-friendly activities and amenities that can be enjoyed in every season.
It is one of the most picturesque towns on the lake and features a cute town center filled with locally-owned restaurants, boutiques, and galleries.
There is also a never-ending list of things to do in and around the town both indoors and outdoors throughout the year, which makes it ideal for nature lovers as well as folks looking to just relax by its calm lakeside.
Windsor
Population: 27,128
Location: Check on Google Maps
Windsor is a vibrant community located right in the heart of Sonoma County. It offers all the beauty and splendor of fellow wine country cities like Napa and Sonoma, but with fewer tourists and a more relaxed, family-friendly atmosphere.
The town features the pretty, walkable Old Downtown with eateries, cafes, and local boutiques that surround the Windsor Town Green public park.
There are also numerous local breweries and vineyards where residents and visitors alike come together.
The residents of Windsor are also fortunate to have easy access to the surrounding area's beautiful nature, which truly makes it an all-around small town to enjoy.
Winters
Population: 7,315
Location: Check on Google Maps
The small town of Winters, California is located about 40 minutes west of Sacramento in Northern California and offers its residents and visitors a historic community that is brimming with small town charm.
Winters' rich agricultural roots continue to shine through today in the town's thriving farm-to-table food scene. You can also find several craft breweries along with many places for wine tasting around town.
Outdoor lovers will also appreciate Winters' proximity to Lake Solano County Park as well as the Stebbins Cold Canyon Trail.
Yountville
Population: 3,436
Location: Check on Google Maps
Yountville is an energetic small town located in Napa County about 15 minutes north of the city of Napa.
Here, you can find some of the region's best gourmet, Michelin-starred eateries and numerous places for wine tasting while walking along its beautiful streets.
Yountville is also home to plenty of cultural points of interest, including the Napa Valley Museum and Napa Valley Performing Arts Center.
The town is also well-known for its top-notch spa and wellness offerings, so you should have no problem relaxing in this idyllic small town.
Data Sources
Council for Community and Economic Research
https://www.c2er.org/
FBI – Uniform Crime Reporting
https://www.fbi.gov/services/cjis/ucr
National Environmental Public Health Tracking Network
https://ephtracking.cdc.gov/
The Trust for Public Land
https://www.tpl.org/
US Census Bureau – Census of Population and Housing
https://www.census.gov/topics/population/data.html
U.S. Census Bureau – County Business Patterns
https://www.census.gov/programs-surveys/cbp.html
US Bureau of Labor Statistics – Local Area Unemployment Statistics
https://www.bls.gov/data/
US Bureau of Labor Statistics – CPI for All Urban Consumers
https://www.bls.gov/data/
Walk Score
https://www.walkscore.com/cities-and-neighborhoods/