20 Best Places to Live in Florida for Young Adults – 2023 Latest Update
We have found that the best places to live in Florida for young adults is a list that constantly changes. New industries and job opportunities (along with new social scenes) have emerged within different cities across the Sunshine State in the last several years, so the best city for young professionals may not be where you think it is.
Still, selecting the ideal city to settle down in as a young adult in Florida is relatively easy, since you really can't make a bad choice.
Florida offers everlasting sunshine, awe-inspiring coastlines, and a thriving mix of cultures that presents a boundless set of opportunities for ambitious young professionals.
In this article, we select the 20 best cities in Florida for young adults based on their quality of life, things to do, job market, and overall happiness for young professionals.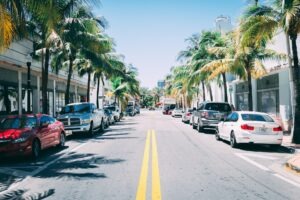 If you want to know the best overall places to live for all ages, then check out our latest list.
The 20 Best Places to Live in Florida for Young Adults
20. Fort Pierce
Tucked away on Florida's Treasure Coast, Fort Pierce appeals to young professionals with its laid-back ambiance and relative affordability compared to the rest of Florida.
The city's job market focuses on healthcare, agriculture, and education sectors.
You can also discover the city's rich history, explore beautiful beaches, and savor fresh seafood delights.
19. West Palm Beach
West Palm Beach showcases a captivating blend of urban sophistication and coastal charm.
Its vibrant downtown area boasts lively shops, restaurants, and cultural venues, offering a dynamic environment for young adults.
The Palm Beach County School District, JFK Medical Center, and NextEra Energy are prominent employers that contribute to the city's thriving job market.
Here, you can take leisurely strolls along the waterfront, explore the city's wealth of green spaces, or immerse yourself in the vibrant arts scene that defines West Palm Beach.
18. St. Augustine
St. Augustine is a great city for young professionals and people of all ages due to its timeless charm and a wealth of opportunities.
This historical gem, which is the oldest city in the US, offers a vibrant cultural scene that features museums, galleries, and iconic landmarks.
Meanwhile, the city's job market is great for sectors such as tourism, hospitality, and education, presenting a diverse range of career paths to explore.
St. Augustine's picturesque streets, enduring Spanish colonial architecture, and proximity to the Atlantic Ocean makes it an excellent choice.
17. Naples
Naples is renowned for its sophisticated ambiance and idyllic beaches. It is the ideal city for young professionals seeking an upscale and serene lifestyle.
Still, Naples offers a robust job market, especially in healthcare, hospitality, and finance sectors.
Residents here can indulge in luxurious shopping, tee off at world-class golf courses, or partake in the city's flourishing arts and cultural scene.
Discover the perfect blend of tranquility, career opportunities, and recreational pleasures that make Naples a desirable city for young professionals.
16. Daytona Beach
Daytona Beach is famous for its iconic speedway and sun-kissed beaches. It also provides a dynamic and thrilling environment for young professionals.
Its job market thrives on tourism, hospitality, and healthcare sectors, offering diverse employment prospects.
Daytona Beach also offers a vibrant nightlife that is one of the best in the Florida Panhandle region.
Given its affordability, Daytona Beach may be one of the best bangs for a young professional's buck in Florida.
15. Palm Coast
Palm Coast, situated along Florida's northeastern coast, offers a picturesque and serene environment for young professionals seeking a peaceful lifestyle.
This coastal city boasts pristine beaches, scenic waterways, and ample green spaces, providing opportunities for outdoor recreation and relaxation.
The job market in Palm Coast revolves around healthcare, education, and retail sectors, offering a range of career options. Major employers like Florida Hospital Flagler and the Flagler County School District contribute to the city's economic growth.
Overall, Palm Coast provides a tranquil retreat while still being within proximity to larger cities like Jacksonville and Daytona Beach.
14. Fort Myers
Located on the warm shores of the Gulf Coast, Fort Myers offers young professionals a laid-back lifestyle amidst natural beauty.
The city's job market continues to grow and offers numerous jobs in healthcare, education, and tourism.
Here, residents can bask in the glory of stunning beaches, explore the historic, emerging downtown District, or enjoy the city's proximity to natural parks and preserves.
13. Pensacola
Nestled in Florida's Panhandle, Pensacola combines history, natural beauty, and abundant job opportunities. The city's job market is strong in the aviation, healthcare, and education sectors.
Yet, it also offers a great nightlife and easy access to some of the most beautiful, white sand beaches in the world.
12. Clearwater
With its crystal-clear waters and picturesque landscapes, Clearwater entices young professionals with a tranquil, yet vibrant lifestyle.
The city's job market revolves around healthcare, technology, and tourism sectors. Engage in various water sports, visit the renowned Clearwater Marine Aquarium, or have a night out in the city's lively downtown.
11. Melbourne
Located on Florida's Space Coast, Melbourne offers a dynamic cityscape amid a backdrop of technological advancements and natural wonders.
The city's job market continues to grow, especially in the aerospace, technology, and healthcare sectors.
Here, young professionals can enjoy outdoor activities, visit the Brevard Zoo, or immerse themselves in the city's emerging arts and cultural scene.
10. Tallahassee
Tallahassee is Florida's capital city, located right in the heart of its Panhandle region. This youthful city offers a unique blend of history, culture, and career choices.
Tallahassee features a lively arts scene that is propelled by its collegetown atmosphere, as well as diverse culinary offerings, and abundant outdoor recreational activities.
The job market is fueled by government jobs, higher education, and healthcare sectors, with key employers including Florida State University, Tallahassee Memorial HealthCare, and the State of Florida government.
9. Fort Lauderdale
Fort Lauderdale epitomizes the South Florida lifestyle with a vibrant nightlife that is great for active young professionals.
The city's job market thrives in the tourism, marine industries, and technology sectors. Top employers in Fort Lauderdale include Citrix Systems, AutoNation, and Spirit Airlines.
You can dive into the city's water activities, explore the lively downtown scene, or indulge in world-class dining and shopping experiences.
8. Boca Raton
Boca Raton is nestled in the heart of Palm Beach County and offers young professionals an upscale lifestyle and breathtaking beaches.
The city's robust job market, particularly in technology, healthcare, and finance, offers abundant career opportunities. Notable employers like Office Depot, ADT, and Florida Atlantic University contribute to its economic vibrancy.
Indulge in upscale shopping, savor delectable cuisine, and immerse yourself in the city's vibrant social scene, creating a perfect work-life balance.
7. Sarasota
Sarasota is located on Florida's warm Gulf Coast and offers a serene, yet energetic community for young professionals.
Renowned for its paradise-like beaches and growing arts community, the city provides a perfect blend of natural beauty and cultural offerings.
With numerous museums, galleries, and performing arts venues, Sarasota cultivates a stimulating and inspiring environment. The job market focuses on healthcare, education, and retail sectors, presenting diverse career opportunities.
Major employers like Sarasota Memorial Health Care System, Publix Super Markets, and Tervis contribute to the city's economic growth. Embrace the charm of Sarasota, where work-life balance flourishes and professional aspirations find their true potential.
6. Gainesville
Gainesville is located in Central Florida and is a great choice for young professionals. Anchored by the University of Florida, this collegetown city offers a stimulating environment that fuels personal and professional growth.
With its lower cost of living and emerging startup scene, Gainesville presents an ideal setting for innovators, making it the best place to live in Florida for young adults seeking to be an entrepreneur.
The city's beautiful parks and natural springs cater to outdoor enthusiasts, fostering a healthy work-life balance.
Major employers like UF Health, the University of Florida, and North Florida Regional Medical Center contribute to the city's robust job market.
5. Miami
Miami's energy and rhythmic pulse needs no introduction to young adults.
Located deep in South Florida, this bustling multicultural hub proudly showcases its dazzling nightlife, world-class dining establishments, and iconic Art Deco architectural wonders.
The city's job market is currently booming, especially in hospitality, tourism, and aviation.
Some big names include several cruise lines like Carnival Corporation and Royal Caribbean Cruises, as well as American Airlines.
4. St. Petersburg
For young adults looking for a growing, inclusive arts and cultural scene, St. Petersburg is the perfect city to find your inspiration. It is located on Florida's Gulf Coast near Tampa and features an eclectic blend of museums, galleries, and theaters that are often visited by young professionals.
The job market thrives in healthcare and technology sectors, with major employers including HCA Healthcare, Duke Energy, and Jabil. Take time to explore the city's picturesque waterfront, trendy neighborhoods, and buzzing downtown district.
3. Tampa
Tampa offers a fusion of urban sophistication and natural beauty along the enchanting Gulf Coast.
This city boasts a thriving job market with opportunities in healthcare, finance, and technology.
Meanwhile, Tampa offers a blend of modern skyscrapers and historic districts, creating a captivating backdrop for young professionals who love the city life.
Don't miss out on the diverse culinary scene, waterfront parks, and thrilling sporting events that add to the city's appeal.
2. Jacksonville
Jacksonville represents a prime destination for young professionals due to its myriad attractions and promising opportunities.
Situated in Northeast Florida, this vibrant city offers a seamless blend of urban amenities and breathtaking natural beauty. Its diverse job market offers numerous jobs in healthcare, finance, and the logistics sectors.
It is also easy to access the shoreline from Jacksonville to enjoy the pristine beaches on the Atlantic Coast.
You could also enjoy the city's charming neighborhoods, such as Riverside and San Marco, and a thriving arts and cultural scene.
The city's youthful energy and affordable cost of living makes it a top choice for young adults looking for a good work/life balance.
1. Orlando
Our top choice for the best place to live in Florida for young adults in Orlando.
Of course, it is well-known for its world-famous theme parks and being an entertainment mecca.
But, Orlando city offers young professionals a robust blend of career opportunities and recreational pursuits as well.
The dominance of Walt Disney World and Universal Orlando Resort in the job market is accompanied by a thriving downtown scene and an emerging arts and culture scene, providing ample avenues for young adults to explore.
Summary – Best Places to Live in Florida for Young Adults
Florida's diverse cities provide a whole host of opportunities for young adults seeking an enriching and vibrant lifestyle.
From the dazzling energy of Miami to the enchantment of Orlando, each city offers its own unique charm and thriving job markets in various sectors. Whether you prefer the cultural scene of St. Petersburg or the coastal beauty of Naples, Florida has something to offer every young professional in pursuit of their dreams. Find out more about these 20 destinations and uncover your perfect place to move to in the Sunshine State.