Is Sedona a Good Place to Live? Living in Sedona, AZ Pros and Cons
Is Sedona a good place to live in 2023? Our in-depth evaluation reveals the top 10 pros and cons of living in Sedona, AZ so that you can decide if it is the right place for you.
Overall, Sedona is a great place for the right person at the right time, but there are several negative aspects that you should be aware of before moving there.
This beautiful desert town is well-known as a hotspot for visitors around the world, but is it also a good place to live year round?
Here are the living in Sedona, AZ pros and cons so that you can deciding if moving to Sedona is the right choice for you.
1. Unsurpassed Natural Beauty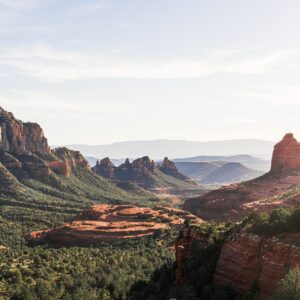 One of the primary reasons why many people move to Sedona is for its breathtaking scenery and to take advantage of its unlimited number of outdoor activities.
Sedona is located right in the heart of a desert landscape with mesmerizing red rock formations and several national parks nearby.
Residents can access over 400 miles of hiking trails and let loose in numerous biking trails as well.
Additionally, Sedona allows you to truly connect with nature and be surrounded by wildlife that you would not normally see elsewhere.
The dark, unpolluted skies of Sedona also make for great stargazing at night.
Essentially, Sedona is the place to be for nature lovers and outdoorsy-type people.
2. Positive Vibes
Sedona is renowned for its cheerful energy and new age atmosphere. Residents are very focused on their own well-being as well as the health of the community.
For instance, the city features tons of health food stores alongside places to improve your mental and physical health like yoga and meditation.
Additionally, Sedona hosts several festivals every year, such as the Sedona Arts Festival, the International Film Festival, and Sedona Jazz on the Rocks, which adds to its fun culture.
3. Luxury Pursuits
Sedona is also well-known for its extensive collection of luxury and leisure opportunities. For example, it is home to some of the best spas and resorts in the country. Here, you can relax and take in remarkable views of the canyons or the fascinating desert landscapes.
There are numerous world-class golf courses around the city that are set in some of the most scenic backdrops that you could imagine.
Sedona also features an active arts and culture scene with a dedicated creative hub located along its famed Gallery Row.
Plus, you can find many specialty boutiques alongside many of these galleries that offer upscale crafts and unique, high quality items.
4. Comfortable Seasons
Sedona is one of the rare cities in Arizona that actually offers four distinct seasons throughout the year. It is also a bit cooler in the summer than the rest of the state.
Sedona's average highs are around 90-95 degrees during the summer, which is a welcomed relief over the scorching hot 100+ degree days found in Phoenix.
It also has relatively low humidity, making it quite comfortable even in the heat.
Meanwhile, Sedona experiences mild winters with average lows reaching about 30 degrees.
Residents even enjoy some snowfall each winter, with around 11 inches of snow each year.
5. Close to Big City
Sedona is a great base to establish within Arizona as it is near several larger cities. Flagstaff, a city that is about 10 times bigger than Sedona, is located just a 45 minute drive away. It offers many shops and restaurants that may not be found in Sedona.
Prescott, Arizona is also just an hour and a half from Sedona, while the state capital of Phoenix (and its international airport) is only a 2 hour drive away.
Other nearby points of interest include Las Vegas, which is just a 4.5 hour drive, and the California cities of Los Angeles and San Diego, which are only an hour flight away from Phoenix.
So, is Sedona a good place to live? It sure is for people looking for a quiet base that is still close to the action.
Is Sedona a Good Place to Live? Top 5 Cons
1. A City of Tourism
Sedona may seem like an appealing city to visit, but is Sedona a good place to live all year round? One major drawback of the city is that it heavily caters to the needs of tourists.
Sedona is a beautiful destination location for many travelers, so it is a magnet for tourism throughout the whole year. Roughly 3 to 5 million people visit this small city of 10,000 residents every year. You can quickly realize that the city was not designed to accommodate so many visitors very easily.
During the high seasons in the fall and the spring, traffic congestion becomes the norm around Sedona, not only on the roads, but also in restaurants and shops as well.
Don't be surprised to wait over an hour at your local restaurant during peak tourist times.
Meanwhile, many of the shops and services around Sedona are geared towards the tourist crowds. There are tons of souvenir stores as well as jewelry and gift shops that locals might not have so much use for.
2. Limited Entertainment
Another con of living in Sedona is the small number of things to do around the city, especially if you are not an outdoor enthusiast.
For those who don't want to spend every weekend rock climbing or mountain biking, Sedona can get pretty dull rather quickly.
You won't find a lively nightlife scene in Sedona nor will you find any professional sports teams.
The closest city to find this type of entertainment would be in Phoenix, which is 2 hours away.
Of course, this could actually be a good thing for people who are looking for a quiet way of life. But, for young professionals and people who are used to many activities within a city, Sedona may not be the right choice.
4. Limited Job Market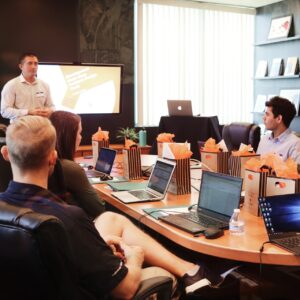 Since Sedona is primarily a tourist town, there are not many large corporations that are located within the city.
Sure, there may be many job opportunities in the tourism and services industry, but you won't find many other types of work like tech jobs or manufacturing jobs in Sedona.
In fact, most of the largest employers in Sedona are tourist-based companies such as resorts, spas, tour companies, and hotels.
5. Lack of Community Spirit
Sedona's reputation as a tourist magnet as well as its booming real estate market has attracted many out-of-town investors.
Locals have noted that many newcomers, primarily from California, Texas, and New York, have flooded their community with a purchase of their second or third homes in Sedona.
They have also complained that many rental companies have turned their properties into short-term Airbnbs, meaning that there are fewer long-term neighbors in each community.
There is also the nuisance factor of the Airbnbs that are used as party rentals for tourists who want to let loose in Sedona.
Another issue that stems from this issue is the economic disparity within the city. There is a growing divide between the have and the have-nots in Sedona.
The picture of the rich, upscale haven that the city tries to paint does not fully match the needs of the working class in Sedona.
That raises further questions of how taxpayers' money should be used, whether for local necessities or for tourist-type projects.
Is Sedona a Good Place to Live? Summary
We hope that this list of living in Sedona, AZ pros and cons gives you a balanced look into this city. It has the potential to be the perfect spot for people looking to relocate to a place where they can enjoy the outdoors and be pampered within the city.
It even made it onto our list of the top cities in all of Arizona to live in.
But, this privileged way of life is not cheap. Potential residents will also have to contend with the constant flow of tourists that visit.
Now, it is up to you to decide if moving to Sedona is the right choice. We recommend a long-term visit so that you can experience the true nature of the city before you make a decision.