Flagstaff vs Sedona – 2023 Comparison for Visiting & Living
If you are deciding between Flagstaff vs Sedona to visit or to move to, we have put together a detailed guide that breaks down the similarities and differences of these two great Northern Arizona cities.
Despite being just 40 minutes apart, they both offer their own culture and lifestyle, which makes sense since one is about 7 times bigger than the other in population. They also have different costs of living and even different weather.
We researched all of the latest data and trends to figure out the true differences between Flagstaff vs Sedona in 2022. Of course, your choice will be based on your preferences, but we wanted to make sure that you have a strong foundation of knowledge to make your choice off of.
Let's take a look at how Flagstaff compares against Sedona so that you can determine which city to pick for sightseeing or to live in.
Please note that some links below are affiliate links, which means that we receive a small commission if you make a purchase through our links, but at no extra cost to you. Thank you in advance for your support!
Flagstaff vs Sedona – Climate
Despite their proximity, Flagstaff and Sedona do not share the same type of weather. That is due to the fact that Flagstaff is located within the mountains and has a higher elevation than Sedona. Flagstaff is almost 7,000 feet above sea level, whereas Sedona is just 4,350 feet above sea level.
As a result, the average highs and lows are about 15 degrees lower in Flagstaff. Summers in Flagstaff are much more mild than Sedona (and the rest of Arizona). The average high in July is just 81 degrees, while the average in Sedona during the same month is a scorching 96 degrees.
Flagstaff also receives a lot more snow than Sedona. The annual snowfall amount in Sedona is about 10 inches, while Flagstaff usually receives about 10 times more per year. Visitors take note that it can still snow in Flagstaff in March and April, which can be great for skiing, but unexpected if you think Arizona is just always hot all year round.
Travelers in the spring or the fall who are looking for warm weather may want to head to Sedona.
Either way, both cities do enjoy four seasons throughout the year, which is quite rare in Arizona.
Flagstaff vs Sedona – Culture
Although Flagstaff is the largest city in Northern Arizona, it feels more like a big town. It is also where Northern Arizona University's campus is located, which provides Flagstaff with an energetic, college town vibe that permeates throughout the city.
There is also a historic downtown with many locally-owned shops and restaurants, which adds to its authentic charm and relaxed way of life.
Since it is located in the mountains (and close to the Grand Canyon), you will also find many outdoorsy people in Flagstaff.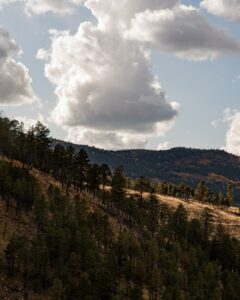 In Sedona, you can expect a smaller and more refined city center with many upscale boutiques and art galleries. In fact, there are over 80 art galleries in Sedona alone.
There are also some excellent spas and resorts in the area.
But, Sedona is probably best known for its proximity to some of the most beautiful landscapes in the world. The stunning Red Rock State Park offers miles of red rock formations and soaring stones that some say is even more breathtaking than the Grand Canyon. They even named themselves "The Most Beautiful Place on Earth."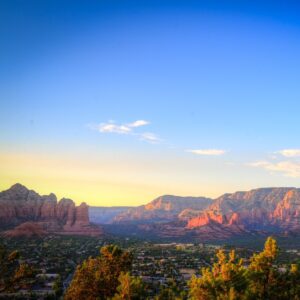 Sedona is definitely more touristy, which also means a bit more pricey as well.
In summary, when comparing Sedona vs Flagstaff, most people feel that Flagstaff gives you the best bang for your buck and is a bit more relaxed, while Sedona is stunning, but also caters to the higher-end crowd.
Flagstaff vs Sedona – Things to Do for Travelers
For visitors, most of the things to do around Flagstaff revolve around what's actually not in Flagstaff, but in the nature that surrounds it. There are excellent hiking and biking trails nearby among the numerous state parks. In the winter, there are an abundance of ski slopes that are available, too.
Still, there are several points of interest in town, like the Museum of Northern Arizona and the Pioneer Museum. Downtown itself is also a destination in Flagstaff, as its college-aged residents ensure that there is a lively nightlife and entertainment scene.
On the other hand, Sedona offers a lot more shopping and high-end restaurant options for travelers to sample compared to Flagstaff. Additionally, there are many luxury spas that you can only find in Sedona.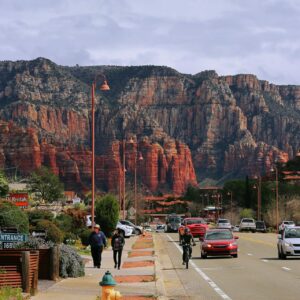 But, there are just as many good opportunities to visit nature from Sedona as there is in Flagstaff. You can get directly onto the trails in less than 10 minutes from the center of Sedona, where you can go on epic hikes around the rosy colored landscape.
Flagstaff vs Sedona – Things to Do for Residents
For folks who want to understand what there is to do if they move to Flagstaff, you will be glad to hear that there are always things going on throughout the year.
There is a strong arts and culture scene, with numerous theaters around town. The university also plays a big part in producing community events like plays and musicals.
Additionally, Flagstaff was the world's first International Dark Sky City, which means that it actively tries to reduce its light pollution in certain areas to also allow for better star gazing. For instance, there is the world-renowned Lowell Observatory that is close to the center of the city where you can witness the open skies.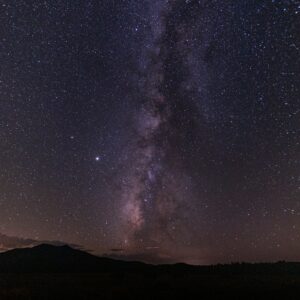 Of course, residents can also take advantage of all the outdoor activities that we mentioned earlier.
Meanwhile, Sedona offers a wide range of activities for residents all year round. There are events like art gallery tours, community yoga classes, and live music shows that are going on all the time.
There are also numerous golf courses in the southern part of town, where you can play virtually all year round.
On top of all of that, there are many festivals throughout the year that help to bring the community together, like the Sedona Plein Air Festival, Piano On the Rocks International Festival, and Sedona International Film Festival.
Flagstaff vs Sedona – Cost of Living
When it comes to the cost of living in Flagstaff vs Sedona, there is really no comparison. Sedona is almost 20% more expensive than Flagstaff. The biggest contributing factor to this difference is the housing costs.
The median home in Flagstaff costs $500,000, while homes in Sedona are valued at around $700,000.
It's probably clear that both cities also cost more than the average US city. Flagstaff is about 20% more expensive than the national average, while Sedona is over 40% more expensive overall.
Flagstaff vs Sedona – Location
Flagstaff is a bit further north than Sedona, which means it takes a little longer to reach Phoenix and its airport.
From Flagstaff to Phoenix, it is about 2 hours and 15 minutes, while from Sedona to Phoenix is an even 2 hours.
These times are also the same to reach Phoenix International Airport since it is basically in the center of the city.
Summary – Flagstaff vs Sedona
These two cities in the middle of the desert in Northern Arizona offer quite a contrasting experience for those who want to visit as well as those who want to relocate. When comparing Sedona vs Flagstaff, you will have to ask yourself which place will best match your lifestyle and expectations.
If you are looking for a down-to-earth city with a good nightlife and tons of outdoor activities (including in the snow), then Flagstaff may be a good choice for you.
Instead, if you are looking for a polished city with a thriving arts culture as well as easy access to the great outdoors, then Sedona may fit your needs.
Or, you can just try them both since they are only 40 minutes apart from each other!