The 8 Richest Neighborhoods in Florida *2023 Update*
To determine where the richest neighborhoods in Florida are for 2023, we looked through all the data on median incomes, cost of living, and home prices to get the definitive answer.
Certainly, some wealth has shifted after the year we had in 2020, with bigger, more expensive homes being bought and sold in areas with more space.
We took all of these factors into consideration to find the richest neighborhoods in Florida and also tried to understand what makes these places so desirable.
It will come with no surprise that the majority of these expensive Florida neighborhoods are on or near the beach as well as being close to big cities like Miami and Palm Beach. But, there are some that are more secluded on isolated parts of the coastline.
However, what they all have in common are streets that are lined with luxurious homes that cost several million dollars and feature manicured lawns with extravagant amenities like tennis courts, swimming pools, and even guest houses.
The richest parts of Florida also enjoy warm, sunshine year round and easy access to some of the best beaches that the US has to offer.
So, let's dive in and find out where the richest neighborhoods in Florida for 2023 are located and understand how and why they reached their level of wealth and exclusivity.
Please note that some links below are affiliate links, which means that we receive a small commission if you make a purchase through our links, but at no extra cost to you. Thank you in advance for your support!
8 Richest Neighborhoods in Florida – 2023
To start, we want to give you some insight into the detailed methodology that we followed to find and rank these neighborhoods. To determine if a place was "rich," we looked at the median household incomes, median home prices, and cost of living indexes for each location.
We also wanted to narrow down our search to neighborhoods, which are smaller parts of a larger city or town.
For sure, cities like Miami and Naples are quite rich as a whole, but we wanted to find the specific communities within the cities that were the most exclusive and richest. So, our list is just of the richest areas in Florida within larger cities.
8. Sewall's Point, Florida
Location: Check on Google Maps
The first entry on our list of the richest neighborhoods in Florida is Sewall's Point, which is a small peninsula of just over 2,000 residents that sits near Port St. Lucie on Florida's Atlantic coast.
Many of the upscale homes here sit directly on the water and most of them even have their own dock.
The average household income in Sewall's Point is over $126,000. All that cash comes in handy on the island, as the average home here costs over $800,000.
But, it is surely worth it to get a spot on this idyllic island, which feels like a quaint, boating town (that's also filled with palm trees and swimming pools).
7. Johns Island, Indian River Shores, Florida
Location: Check on Google Maps
This private, 1,600 acre island is home to almost 4,000 wealthy residents and is located on one of Vero Beach's barrier islands on the eastern shores of Florida.
It's an exclusive part of Indian River Shores and is filled with sprawling mansions that sit right on the water.
It's so exclusive that Google Street View wasn't even able to access most of it.
In Indian River Shores overall, the average household brings in over $120,000 each year and the average house costs over $1,000,000. There wasn't specific data just for Johns Island, but we think that those values could be double or even triple those figures.
6. Key Biscayne, Florida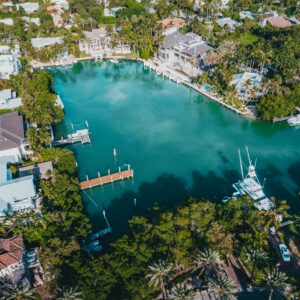 Location: Check on Google Maps
Key Biscayne is an affluent little island just south of Miami that offers a beautiful community with breathtaking views at almost every turn. It's just a 20 minute drive from Downtown Miami, yet offers residents everything they need to be self-sufficient and not need to wander off the island.
It was also home to Richard Nixon, Cher, and Brad Pitt.
If you would like to experience island life on this slice of paradise, be sure to have a high-paying job lined up so that you can afford the almost $1.1 million average price for a home.
Residents seem to be doing well though, as the median household income comes in at $150,000, making it one of the richest neighborhoods in Florida.
5. Boca Grande, Florida
Location: Check on Google Maps
This small community on Gasparilla Island is one of the richest neighborhoods in Florida that sits on the Gulf Coast side of the state.
It is about 1 hour from Fort Myers and Sarasota and is famous for hosting celebrities during the summer, like the Bush family, Oprah, and Katherine Hepburn in the past.
It is not uncommon for the estates in Boca Grande to be the second homes of the rich and wealthy. It is also not uncommon to see home prices north of $10 million, which is why it is considered one of the richest parts of Florida.
The typical home sells for over $2 million, while the average household brings in $115,000.
4. Golden Beach, Florida
Location: Check on Google Maps
Golden Beach is a quiet, residential stretch of island that is part of Miami. In an area surrounded by high-rise condos, Golden Beach has retained its charm as a small, private community filled with multi-million dollar homes.
Bill Gates used to have a house in Golden Beach and other famous people like Tommy Hilfiger and Ricky Martin have their homes here.
Most estates are directly on the water, as there is the Atlantic Ocean on one side and three artificial islands that have been created on the other, which are North Island, Central Island, and South Island.
If you are thinking about buying a place here, be ready to shell out at least $4 million for a home. These values have been steadily rising since the pandemic has started.
Meanwhile, the average household here makes just under $200,000, making it one of the richest neighborhoods in Florida in the Miami area.
3. Manalapan, Florida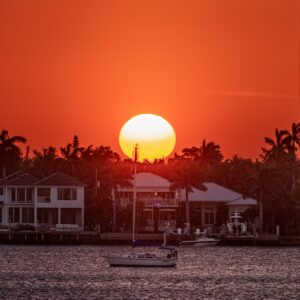 Location: Check on Google Maps
This ultra luxury, beachside community is located south of Palm Beach, Florida and features many stunning estates that have their own private beachfront.
Less than 500 people live in this exclusive town. The median household income is over $200,000 in Manalapan, Florida, while the average home goes for around $2.8 million.
Although that may not be as high as some other places on this list of the richest neighborhoods in Florida, Manalapan is home to some of the most extravagant mansions and estates in the country.
There are always some properties in Manalapan that make it onto the annual list of the most expensive homes in Florida.
For example, there is this estate that is valued at $115 million and was ranked the #1 most expensive home in the state.
Additionally, at any moment, you can find homes on the market that are offered for $20 million or more, which certainly qualifies Manalapan as one of the richest areas in Florida.
2. Jupiter Island, Florida
Location: Check on Google Maps
On the opposite side of Palm Beach in the north is Jupiter Island, which is a barrier island that sits right on the Atlantic Ocean with about 800 permanent residents.
It features some absolutely breathtaking homes that are directly on the beach.
Jupiter Island has the highest per capita income in the U.S., coming in at over $250,000, which is also the general amount of their median household income.
Meanwhile, the lavish mansions and estates cost an average of $6 million. Even empty plots of land go for at least $5 million.
Jupiter Island also attracts many golf professionals. Tiger Woods owns a $54 million mansion here and Greg Norman recently sold his home for $55.1 million. Other celebrities also call Jupiter Island their home.
Check out Celine Dion's home, which features its own water park, that sold for $38.5 million.
1. Fisher Island, Florida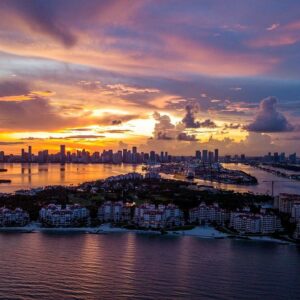 Location: Check on Google Maps
The exclusive Fisher Island is a small island community of under 500 people that is just outside Downtown Miami. It isn't accessible by car, is not open to the public, and has its own golf course right in the middle of the island.
Fisher Island was also originally a private vacation island just for the Vanderbilt family.
So, what makes it the richest neighborhood in Florida? Well, the average income for residents here is an astounding $2.5 million, which makes Fisher Island the wealthiest neighborhood in Florida as well as the whole US.
If you are interested in joining this private island, then be ready to spend about $2.6 million. While that may not sound like a lot compared to the other places on this list, you have to realize that most of these homes are just condos and that they are people's second (and even third or forth) homes.
There are newly constructed condo towers that have penthouse units that are priced at over $30 million. These lofty home prices combined with the highest average incomes makes Fisher Island the richest neighborhood in Florida.
Summary – Richest Neighborhood in Florida in 2023
There's one thing that every place on this list of the 8 richest neighborhoods in Florida have in common – they are all excessively lavish and the people who live there should consider themselves quite lucky.
But, it's no surprise since Florida offers a beautiful haven for the rich and famous. Who wouldn't want a mansion on the water with your own beach and enough space to invite all of your closest friends and family, all while enjoying the sun and warmth all year round?