12 Safest Towns in Florida – Best Small Communities in 2023
We looked through all the data to find the safest towns in Florida, where you can find peace and safety in a small and friendly community.
Florida's large size means that it can offer a multitude of small town options, from quaint coastal communities to serene inland towns.
In this article, we determined the 12 safest towns in Florida that we selected based on their crime rates as well as their desirability as an inviting community to live in.
We also looked for towns of different sizes so that you can find the safest small town in Florida as well as the safest large towns in the state as well.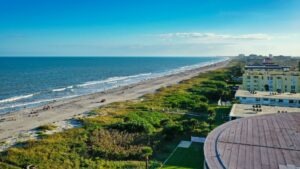 So, let's find out what the safest towns in Florida are that also offer a high quality of life as well.
Research Methodology
To compile this definitive list, we analyzed comprehensive data drawn from reliable sources, including the FBI's Uniform Crime Reporting (UCR) program and the Florida Department of Law Enforcement.
Our primary focus centered on towns with a population between 5,000 to 50,000 residents, so we limited our search to places that had authentic downtowns and not a bunch of towering condo buildings.
We then evaluated each town's crime rates relative to the Florida state average.
Therefore, this comprehensive ranking provides you with a trusted guide in your quest for the perfect Floridian haven.
The 12 Safest Towns in Florida
12. Key Biscayne
Population: 12,935
Crime Rate: 28% below Florida average
Location: Check on Google Maps
Key Biscayne is located just a 20 minute drive from Miami, which we also consider one of the best cities in the Sunshine State. The town offers a peaceful island getaway with beautiful beaches and tropical landscapes.
Explore Bill Baggs Cape Florida State Park or try exciting water sports. Or, enjoy some of the most delicious food in the state in Key Biscayne's gourmet eateries around town.
11. Punta Gorda
Population: 17,721
Crime Rate: 36% below Florida average
Location: Check on Google Maps
Situated on Florida's southwest coast, Punta Gorda is a quaint waterfront town known for its history and small-town charm. Residents enjoy a visit to Fishermen's Village for shopping and dining.
You can also explore the natural wonders of Charlotte Harbor Preserve State Park that is located right outside the center of town.
10. Tavares
Population: 14,965
Crime Rate: 36% below Florida average
Location: Check on Google Maps
Tavares is known as "America's Seaplane City" and is a delightful small town in the heart of Central Florida. You can enjoy water activities on Lake Dora or take a seaplane tour.
You can also discover the town's rich history in its vibrant downtown district and indulge in local cuisine.
9. Lynn Haven
Population: 19,799
Crime Rate: 52% below Florida average
Location: Check on Google Maps
Located on the Florida Panhandle, Lynn Haven is a friendly town near North Bay and Panama City Beach. Here, residents can enjoy outdoor activities in its scenic parks and learn about the local history at the Roberts House Museum.
Fishing and boating opportunities are also very popular pastimes around this town.
8. Longboat Key
Population: 7,158
Crime Rate: 53% below Florida average
Location: Check on Google Maps
As a barrier island between Sarasota Bay and the Gulf of Mexico, Longboat Key offers a serene coastal experience. You can relax on its pristine beaches, explore nature trails in Joan M. Durante Park, or indulge in shopping and dining at St. Armands Circle.
Longboat Key is truly a paradise community that is also one of the safest small towns in Florida.
7. Cooper City
Population: 34,364
Crime Rate: 55% below Florida average
Location: Check on Google Maps
Cooper City is a suburban oasis that is located right between Fort Lauderdale and Miami.
The town offers access to many green areas, including Brian Piccolo Park, which provides a blend of nature and recreation.
There is also the Cooper City Farmers Market, which is a great place for food lovers and a place to take part in community events.
6. North Palm Beach
Population: 12,581
Crime Rate: 65% below Florida average
Location: Check on Google Maps
Situated on a beautiful peninsula on Florida's east coast, North Palm Beach combines luxury with a strong sense of community.
Residents here often engage in boating, visits to the beautiful John D. MacArthur Beach State Park, or shopping at the world-class Gardens Mall.
5. Oviedo
Population: 37,545
Crime Rate: 68% below Florida average
Location: Check on Google Maps
Oviedo is located northeast of Orlando and represents a tranquil town known for its education and family-friendly atmosphere.
Residents love to visit its local parks like Riverside Park, shop at Oviedo Marketplace, or explore the town's local history at the Lawton House, making it an excellent choice as one of the safest towns in Florida.
4. Marco Island
Population: 17,361
Crime Rate: 70% below Florida average
Location: Check on Google Maps
Marco Island is located south of Fort Myers and Naples on Florida's splendid Gulf Coast.
Residents here can enjoy the warm waters of the Gulf of Mexico and indulge in the island's opulence and natural beauty.
There are plenty of outdoor activities to do here, as well as a strong art and culture scene that can be experienced through the numerous galleries and boutiques that line the quiet streets of the town.
3. Parkland
Population: 28,354
Crime Rate: 73% below Florida average
Location: Check on Google Maps
Situated in Broward County in South Florida, Parkland is an affluent community known for its planned neighborhoods and green spaces.
Enjoy outdoor adventures in parks and nature preserves, play golf at the Parkland Golf & Country Club, or join annual events and festivals and truly become part of the community.
2. Satellite Beach
Population: 10,495
Crime Rate: 75% below Florida average
Location: Check on Google Maps
Satellite Beach is located on Florida's Space Coast and offers a hidden paradise with unspoiled beaches and wildlife.
Residents and visitors can relax on the beach, explore the Indian River Lagoon, or witness rocket launches from the nearby Kennedy Space Center.
1. Niceville
Population: 14,325
Crime Rate: 84% below Florida average
Location: Check on Google Maps
Niceville tops our list as the safest town in Florida. This peaceful town offers scenic beauty right on Choctawhatchee Bay in Florida's Panhandle. Engage in outdoor activities, explore the historic downtown, or visit nearby Destin for some of the best beaches on the planet.
Summary – Safest Towns in Florida
We hope this list of the safest towns in Florida provides you with an overview of specific communities to think about if you are looking to relocate to a peaceful community in the Sunshine State.
These 12 towns have been carefully chosen due to their low crime rates and beautiful surroundings, making them ideal places to live or visit.
Whether you're looking for a quiet town to raise a family, retire in tranquility, or simply to enjoy a peaceful lifestyle, we think that these towns in Florida have something unique to offer.
You should definitely visit some of these places if you are interested in relocating to Florida in the near-future.