The 12 Most Quintessential Small Towns in New England – 2023 Edition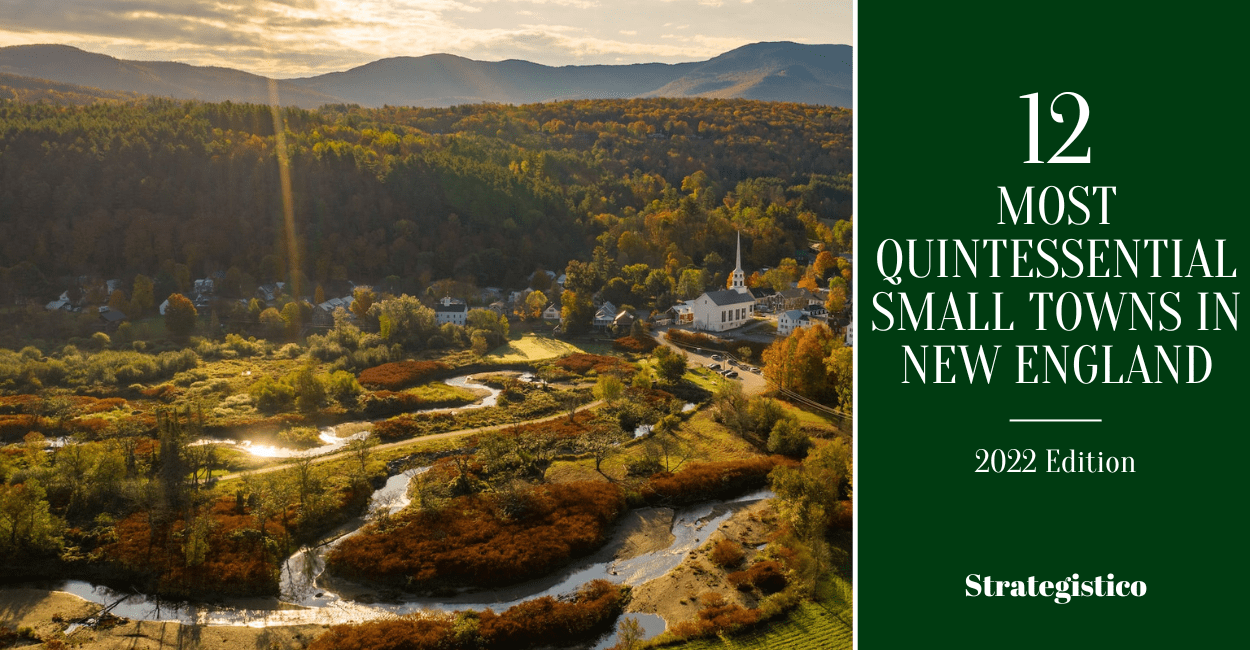 What defines a true New England town? To find out, we put together an in-depth study to determine the most quintessential and charming small towns in New England.
The cozy, picturesque towns that you can find scattered across Maine, New Hampshire, Vermont, Connecticut, Rhode Island, and Massachusetts offer much more than just a quick stop while viewing the fall foliage.
They have developed into thriving communities that feature a unique blend of culture and history that cannot be found anywhere else in America.
Of course, these towns are not just charming due to their stunning aesthetics in and around town, but also offer a well-rounded lifestyle that both visitors and people looking to move can enjoy throughout the whole year.
Thus, we determined the most quintessential small towns in New England in 2023 based on the mixture of leisure, living, and overall vibe that they provide.
Our research evaluated all of the 1,446 small towns across New England with a population of 25,000 people or less and rated them based on several key factors, which include cost of living, dining, nightlife and entertainment options, cultural events, safety, and walkability.
Research Methodology
To decide the best small towns in New England that truly reflect the classic feel of the region, we created a detailed evaluation system based on seven metrics to help quantify the caliber of each community:
Dining, Nightlife & Entertainment Options:

Availability of restaurants, bars, lounges, cafes, boutiques, and shopping areas in a town. Data from the U.S. Census Bureau – County Business Patterns.

Arts & Culture Scene:

Access to arts and culture based on the availability of historic sites, museums, community festivals and events, and performing arts venues. Data from the U.S. Census Bureau – County Business Patterns and official town events calendar.

Walkability:

Ability to get around the main part of the community by foot. Data from Walk Score.

Outdoor Amenities:

Ability to access nature via public parks, lakes, rivers, mountains, and beaches in the town or close to the town. Data from the National Environmental Public Health Tracking Network and The Trust for Public Land.

Cost of Living:

Affordability of a town for visitors and residents based on current prices for major expenses like housing/accommodations, groceries, restaurants, entertainment, and transportation. Data from the Council for Community and Economic Research and the Bureau of Labor Statistics – Consumer Price Index.

Crime Rate:

Measure of safety based on the number of reported crime incidents. Data from the FBI – Uniform Crime Reporting.

Overall Vibe:

The culture and atmosphere of a town based on feedback and reviews from locals and visitors. Data from various review aggregator sites and social media platforms.
We developed a database to track all 1,446 small towns in New England and then chose the top twelve small towns that received the highest overall scores across all of these categories.
We have listed them below in alphabetical order.
The 12 Most Quintessential Small Towns in New England
Bath, Maine
Population: 8,766
Location: Check on Google Maps
This delightful waterfront town features stately brick buildings from the 19th century and a charming, historic downtown that buzzes with residents and visitors who explore its local restaurants and boutiques.
Additionally, Bath's famously relaxed culture makes it ideal for people of all ages to enjoy.
The strategic location of the "City of Ships" right on the Kennebec River also provides scenic water views that helps add to its perfect New England vibe.
Bristol, Rhode Island
Population: 22,493
Location: Check on Google Maps
While Bristol is the largest town on our list, it still maintains a classic small town New England feel that makes it an ideal place to visit or call home.
Here, you will find stunning Colonial homes and a walkable downtown area that is situated right on the bay.
Meanwhile, Bristol offers a plethora of cultural attractions, including art galleries, museums, and events that are sponsored by the town throughout the year.
Its location right between Providence and Newport also make it a convenient place to explore.
Essex, Connecticut
Population: 6,733
Location: Check on Google Maps
This historic community is located right on the Connecticut River near the southern shores of the state. It features a quaint Main Street that is lined with locally-owned boutiques, restaurants, cafes, and inns that create the ultimate New England experience.
Essex also hosts a wide-range of community events, such as festivals, concerts, and parades, which makes it a wholesome place for all ages.
Hanover, New Hampshire
Population: 11,870
Location: Check on Google Maps
While this college town is probably best known for being the home of Dartmouth College, it also offers an excellent and well-rounded way of life that virtually every generation can enjoy.
Hanover is located right in the heart of New England's stunning Upper Valley, which provides a great backdrop for nature lovers all year long.
Meanwhile, the community offers a walkable downtown where you can find students mingling with locals and visitors among the handful of cute restaurants, bars, boutiques, and cafes along its vibrant Main Street.
Lebanon, New Hampshire
Population: 14,282
Location: Check on Google Maps
Lebanon is another quaint town you can find in the Upper Valley. Its town center is less than 5 miles away from Hanover, yet it offers a bit of a different character than its college town neighbor.
Life revolves around the town green of Colburn Park, which is surrounded by city hall, a library, galleries, restaurants, and shops, and hosts public events like live music concerts, festivals, outdoor movies, and a farmers' market.
Outdoor lovers can also enjoy the ample number of scenic hiking and biking trails that are just minutes away from the town.
Littleton, New Hampshire
Population: 6,005
Location: Check on Google Maps
Littleton is a perfectly enchanting New England community that is tucked away at the base of the White Mountains in northern New Hampshire.
Here, residents and visitors can enjoy its picturesque Main Street that is filled with locally-owned restaurants, cafes, and one-of-a-kind boutiques.
Don't miss Littleton's recently revitalized River District, which blends its historic charm with modern amenities and features the Riverwalk Covered Bridge.
You can also indulge in the natural beauty that surrounds Littleton by taking a hike in the nearby Parker Mountain trails.
Orleans, Massachusetts
Population: 6,307
Location: Check on Google Maps
You can't have a full list of what is quintessentially New England without including a Cape Cod beachtown.
While this small community primarily caters to beach lovers in the summer, it also offers a balanced way of life that is suitable to live in or visit all year round.
Orleans' vibrant downtown features a handful of local shops, galleries, and delicious eateries that are interspersed among numerous historic sites and buildings.
There are also many events and festivals that locals and travelers can celebrate together throughout the year.
Portsmouth, New Hampshire
Population: 21,956
Location: Check on Google Maps
Portsmouth is a historic port town that sits right on the border of New Hampshire and Maine, yet is also just 1 hour away from Boston.
Downtown Portsmouth and its Harbor is the place to be to experience the true New England spirit, especially in the summer.
Here, you can ditch your car and take a walk around and absorb the culture of a waterfront community steeped in history.
But, Portsmouth is also very much alive during the other seasons as well, as highlighted by the plentiful number of community festivals and events that take place throughout the year.
Rangeley, Maine
Population: 1,222
Location: Check on Google Maps
Rangeley is the smallest community on this list, yet it may also be the most beautiful one as well. While it doesn't have a large downtown like the rest of the towns mentioned, it offers pure natural beauty that makes it hard to match (while still offering a charming Main Street).
Rangeley's landscape is highlighted by its sprawling, untouched wilderness and breathtaking mountains that soar from the horizon.
It also sits right on Rangeley Lake, which provides ample opportunities for water sports or just a relaxing scenic cruise.
Additionally, it is considered one of the best winter towns in New England and offers unlimited fun in the heavy snowfall that the town receives.
Stockbridge, Massachusetts
Population: 2,018
Location: Check on Google Maps
Stockbridge is located right in the heart of the dramatic landscape of the Berkshires in western Massachusetts and offers an ideal blend of culture, history, and the sheer beauty of New England nature.
This quaint town is home to several notable points of interest, including the Norman Rockwell Museum and the Berkshire Botanical Garden.
There are plenty of things to do around town as well, many of which are centered around the community's vibrant Main Street.
Of course, there are also the mountains and forests of the Berkshires to discover that are just a short ride from downtown Stockbridge as well.
Stowe, Vermont
Population: 5,223
Location: Check on Google Maps
While this northern Vermont town is well-known for being the base to some of the country's best ski slopes, its community also has a lot to offer to both residents and visitors.
In fact, Stowe feels like a town that is right out of a fairytale. You can easily walk around its historic downtown and check out one of its locally-owned restaurants or shops.
Or, you can experience one of the town's magical events and festivals. For instance, don't miss Stowe's Traditional Christmas celebration in the winter.
Of course, you can also indulge in the vast nature of upper Vermont that surrounds this cozy town. For example, the charming Spruce Peek Village with its recently refresh Lodge at Spruce Peek are just minutes away from downtown Stowe and offer the feel of a classic New England ski community.
Woodstock, Vermont
Population: 3,005
Location: Check on Google Maps
Woodstock's picturesque blend of nature combined with its historic small town design make this tight-knit community one of the top quintessential New England experiences.
Take a stroll down the charming Central Street, where you can sample some of the region's best cuisine or stop at one of the unique shops that line the street.
Then, culminate your walk at The Green, where you can also see the famed Middle Covered Bridge. This crossing spans over the Ottauquechee River that runs right through the town.
Woodstock is also famous for its enchanting Christmas celebration, where you can witness the whole town lighting up in holiday cheer.
Data Sources
Council for Community and Economic Research
https://www.c2er.org/
FBI – Uniform Crime Reporting
https://www.fbi.gov/services/cjis/ucr
National Environmental Public Health Tracking Network
https://ephtracking.cdc.gov/
The Trust for Public Land
https://www.tpl.org/
US Census Bureau – Census of Population and Housing
https://www.census.gov/topics/population/data.html
U.S. Census Bureau – County Business Patterns
https://www.census.gov/programs-surveys/cbp.html
US Bureau of Labor Statistics – Local Area Unemployment Statistics
https://www.bls.gov/data/
US Bureau of Labor Statistics – CPI for All Urban Consumers
https://www.bls.gov/data/
Walk Score
https://www.walkscore.com/cities-and-neighborhoods