Discover the 6 Best Small Towns near Pensacola FL – Charming Panhandle Towns
We found the 6 best small towns near Pensacola Florida so that you can experience Florida's true small town charm during your visit to the Panhandle.
Of course, Pensacola has tons to offer, from its lively downtown to its pristine coastline. It even made our list of the best places to live in all of Florida.
But, if you are looking for a change of pace in the area, then one of these small towns will definitely give you a different perspective of life in Florida.
Whether you are looking for some unspoiled natural beauty, enjoy some history, or simply want some more coastal vibes, then these small towns near Pensacola are sure to fulfill your desires.
Research Methodology
To determine the best small towns near Pensacola Florida, we first set a limit to how far these towns should be from Pensacola.
There aren't many towns around the Panhandle area in general, so we had to stretch our radius to include towns that were up to a 1 and a half hour drive away from Pensacola.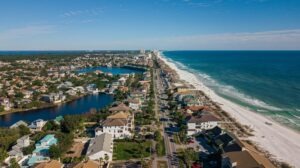 Then, we looked at what each town had to offer within this radius, which includes the things to do for families and couples, as well as their overall quality of life.
So, let's take a look at the best small towns near Pensacola given these research parameters.
The 6 Best Small Towns near Pensacola Florida
6. Perdido Key
Population: 1,000
Minutes from Pensacola: 30 minutes
Location: Check on Google Maps
Perdido Key is just a 30 minute ride west of Pensacola. This coastal gem is nestled right on a barrier island and shares its border with neighboring Alabama.
Development has been quite limited around these parts, so Perdido Key still feels like a secluded paradise away from the hustle and bustle of city life. Here, you can lay on the beach in the warm sun or take a leisurely stroll along the miles of its sugar-white sand. For nature enthusiasts, the nearby Perdido Key State Park beckons with its diverse ecosystems and abundant wildlife, offering an immersive experience in the lap of nature.
5. Milton
Population: 10,000
Minutes from Pensacola: 30 minutes
Location: Check on Google Maps
Milton is a scenic 30-minute drive north of Pensacola and exudes Southern charm with its historic, walkable downtown area with tree-lined streets.
Visitors here can enjoy a leisurely stroll through the picturesque streets and shop among the quaint boutiques and antique shops.
Don't miss the immaculately restored Imogene Theatre, which is a house from 1912 that now hosts live performances and events.
Additionally, outdoor enthusiasts can satiate their adventurous spirit by indulging in fishing or kayaking along the picturesque Blackwater River State Park, which boasts awe-inspiring natural beauty at every turn.
4. Fort Walton Beach
Population: 21,000
Minutes from Pensacola: 1 hour
Location: Check on Google Maps
Captivating Fort Walton Beach is located about 1 hour east of Pensacola and offers a seamless blend of natural beauty with modern amenities, making it perfect for every kind of traveler around Pensacola.
You can visit for just one day and bask in the sun on its beautiful beaches with crystal-clear waters.
Or, you can spend some more time and visit Gulfarium Marine Adventure Park, where you can see marine life up close.
Also, you can check out the Okaloosa Island Fishing Pier for a unique, panoramic view of the Gulf of Mexico.
3. Miramar Beach
Population: 9,000
Minutes from Pensacola: 1 hour, 15 minutes
Location: Check on Google Maps
Miramar Beach is nestled along the Scenic Gulf Drive and presents a haven of upscale resorts, pristine beaches, and world-class golf courses.
Immerse yourself in relaxation as you bask in the sun, take refreshing dips in the emerald waters, or partake in exhilarating water sports like jet skiing or parasailing.
Golf enthusiasts will revel in the opportunity to tee off at the acclaimed Sandestin Golf and Beach Resort, offering breathtaking courses that perfectly blend challenging play with mesmerizing coastal views.
As the sun sets, you can explore the vibrant shopping and dining scene at the nearby Silver Sands Premium Outlets, where retail therapy merges seamlessly with culinary indulgence.
2. Mary Esther
Population: 4,400
Minutes from Pensacola: 45 minutes
Location: Check on Google Maps
Situated approximately 45 minutes east from Pensacola and just west of Fort Walton Beach, the quaint town of Mary Esther offers a delightful blend of natural beauty and cultural attractions.
It is also the smallest place on this list of the best small towns near Pensacola.
The picturesque John C. Beasley Park, located near the Santa Rosa Sound, beckons you to unwind on its sandy shores, embark on serene paddle boarding adventures, or savor a delightful picnic against the backdrop of mesmerizing waterfront vistas.
History enthusiasts can enjoy the Heritage Park & Cultural Center, an immersive experience featuring captivating exhibits on local history, alongside a replica of an early settler's home.
For a quick shopping escapade, Santa Rosa Mall presents a variety of retail stores and dining options, ensuring a memorable and diverse experience.
1. Destin
Population: 14,000
Minutes from Pensacola: 1 hour
Location: Check on Google Maps
Destin tops our list as the best small town near Pensacola Florida.
We even named it as one of the best places to live on the Panhandle.
A quick 1 hour drive east from Pensacola leads you to Destin, hailed as the "World's Luckiest Fishing Village."
This popular coastal town seamlessly blends breathtaking beaches with perfect Florida small town charm, creating a haven for both tranquility seekers and adventure enthusiasts.
The Destin Harbor Boardwalk is a must-visit destination, offering a plethora of charming shops, waterfront restaurants serving mouth-watering delicacies, and live entertainment that promises to enliven your evenings.
Wildlife enthusiasts can also enjoy some deep-sea fishing excursions or the chance to spot playful dolphins on a scenic cruise.
Don't forget to explore the Destin History and Fishing Museum, where intriguing exhibits shed light on the town's deep-rooted fishing heritage, providing a fascinating glimpse into the past.
Summary – Best Small Towns near Pensacola FL
Exploring the best small towns near Pensacola, FL will add a touch of magic to your visit to the Florida Panhandle.
These hidden gems offer unique experiences that go beyond the city's borders.
From the serene shores of Perdido Key to the historic streets of Milton, each town offers a distinctive blend of natural beauty, cultural exploration, and outdoor adventures.
Fort Walton Beach, Miramar Beach, Mary Esther, and Destin could also be combined together and offer a mix of coastal paradises, entertainment hubs, and retail therapy opportunities, ensuring an unforgettable journey for every traveler.
So, plan your visit to Pensacola and don't forget to venture into these captivating small towns during your voyage through the heart and soul of the Florida Panhandle.