Is Elk Grove a Good Place to Live? 9 Pros and Cons of Living in Elk Grove, CA
We did some in-depth research to answer the question, "Is Elk Grove a good place to live?", and found 9 pros and cons of living in Elk Grove, CA.
This quiet, but growing suburb of Sacramento sits just 15 miles south of California's state capital and is frequently mentioned as one of the area's top suburbs for families.
But, is Elk Grove a good place to live and is all the hype justified? Does it offer something for everyone, or is it only suitable for a certain demographic?
What are the true pros and cons of living in Elk Grove, CA? To find out, we evaluated all the data and feedback on Elk Grove that was available to uncover the real story behind this suburb.
Elk Grove's current population is just under 175,000 inhabitants and it has always been quite popular in the area. At one point, between 2004 and 2005, it was actually the fastest growing city in the whole U.S.
However, the housing crisis of 2008 significantly impacted the city's growth and its housing market. But, the city has rebounded well and it remains the second biggest city in Sacramento County today.
So, should you be packing your bags to move here? Let's investigate the pros and cons of living in Elk Grove, CA.
Please note that some links below are affiliate links, which means that we receive a small commission if you make a purchase through our links, but at no extra cost to you. Thank you in advance for your support!
Pros of Living in Elk Grove, CA
1. Superb Suburbs for Families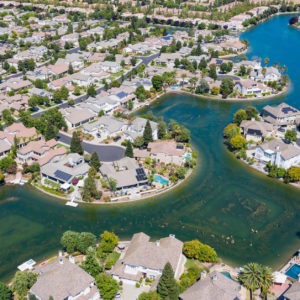 One of the best things about living in Elk Grove, CA is its wonderful environment for families. For example, there are many highly-rated schools in the city. Niche.com gave Elk Grove's public school system an A- grade.
Meanwhile, there are also tons of public parks, waterparks, and skate parks within the city. Don't miss the Elk Grove Aquatics Center, where families can swim together and enjoy its lazy river or 30 foot water slides.
Additionally, Elk Grove features many small and quiet neighborhoods that are ideal for a young family. On top of that, it is made up of an extremely diverse and inclusive population that truly reflects the demographics of the whole nation.
2. Healthy Job Market
Elk Grove's strong historic growth has attracted many top companies to the area, which, in turn, have provided many high-paying jobs. In fact, the 2019 median income in Elk Grove was $93,780, which is almost $20,000 more than the average for all of California.
Some top employers in the city include Apple, which has a regional corporate office in the Laguna West neighborhood of Elk Grove, and Kaiser Permanente, one of the nation's largest healthcare providers.
The overall job market for Elk Grove is also expected to continue to grow at a rate of 37% over the next 10 years, which is higher than the national average.
Residents of Elk Grove can also tap into Sacramento's growing job market, which is just 20 to 40 minutes away (depending on traffic, which we will cover later on) as well as San Francisco, which is about 1.5 hours away.
3. Proximity to Big Cities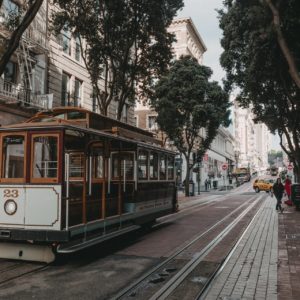 Speaking of the big cities, Elk Grove's strategic location makes it an ideal place to settle that is still affordable, yet close to major metropolitan areas as well as beautiful outdoor locations.
As noted above, Sacramento, which we named as one of the top cities in all of California to live in, is usually a 20 to 40 minute drive away.
Additionally, the Bay Area is reachable by car in about 1.5 hours.
Meanwhile, there are plenty of national forests that you can reach in an hour or two. You can even get to Lake Tahoe in 2 hours from Elk Grove.
4. Affordability vs. Rest of California
While Elk Grove may not be considered cheap, it is far more reasonable than many other parts of California. The overall cost of living in Elk Grove is about 35% higher than the rest of the U.S., but it is actually about 10% cheaper than the rest of California on average.
There are big savings to be had in Elk Grove, especially when you look at housing costs. While its median home values are still quite high at $442,000, that is still a full $100,000 lower than the average for the rest of the state.
But, Elk Grove continues to expand and will hopefully offer a greater supply of affordable homes, which may help stabilize the soaring prices.
5. Safety
The City of Elk Grove is well-known for its commitment to safety as well as its well-funded police force. Property crimes and violent crimes are routinely below state and national averages here.
In fact, Elk Grove was ranked as one of the top 50 safest cities in all of California recently by The National Council For Home Safety and Security.
Cons of Living in Elk Grove, CA
1. Growing Pains
However, not everything is perfect in Elk Grove. Its expansion into the 2nd largest city in Sacramento County has lured in many good jobs and new amenities. But, the city's infrastructure has not always kept up at the same pace.
For example, its overall school system is ranked quite high, but new schools take time to build, so the existing ones can get stretched for resources from time to time.
The same goes for shopping areas and traffic systems. The first priority during Elk Grove's expansion was to build housing, while roads and commercial districts were revamped afterwards.
As a result, there is congestion and crowding in some areas, while others can be further away from nice amenities.
2. Car Dependent
Speaking about roads and congestion, Elk Grove's expansion has also impacted its traffic flows. There are more and more traffic jams around the city and the commute to Sacramento can be double its normal length of 20 minutes depending on the time of day.
Additionally, there is a limited public transportation system, so most residents rely on cars to get around the city. On top of that, most parts of Elk Grove are not built to be pedestrian friendly, so having a car seems almost like a necessity here.
3. Missing Nightlife
While Elk Grove is great for families and folks who are looking for a quiet and relaxing place to live, people seeking the thrills of a late night dance party or a fancy cocktail lounge will be hard-pressed to find them here.
Likewise, there isn't really a huge downtown core in Elk Grove.
You would need to travel to Sacramento to find a more vibrant nightlife scene. So, Elk Grove may not be the best destination for young professionals or couples who frequently enjoy going out for date nights.
4. Extra Taxes
In Elk Grove, there are several districts where an extra tax is levied to help generate extra public funding. These areas are called Community Facilities Districts, also known as Mello-Roos after the names of the 2 legislators that helped pass the law.
The extra money paid in taxes should then be only used on projects that help benefit that neighborhood.
So, watch out for this extra tax in East Franklin, Poppy Ridge, and Laguna Ridge in Elk Grove. The current tax amount comes out to a maximum of an extra $800 to $1,000 per single family home per year.
Summary – Is Elk Grove a Good Place to Live?
Elk Grove offers an ideal suburban community for most people, with a good location, a strong job market, all with relative affordability. However, it may not be suitable for all, especially those who seek the excitement and walkability of a big city.
So, is Elk Grove a good place to live? We would say "yes" if your expectation is a calm city that is close enough to Sacramento and San Francisco, but far enough to be relaxed.
We hope these pros and cons of living in Elk Grove, CA have helped you understand if this is the right city for your next move.
Frequently Asked Questions – Pros and Cons of Living in Elk Grove, CA
Folsom vs Elk Grove
The suburban city of Folsom often gets compared to Elk Grove. They are both just outside Sacramento. Elk Grove is about 15 miles south of the city, while Folsom sits roughly 20 miles east.
When it comes down to Folsom vs Elk Grove, generally, Elk Grove is more affordable and closer to Sacramento, but Folsom is well-regarded as a top place to raise a family. In fact, it ranked #2 as the best cities to raise a family on the West Coast.
However, despite these two cities just being 40 minutes apart, Folsom's climate is a bit warmer than Elk Grove's. Elk Grove benefits from the breeze from the San Francisco Bay.
Speaking of San Francisco, Elk Grove is also closer to the Bay Area by about 20 to 30 minutes, so Folsom should really be reserved for those commuting to Sacramento.