The 6 Richest Neighborhoods in California – 2023 Edition
To find the richest neighborhoods in California for 2023, we researched all of the data on household income, cost of living, and real estate values to uncover our answer.
The wealthiest areas usually also mean the most desirable, so we tried to understand why these neighborhoods are so sought after as well.
It's no surprise that the majority of the richest neighborhoods in California are located near some of the big cities like Los Angeles, San Diego, or San Francisco.
But, they are usually a few miles outside the core of the city and secluded in the hills or on the coast for extra privacy.
It's also not surprising that a lot of these neighborhoods are not just the richest in the Golden State, but in all of America as well. California offers many areas that are ideal for exclusive, upscale living that gives residents access to warm weather, picturesque beaches, and major metropolitan centers.
So, let's find out where the richest neighborhoods in California for 2023 are located and see why and how they got to their level of wealth and why they continue to be in demand today.
Please note that some links below are affiliate links, which means that we receive a small commission if you make a purchase through our links, but at no extra cost to you. Thank you in advance for your support!
Richest Neighborhoods in California – 2023
First, we need to define what is considered to be "rich" and what is considered a "neighborhood." Our guideline for "rich" is based primarily on the median household income along with the real estate values for the area.
Meanwhile, we defined a "neighborhood" as a small district within a town or a city.
We really wanted to narrow down our search and look specifically for a limited area and not a whole zip code. You can check out our other list of the most expensive towns and cities in California if you want a broader look at the wealthiest areas in the state.
Now that our methodology has been defined, let's take a look at the rich neighborhoods in California that made the list.
6. La Jolla Farms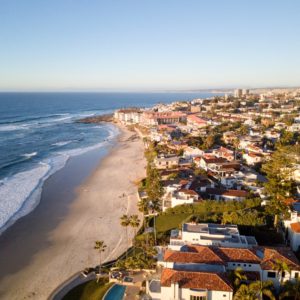 Location: Check on Google Maps
La Jolla Farms is a small stretch of land that is right on the coast of the Pacific Ocean in between La Jolla and Torrey Pines about 20 minutes from downtown San Diego.
It's made up of just a handful of streets with La Jolla Farms Road being the main thoroughfare through the neighborhood. Also, the University of California San Diego sits directly adjacent to this area.
The median household income for families living in La Jolla Farms is $408,000, while home listings are always at a minimum of around $5 million.
However, there are only a few listings every year since this is such a small area. But, you can expect to pay an average of $10 million to $15 million if there is one on the market.
In 2019, Alicia Keys and her husband Swizz Beatz purchased the Razor House, a property dubbed "America's Coolest Home," for $20.8 million.
If you are able to secure one of these exclusive homes, then you will be able to enjoy unrestricted views of the ocean and direct access to the beach below.
5. Corona Del Mar Beach
Location: Check on Google Maps
The whole city of Corona Del Mar is quite wealthy and one of its richest neighborhoods is Corona Del Mar Beach, which sits right on the coastline. It is just south of Newport Beach and is about a 45 minute drive away from Los Angeles.
This neighborhood's median household income is approximately $441,000, and home prices are valued from a minimum of $2 million all the way up to $20 million to $30 million for luxury estates with their own private beachfront.
One of the major attractions of this area is its proximity to world-renowned beaches such as Newport Beach, Laguna Beach, and its very own Corona Del Mar Beach, making it one of the premier rich neighborhoods in California.
4. Pelican Hill & Pelican Crest
Location: Check on Google Maps
Pelican Hill and Pelican Crest are both gated communities within Newport Beach, California. These private enclaves are close to Corona del Mar Beach, but are a bit further back from the shore and perched on the hills overlooking the Pacific Ocean. It also features the Pelican Hill Golf Club that is right in its neighborhood.
There are roughly 200 homes in this neighborhood and their average household income is an astounding $549,000. Meanwhile, homes in this area routinely go for a minimum of $4 million. Additionally, an average vacant lot costs $10 million for people looking to build a new dream home.
It truly looks and feels like one of the most rich places in California.
We have even seen listings as high as $30 million for an existing mansion, making it one of the richest neighborhoods in California. But, once you get there, you will be treated with unbelievable views of the ocean and easy access to LA.
3. Cameo Highlands & Cameo Shores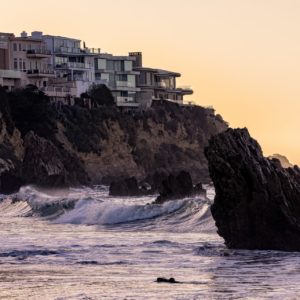 Location: Check on Google Maps
Cameo Highlands and Cameo Shores are another upscale neighborhood in the Newport Beach/Corona Del Mar region, which is one of the richest areas in California.
This community is next to the same golf course as Pelican Hill and Pelican Crest, but is located a tad closer to the water.
As a result, several residents here have their house right on the oceanfront with their own private beach. Overall, there are about 150 homes in this neighborhood.
The average household brings in about $554,000 in Cameo Highlands and Cameo Shores, which allows them to secure homes that cost a minimum of $3 million. The average home in this neighborhood actually goes for about $15 million to $20 million.
Some estates have even been priced as high as $50 million+ in this area, like this $58 million seaside mansion that was listed in April 2021.
Is it worth it? Well, you get majestic views of the ocean in a quiet area, while a quick drive (or helicopter ride) will get you to LA or San Diego.
So, it seems like an ideal balance between serenity and being able to quickly get to the big cities, making it one of the most ideal rich neighborhoods in California.
2. Beverly Park
Location: Check on Google Maps
The famed Beverly Park neighborhood is well-known for its celebrity residents along with its sprawling dream homes and tight security. This gated community has been well-documented as a haven for the rich and famous as it offers privacy from the public and a security staff that works 24 hours a day.
Additionally, photography is not even allowed in this neighborhood.
Beverly Park is located just north of Beverly Hills in the mountains of northwest Los Angeles, which is already one of the richest areas in California. It is divided into 2 sections – Beverly Park North and Beverly Park South, and the neighborhood features less than 100 homes in total.
The rules of the neighborhood stipulate that every new house needs to be a minimum of 5,000 square feet, although the average home is actually built with roughly 20,000 square feet of space.
The median household income here is a hefty $502,000, which is less than some of the previous neighborhoods, but probably does not account for some of its celebrity residents that don't work a traditional job.
Speaking of celebrities, Beverly Park is home to many notable names, such as Denzel Washington, Faith Hill, and Tim McGraw.
If you would like to join them, be prepared to splash some cash. The average cost for a vacant lot here will run you $30 million. We have also seen houses for sale for as much as $85 million, making it one of the most exclusive as well as richest neighborhoods in California.
Most recently, an Italian-themed mansion named Villa Firenze was sold for $51 million in 2021, although it was originally priced at $165 million.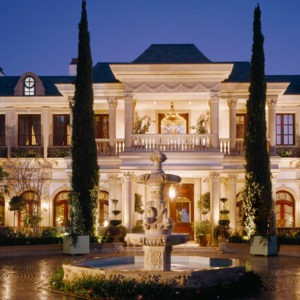 Location: Check on Google Maps
Coming in at #1 is Holmby Hills, which is a little neighborhood of 6 square miles in the Westwood area of West Los Angeles. Along with Beverly Hills and Bel Air, it comprises the wealthy "Platinum Triangle" of Los Angeles.
This neighborhood is the epicenter for the rich and the famous. It was home to Walt Disney, Frank Sinatra, and even The Playboy Mansion. More recently, Kylie Jenner purchased a $36.5 million compound here and the CEO of Google paid $61.5 million for the former house of Barron Hilton, whose father was the founder of Hilton Hotels.
The median household income in Holmby Hills is a staggering $585,000, while the lowest priced home we found on Zillow was $5 million.
Meanwhile, the average value hovered around the $20 million mark, while the priciest estate we found was offered at an unbelievable $125 million, easily making Holmby the richest neighborhood in California for 2023 and one of the most popular rich places in California.
Why is it so popular? We think its strategic location in the secluded foothills of the mountains appeals to celebrities who want privacy, while still allowing them to be in close contact with the rest of LA for filming movies (and going to parties).
Summary – Richest Neighborhoods in California
So, what is the richest neighborhood in California? That honor belongs to Holmby Hills in Los Angeles.
This list provided you with a glimpse into the lives of the well-off and the sumptuous neighborhoods where they call home. The richest neighborhoods in California offer its residents with opulent luxury, breathtaking views, wide-open spaces, and high levels of privacy to allow them to live their life in peace.
Which one is the right one for you? If you like the sounds of the waves crashing outside your living room and prefer peace and quiet over the crowds, then one of the neighborhoods in Newport Beach would suit you best.
However, if you like the limelight and want to rub shoulders with actors, CEOs, and athletes, then consider Holmby Hills or Beverly Park, which are part of one of the richest areas in California.
Be sure to read our latest update on the best cities to live in California for 2023.