Is California a Good Place to Live in 2023? Life After Pandemic w/ Local Interviews
Everybody dreams about life on the West Coast, but is California a good place to live in 2023 still? We interviewed several local Californians about their recent experiences living here to give you the true story behind the scenes and see if the benefits of living in California are still valid.
California has evolved in recent years, especially due to the pandemic. Housing prices continue to skyrocket, but many new, lucrative jobs have been created by the tech industry and several smaller cities have grown in popularity.
Meanwhile, California continues to offer some of the best weather and outdoor activities compared to other states (and places in the world).
So, is it worth living in California these days? Is California a good state to live in? Does it still maintain its laid-back vibes that it is famous for? Are the high-paying jobs enough to cover the cost of living? Ultimately, is California a good place to live?
To find out the latest scoop, we got in touch with a handful of Californians to research these questions and asked them about their thoughts. We made sure to find a diverse range of people to speak with. Some have recently moved to California, while others have been living here their whole lives.
We also tried to cover different age groups and socioeconomic classes to give you the most accurate portrayal of life in California.
If you are asking yourself "should I move to California?" then read more on our in-depth evaluation and see what the locals have to say.
Please note that some links below are affiliate links, which means that we receive a small commission if you make a purchase through our links, but at no extra cost to you. Thank you in advance for your support!
Is California a Good Place to Live in 2023?
California has been historically ranked as one of the best places to live. It still offers one of the highest qualities of life in the US, placing 4th overall in the latest survey by WalletHub.
But, we also know that a high quality of life does not necessarily mean that it is affordable or even desirable.
We should take all aspects of living into consideration to answer, "is it worth living in California" and "is California a good state to live in."
Let's start with reviewing all the perceived benefits of living in California and what makes it famous to see if they are still true today.
Weather
One of California's major features is its endless sunshine and warm weather year round. It is still true that California is one of the sunniest states in the nation, getting the 5th highest amount of sunlight out of all the states.
It's also true that the temperature is mostly warm and comfortable. It also never really drops below 40 degrees in most parts of the state during the winter.
But, the weather has been becoming more intense lately. Summers are getting hotter, with temperatures routinely reaching over 100 degrees in major cities like LA and San Diego.
Additionally, there have been more extreme weather events like floods and droughts that have been occurring more recently. Wildfires have also been more prevalent as well.
We spoke with Jennifer and Greg, a couple who have lived their whole life in Bakersfield. Jennifer said, "The weather has been getting a bit crazy in the last few years. It's gotten pretty hot in the summer, hotter than I can remember."
Greg added, "We've noticed more wildfires around our area, too. It's like every week, we hear about a report of a fire nearby."
We asked them, "Is California a good place to live?" Jennifer said, "Ultimately, yes. The nice weather, sunny days, and beautiful landscape outweighs all of the problems I mentioned."
But Greg did not agree. He said, "It's not as calm as it used to be. The summers are getting too hot and I'm getting afraid of all of the wildfires and landslides."
The Great Outdoors
California is also known as a state that offers an unlimited number of things to do and to explore outdoors. Easy access to nature is one of the greatest benefits of living in California. Is this part still true?
For the most part, yes. It is one of the most beautiful states for nature lovers. You have your choice of beaches on California's never-ending coastline along with some of the world's best hiking and biking paths in the mountain ranges like the Sierra Nevada Mountains.
You can also take advantage of some of the best national parks in the country, such as Yosemite National Park and the Redwoods State and National Parks.
Of course, there are also activities to do during the cooler months as well.
The snowy slopes of Lake Tahoe feature world-class skiing during the winter (and even into the spring).
However, locals and tourists have been using these natural amenities more and more recently, especially during and after the pandemic.
There are more crowds at the beaches and even the state parks have been more congested lately.
We contacted Stacey, who is a 38-year old mother of 2 living in Los Angeles. She commented, "I love the diversity of nature around us here."
"Is it worth living in California? I think just for the outdoors alone, it is worthwhile. But, I've noticed that the beaches are always packed lately. It was a more relaxing experience in the past, but you just need to find the right times to go."
Foodie Central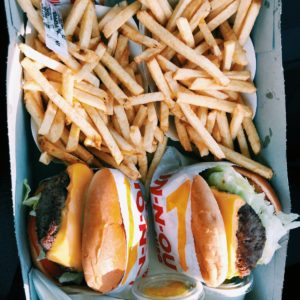 California's reputation as one of the best states for food continues to remain strong. San Francisco, Los Angeles, and San Diego all made a recent top 10 list of the best cities for foodies in the US.
Do you want to indulge in some fine dining? California is home to some of the best gourmet restaurants in the world. There are 80 to 90 Michelin-starred restaurants across the state and many high-end eateries clustered around the big cities.
What about some casual cuisines? California's got you covered there, too. You can get a burger from the legendary In-N-Out or grab a mouth-watering plate from Roscoe's House of Chicken & Waffles.
There are also a diverse mix of great international choices as well, most notably Mexican and Asian cuisines.
And remember, you can always get a cheap taco on Taco Tuesdays!
We spoke to Henry, a 29-year old, self-proclaimed "foodie expert" who moved to Los Angeles in 2014. He stated, "The food scene here is like no other place on the planet. You can find virtually any type of food here and it's always such good quality."
"I think it's gotten even better over the years. A lot of places have been experimenting with different tastes and it's really been mind-blowing. It's not just the expensive places, either. You can always find a top notch meal for under $20 anywhere you go."
"Is it worth it to move to California? I think it was for me. If you love food, you have to move here. I promise you that you won't find such good food so consistently anywhere else."
We also need to mention the state's wine culture. Some of the world's top vineyards are located in California and produce superb quality wines. They are also fun for some weekend wine tours.
Wine lovers should not miss California's Wine Country, which is home to well-known areas like Napa Valley and Sonoma Valley.
So, it's clear that California's food and wine scene has only gotten stronger over the years and is one of the true benefits of living in California.
Job Opportunities
California was the clear place to be for high paying jobs before the pandemic, especially in the tech field. But, will it continue to offer so many lucrative opportunities or are companies fleeing the state?
Well, it is clear that the big boys are here to stay. Companies like Google, Apple, and Facebook are not planning to move their headquarters away from California and are asking their employees to work at their offices.
That is good news for people looking to move to California for its job prospects, especially since the salaries at these major tech companies are above and beyond any other location.
For example, the average income at Google is about $247,000 and at Facebook is roughly $229,000.
But, even if you don't land a job at one of these Silicon Valley powerhouses, you can be assured that salaries in California are still quite good. It has the 6th highest median household income in the US, coming in at over $80,000.
However, you will need to weigh this against the cost of living in California, which is the 2nd highest in the nation.
We spoke with Julia and Steven, a 20-something couple that both work at a big tech company in the Bay Area. Steven said, "The job market here is the number one reason why we chose California and why we continue to stay. There are always new and innovative companies joining the scene, so there are always new job possibilities."
We asked Julia, "Is California a Good Place to Live?" She said, "Absolutely. We could not earn these salaries anywhere else in the world. All of my friends are doing such amazing things at their companies, too. There's this culture of innovation that pushes you, but also rewards you like no other place can."
Is California a Good Place to Live? Our Take
Overall, we think that California has retained much of its charm and can offer you a unique opportunity that cannot be found anywhere else. But, you need to set the right expectations in order to reap the full benefits of living in California. It will also depend on your current situation and your aspirations.
The state is not without its faults though. The most significant issues are its high cost of living, traffic, and crowdedness. For a full list of the biggest drawbacks of California, read our research article below on the major cons of California.
But, if you can secure a good paying job and you really enjoy the outdoors, then California can be as majestic as it seems on TV.
If you are looking to move away from a colder state and not have to deal with snow, then California perfectly fits the bill.
On the other hand, its climate is not much different than many other southern and western states (although it is not as humid as most other warm places).
Additionally, if you can line up a job that pays at least the median household income of $80,000, then you may be able to live comfortably in California. If not, then you may be hard-pressed to be able to afford one of the big cities like San Francisco or Los Angeles.
Ultimately, California is a good place to live for those able to earn a strong wage and be willing to embrace its laid-back lifestyle. However, it may not be the right place for people looking for an affordable and isolated experience.
Frequently Asked Questions
Should I Move to California / Is it Worth Living in California?
Overall, California is worth moving to and living in only if you are in the right mindset to embrace the West Coast culture and if you find a job that pays you a high five-figure/low six-figure salary.
But, it does offer a blend of lifestyle, job prospects, and nature that no other state can match.
Is California a Good State to Live in?
Ultimately, yes. California as a state levies some of the highest taxes in the nation, but offers its residents some of the best support as well.
There are a lot of regulations and policies to deal with, but those are generally in place to protect their residents.