8 Pros and Cons of Living in Winter Haven Florida – 2023 Full Review
Winter Haven sits right between Tampa and Orlando, so it seems like an ideal city. But, what are the pros and cons of living in Winter Haven Florida? Our research staff did some extensive digging and also interviewed some local residents to find out what it really is like living here.
To prepare this article, we spoke to people of all ages in Winter Haven and also examined all of the data that is available on living factors like housing costs, education statistics, crime, and overall desirability.
Winter Haven is known for its central location between two of Florida's most famous cities along with its extensive array of lakes that surround the city. It is also home to the largest Legoland in America. If Lego decided to build a resort here, then it must be a good city, right? Not so fast.
Let's take a deeper look into all the pros and cons of living in Winter Haven Florida so that you can decide if this is the right city for you to relocate to eventually.
Please note that some links below are affiliate links, which means that we receive a small commission if you make a purchase through our links, but at no extra cost to you. Thank you in advance for your support!
Pros of Living in Winter Haven, Florida
1. Dream for Outdoor Lovers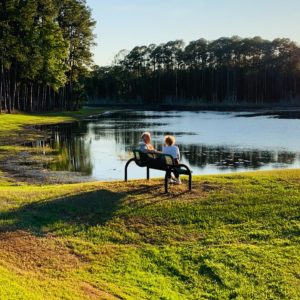 If you love being outside and enjoy the idea of relaxing by the lake, then Winter Haven could be the right city for you. Winter Haven is best known for its Chain of Lakes, which is roughly 50 lakes that are scattered across the city.
Many have boat docks, waterslides, and restaurants right on the lake that give you a quaint, boating town-like atmosphere.
There are also tons of bike trails and hiking trails. Iron Mountain, which is one of the highest peaks in Florida, is also located close by. There are even 2 botanical gardens in the vicinity – Cypress Gardens in Legoland and the beautiful Bok Tower Gardens.
Aimee, a 31-year-old resident of Winter Haven, commented on the beauty of Winter Haven. "It's one of the best places I've lived for encouraging me to always be outdoors. There are a ton of bike trails and there are so many lakes where you can just chill out and watch the sunset."
2. Affordable Cost of Living
Winter Haven is also very attractive due to its great affordability. Its total cost of living is currently 12% lower than the rest of the U.S., with housing costs that are almost 30% cheaper than the rest of the country.
The average price of a house is about $200,000 according to Zillow. But, act quickly, since that number has steadily risen over the past few years.
Still, Winter Haven represents a strong value, especially compared to the other larger cities nearby.
We spoke with Jim and Melissa, a couple in their late 20s that moved to Winter Haven recently.
Melissa said, "Back home on Long Island, we really couldn't afford any decent houses where we could start a family, so we were just renting for a while and wasting our money. We came down here and were able to buy a pretty big house that we couldn't dream of getting in New York. We also spend way less on other things like food and going out."
3. Strong Future
The future is also bright for Winter Haven. It made our list of the 10 fastest growing cities in Florida and has seen its population skyrocket by 30% since 2010.
The benefit of this strong growth is that there is likely to be more and more money invested into the city, which will also potentially attract new businesses, services, and jobs.
The job market is even expected to grow by 45% in the next 10 years, which is way above the national average of 34%.
4. Small Town Vibes
While Winter Haven may have almost 50,000 residents, it never feels as big as it is. The city is spread out over 40 square miles with many quiet neighborhoods among its many lakes. Residents rave about the relaxed pace of living that goes on here.
There is also a small downtown with a few walkable streets along some quaint, 2-story buildings that have the charm of a traditional main street. While it was pretty much a ghost town just 20 years ago, it is now a thriving center for restaurants and shops.
Robert and his wife Deanna moved to Winter Haven from near Boston and commented on the overall vibe of the city. "We love how relaxed and peaceful the city is," said Deanna. "The downtown area is super charming and there have been many great restaurants that have opened there recently."
Robert added, "We like spending our weekends out on the lake during the day and then heading downtown for some food and drinks. It's the perfect life."
Cons of Living in Winter Haven, Florida
1. Limited Number of Amenities
The downside to Winter Haven's small town feel is that it also comes with small town amenities and things to do. For example, the only grocery chains that are in Winter Haven are Publix and Aldi. There are no Trader Joe's or Whole Foods within the city.
While the city may have Legoland for youngsters and families, there is not as much for young professionals to do. The best nightlife spots nearby would be in Tampa or Orlando, which are both an hour away. That is also where the nearest sports teams and large concert venues are as well.
But, all of this could change as the city continues to grow, so stay tuned for future developments.
2. Elevated Crime Rates
Winter Haven's total crime rate is roughly 19% higher than the national average. However, those figures have been trending downwards over the last 15 to 20 years, proving that there have been actions done to actively fight back.
There may also be a greater emphasis on crime prevention with more funding for extra safety programs as the city continues to expand.
3. Cars, Cars, Cars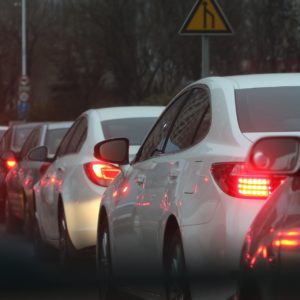 Other than in the small downtown area, Winter Haven is not a very walkable city. There is also a very limited public transit system, which is mainly a few bus routes.
That means you pretty much need to have a car here to get you anywhere. That also comes with the extra costs of owning a car, which includes auto insurance. Florida has the 3rd highest car insurance premiums in the nation, coming in at over $2,000 per year on average.
This reliance on cars means that Winter Haven also suffers from traffic problems. There is more congestion here than you may expect from a city this size.
4. Out of the Way Location
Winter Haven is strategically located in between Tampa and Orlando, so it may seem like the perfect location, right? That may seem true until you find out that the city is a bit far from main highways. Most parts of Winter Haven are about 20 to 30 minutes away from Interstate 4, which is the main highway that will get you to Tampa or Orlando.
Therefore, the drive to either city always takes at least 1 hour, depending on the traffic. There are other cities that are located closer to the highway that could reduce that time by 20% to 30%. If you get a job in either Tampa or Orlando, be prepared to be driving at least 2 hours each day.
Summary
Winter Haven is a nice city that offers a solid mix of affordable living with beautiful outdoor activities, all in a city that continues to grow. However, it does have its share of issues, such as its lack of entertainment and reliance on cars.
Think through these pros and cons of living in Winter Haven Florida and see if the benefits are enough to outweigh the potential issues that we have brought up.
Frequently Asked Questions
Is Winter Haven Safe?
Compared to the rest of Florida, the statistics show that Winter Haven experiences a bit more crime on average. The crime rate across all of Florida is 25.2 crimes per 1,000 people, while in Winter Haven, that number is 29.7 crimes per 1,000 people.
Still, many residents consider Winter Haven safe. They urge that you take the same precautions that you normally would in any city.