Does Cape Coral Flood? 2023 Analysis on Cape Coral Flooding
Cape Coral is located right on the Gulf and is known for its large network of canals. So, you must be wondering – does Cape Coral flood? Our team reviewed the latest data on Cape Coral flooding rates and insurance claims to find out, first, has Cape Coral ever flooded, and second, how extensive the flood threats are.
We will also cover the reasons why it may be happening and the preventative measures you can take to lower your risks. If you want to learn more about Cape Coral, be sure to read our full review of the pros and cons of the city.
Please note that some links below are affiliate links, which means that we receive a small commission if you make a purchase through our links, but at no extra cost to you. Thank you in advance for your support!
Does Cape Coral Flood?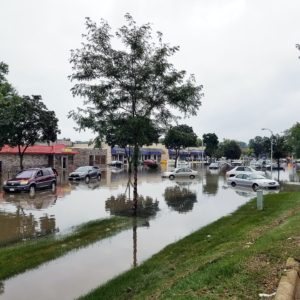 In a word, yes. The majority of Cape Coral was built on a floodplain and, on average, the city is only 5 feet above sea level. Therefore, flooding in Cape Coral Florida has the potential to occur nearly every year.
Cape Coral Flooding – Why Does it Happen?
Generally, the flooding is caused from either heavy rainfall or a storm surge from a hurricane or tropical depression. Usually, excess waterfall and ocean surges are not enough to flood cities, but Cape Coral was built with an extensive array of canals and waterways, allowing for higher water to more easily spill onto the streets and land. In fact, there are over 400 miles of canals within Cape Coral, which is more than any other city in the world – even more than Venice.
It is also more prone to ocean surges since it sits so low compared to the sea level.
Knowing the fact that Cape Coral is a peninsula that sits between the Caloosahatchee River and the Gulf of Mexico also helps you understand why it is so vulnerable in the first place.
Cape Coral Flooding – 2022 Hurricane Elsa Update
Hurricane Elsa has flooded numerous roads across Cape Coral. The latest update from the Cape Coral Police Department stated that many streets and highways were affected by flooding. Here are some examples of roads that were partially or fully flooded:
Diplomat Parkway
Tropicana Parkway
Trafalgar Parkway
Santa Barbara Blvd
Cape Coral Pkwy West
SW 7th Court
Skyline Blvd
Hancock Bridge Pkwy
SE 10th Terrace
The Crossings Complex
Beach Parkway West
Flooding and Insurance Costs
In June 2020, the Federal Emergency Management Agency (FEMA) released a new model that ranked Cape Coral as the #1 most at-risk of flooding out of any city in the U.S. They predicted that 90,000 properties in Cape Coral are vulnerable to flooding.
Therefore, it is important for residents of Cape Coral to consider flood insurance. Residents can purchase a flood policy via the National Flood Insurance Program (NFIP), which has an average annual cost of $731 for Cape Coral.
However, you should note that FEMA often reassess the flood risks of a location and can replan and rezone it based on new information. Check out the official Lee County (which is the county Cape Coral is located in) website and their Flood Insurance Rate Map information and their Cape Coral Flood Zone Map 2023 for the latest update.
How to Minimize Your Risk of Cape Coral Flooding?
Typically, flood insurance rates are heavily influenced by the elevation of the specific property, so your best bet is to find a property on higher land. There is some evidence to suggest that land that is at least 15 feet above sea level is less prone to flooding.
You can also specify your housing search to include the phase "no flood zone." Check out this link to Zillow that applies that keyword into the search for real estate in Cape Coral.
Summary – Cape Coral Flooding
Cape Coral remains one of the best places in Florida to live, but there is a real risk of flooding virtually every year. There are ways to reduce your risk, but the potential changes to the climate may make things more unpredictable in the future.
But, these rising threats may also bring about further change. It is possible that the local or federal government invests more resources into better zoning and protection measures against floods. There may also be new ideas and technologies that are developed in the future that can help control it better, too.
If the threat of flooding in Cape Coral scares you, then you may want to consider a different city in Florida. For example, there are many other cities along the Gulf Coast that are just as desirable, but less prone to flooding.