9 Pros and Cons of Living in Cape Coral, Florida [2023 Edition]
Cape Coral is a tranquil city that is one of Florida's most desirable places to call home, but just like any other city, there are a handful of important pros and cons of living in Cape Coral, Florida that you should be aware of if you are thinking about moving here.
Our team did some extensive research and also interviewed several locals who have been living in Cape Coral to uncover the true highs and lows of living in the city.
To make sure we deliver you the best insights, we spoke to a wide range of residents, from singles, to families, and also retirees. Additionally, we tracked down people who have been living in Cape Coral over different lengths of time, from just a few months to a lifetime.
Cape Coral is probably best known for its extensive canal network and its quiet lifestyle near some of the world's top beaches on the Gulf Coast. We also ranked it as the 16th best city in all of Florida.
It is also close to several big cities, including Fort Myers that is just across the river. Check out our review of Fort Myers if you are interested.
But, is Cape Coral truly a good place to live instead of just a city to visit? Let's find out with the full review of the pros and cons of living in Cape Coral, FL!
Please note that some links below are affiliate links, which means that we receive a small commission if you make a purchase through our links, but at no extra cost to you. Thank you in advance for your support!
Pros of Living in Cape Coral, Florida
1. Affordability
Cape Coral contains many affordable neighborhoods among its numerous canals and offers a lower cost of living than other large cities in Florida. Cape Coral's total cost of living is 4% lower than the national average and housing is 15% cheaper.
Also, keep in mind that there is no state income tax in Florida, so you can actually keep more of your net salary.
But, all of this good value may not last forever, as Cape Coral and the surrounding area becomes more popular. There are still plenty of good deals out on the market, but more and more people are moving due to the great blend of affordability and things to do.
We spoke to Stacey, who is a 25-year old nurse who moved from New Jersey to Cape Coral in 2020. She said, "I was able to buy a 2 bedroom house and my mortgage payment is less than I paid for rent in New Jersey. I can't believe how much more value I can get down here."
"I'm also saving about 20% on my groceries and utilities. I can really see the difference at the end of the month."
2. Things to Do – Beautiful Beaches and Parks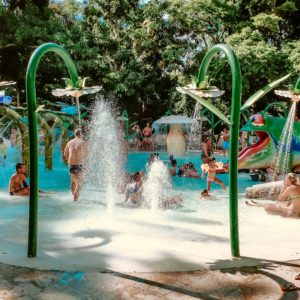 The real attraction to Cape Coral is its wide variety of outdoor activities. There is easy access to the white sandy beaches and warm Gulf waters along with a whole host of public parks, hiking trails, and waterparks for the whole family to enjoy.
In just 30 minutes, residents of Cape Coral can reach several world-class beaches. There is Sanibel Island, which offers beaches and parks and was rated as the 2nd best beach in all of Florida, and further north is Captiva Island. Meanwhile, Fort Myers Beach and Estero Island are just south of Cape Coral and offer 7 miles of interrupted beachfront paradise.
Within Cape Coral, there are also many parks across the city that its residents can easily walk or bike to. Check out this list of 6 parks in Cape Coral that offer walking trails, bird watching, lakeside views, and even bocce ball.
Finally, when you are bored of the beach and the parks, you can always visit the famous Sun Splash Family Water Park, with 14 acres of water slides, wave pools, and a long lazy river.
There are few other cities in the U.S. that have direct access to such high quality and diverse outdoor activities.
3. Great Weather
It's easy to frequently enjoy the outdoors in and around Cape Coral since its weather is nearly perfect all year round. Cape Coral averages 355 days of sunshine per year and its winters are never too cold. In fact, the average low temperature in January is usually around 55 degrees.
We spoke with Derek and his wife Alice, a couple in their 60s who moved to Cape Coral in 2019 from Pennsylvania. He said, "The difference in weather alone makes our move worthwhile. I never have to shovel snow anymore and the summers are really not that bad since we can go to the beach."
Alice added, "The extra days of sunshine are also great. I feel like we are going outside more and enjoying nature because it's always so warm and inviting. I think Cape Coral is a good place to live for us because it gets us motivated to move around throughout the whole year."
4. Growing Economy
The recent boom in Cape Coral's popularity is also linked to its growing job market. The latest unemployment data shows that Cape Coral unemployment rate is only 3.4%, which is lower than the national average of 3.7%. Additionally, its job market is expected to grow by 41% over the next 10 years, which is well above the U.S. average of 33.5%.
There are numerous opportunities in almost every sector in Cape Coral. Big stores like Publix, The Home Depot, and Target offer many retail jobs while the Lee County School District provides many prospects for teaching and education positions. There is also a large and growing healthcare industry in Cape Coral, with public and private entities offering strong opportunities for doctors and nurses.
5. Low Crime Rate
Cape Coral is also known to be quite safe, especially compared to other big cities in Florida and even its neighbor across the river, Fort Myers. Cape Coral's violent crime rate is only 10.7, which is less than half of the U.S. average of 22.7.
Residents feel safe to go out at all hours and they note that there is a strong sense of community around the city. Debra, a teacher and mother of 3, has lived in Cape Coral for her whole life and said, "I feel safe and assured sending the kids out to play or when I go out at night. People watch over each other here, so I never really worry."
Cons of Living in Cape Coral, Florida
1. Extreme Weather – Hurricanes and Flooding
The weather is part of both the pros and cons of living in Cape Coral, FL. The year-round warm weather may sound great, but it can get unbearably hot and humid in the summer months. Also, there are many days of sunshine, but you can expect that sun to be briefly interrupted by a short rain shower almost everyday during the summer.
Of course, there is also the threat of hurricanes in Cape Coral. Here is a history of the hurricanes that have hit Cape Coral in the past.
The hurricanes and heavy rainfall in general can also bring about flooding, especially since there are so many canals in Cape Coral. Residents need to be prepared for both hurricane and flood threats, which may also lead to higher premiums for home and car insurance.
2. Car-Dependent City
The city of Cape Coral is sprawled over 120 square miles and does not really have a downtown core like Tampa or Fort Myers. In fact, it only registered a walkability score of 17 out of 100. Biking is not much better, as there are few bike lanes and the city earned a bike score of only 39 out of 100.
Essentially, you will need to drive to wherever you want to go around Cape Coral, which may not be that bad if you are used to it, but may be a shock for people coming from large cities.
Brad, a 31-year old consultant, moved to Cape Coral from Chicago for a long-term assignment. "You really can't just walk to the grocery store or the bar around here. I had to buy a car, which I didn't expect, and I have to use it to go everywhere."
"I also miss being able to bike around. The city's infrastructure is just not built for it."
3. Excessive Bugs and Wildlife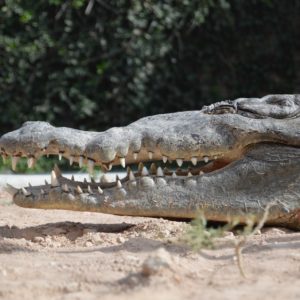 The tropic climate of Cape Coral also brings out a variety of unexpected wildlife and bugs. Don't be shocked to find alligators or snakes in the canals and rivers around Cape Coral. These reptiles can be dangerous to young children or pets who are not used to seeing them.
Also, just like the rest of Florida, you will encounter many annoying bugs, such as mosquitoes, fire ants, Palmetto bugs, and deer flies. Therefore, you will need to always be mindful to wear some bug repellant when you go out and to put up a mosquito net or screen if you want to open the windows inside your house.
4. Tourists
The warm climate and easy living attracts many tourists to Cape Coral and to the beaches nearby. There are also the snowbirds who come and stay for the whole winter as well.
This temporary spike in population can cause traffic nightmares and overcrowding at the beaches during peak season.
Richard is a 47-year old retail manager who has been living in Cape Coral for his whole life. "Every winter, I see the snowbirds come down and see the extra traffic they cause. It always takes me about 10 minutes longer to get to work."
"Then, in the summer, the tourists flock to the beaches and cause congestion all along the causeway. A 20 minute drive can become 1 hour during peak times. You just have to plan ahead."
Summary – Pros and Cons of Living in Cape Coral, Florida
Cape Coral offers a great mix of safe, affordable living, access to great outdoor activities, and job opportunities. But, it is not perfect, as there is extreme weather, limited walkability, lots of bugs, and tourists to deal with.
We hope that this analysis of the pros and cons of living in Cape Coral will help you decide if this is the right city for you.