The 12 Most Liberal Cities in Florida in 2023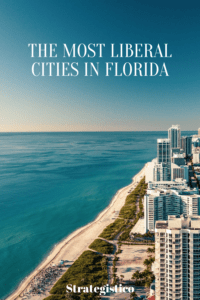 We researched and found the most liberal cities in Florida for those looking to move to a place with like-minded people that share their values. It would not be accurate to label Florida as either liberal or conservative.
In fact, many consider the Sunshine State to be purple, which represents a blend of both red and blue politics.
In each presidential election, the Democratic and Republican votes in Florida are usually close to 50/50. However, there seems to be a trend where the areas around large cities tend to lean liberal while the rural areas tend to be more conservative.
That trend generally matches the direction the rest of the U.S. has gravitated towards as well, with bigger metropolitan areas showing a stronger liberal lean in each state, while the suburbs and rural parts remain the conservative areas.
It is also evident that, specifically in Florida, the further south you go, the more liberal the areas become in general.
However, liberalism is not just based on political affiliation. It is actually more of a philosophy that blends ideals of diversity and inclusiveness with an open mind towards progressive social change.
For this list of the most liberal cities in Florida, we took a look at many factors that make a place to live more liberal, such as:
Strong social services

Active arts and culture scene

Access to higher education

Supportive LGBTQ+ community

Racial diversity

Environmental consciousness
Of course, we also considered the voting history of each city as part of our evaluation since that can help tell a large part of the story and reflect the current sentiments within each city. Our analysis considered the latest voting results from 2023 and well as the last 20 years of results.
So, let's take a look at the most liberal places to live in Florida so that you can understand where you want to head to next if you are looking for a community where you can feel welcomed based on your personal preferences.
Please note that some links below are affiliate links, which means that we receive a small commission if you make a purchase through our links, but at no extra cost to you. Thank you in advance for your support!
12 Most Liberal Cities in Florida
12. Orlando
Location: Check on Google Maps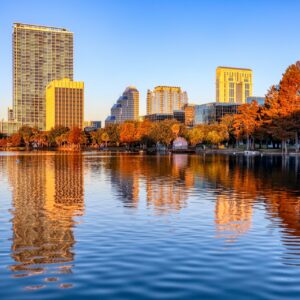 We start our list of the most liberal cities in Florida in the city that is home to the happiest place on earth. Orlando has earned a strong reputation for being quite liberal, which has helped to attract tourists worldwide and also stimulate its growth among young professionals.
The majority of Orlando voters voted Democrat and the city offers a strong sense of community with one of the most diverse populations in the state. There are also famous events like GayDays Orlando, which also includes Gay Days at Walt Disney World.
Additionally, the official City of Orlando has established policies and ordinances that are geared specifically towards supporting an equal and diverse community, including their Non-Discrimination Ordinance and their updated anti-discrimination act.
11. Delray Beach
Location: Check on Google Maps
Delray Beach is a walkable community that sits right on the beach on Florida's Atlantic coast. It offers one of the best arts and culture scenes in the state.
There are numerous art galleries and museums around the city like the contemporary Cornell Art Museum and the Spady Cultural Heritage Museum.
There is also the Morikami Museum and Japanese Gardens.
Additionally, there are whole neighborhoods devoted to offering boutiques and art galleries, like the hip Pineapple Grove Arts District.
The City of Delray Beach has also recently granted equal rights and benefits for all city workers after years of denying them due to a former city manager who opposed providing benefits for gay municipal workers, which shows how progressive the city has become.
10. Tampa
Location: Check on Google Maps
Tampa has become one of Florida's most popular cities and it is easy to see why. It offers something for everyone, especially in its diverse downtown core.
Tampa has also been attracting many young professionals with its strong job market, which has continued to shift the city towards a liberal lean.
Additionally, the city's official visitors bureau has a whole section dedicated to highlighting their "Tampa Bay Pride," with highlights that include guides for the best hotels, bars, clubs, and community events.
9. Key West
Location: Check on Google Maps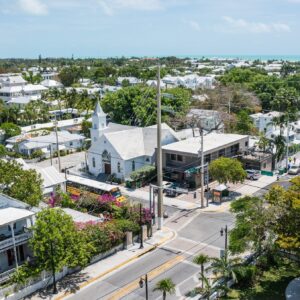 In terms of voting history, Key West and the Florida Keys aren't necessarily always blue. But, lifestyle-wise, it seems that anything goes in Key West.
You can't help but be relaxed when you are living in paradise surrounded by the beaches and the ocean.
The residents of Key West generally do not tolerate a close-minded attitude while the city also features a vibrant LGBTQ+ community.
There are also always new updates to the city that are focused specifically towards the LGBTQ+ community as well.
Check out our article on the most affordable places to live in the Florida Keys if you are interested in relocating there on a budget.
8. Tallahassee
Location: Check on Google Maps
The state capital of Tallahassee is well-known as one of the most liberal cities in Florida due to its college town-like atmosphere. There are nine universities located in Tallahassee, including Florida State University and Florida A&M University.
On top of that, there are many residents who work for the state as well as the universities, which creates a demographic of voters that is likely to lean in a liberal direction.
The official visitor's bureau of Tallahassee also provides a comprehensive guide on what makes their city attractive to LGBTQ+ visitors and potential residents, which reflects the care that the city has taken to attract and maintain a diverse population for their community.
7. Port St. Lucie
Location: Check on Google Maps
Port St. Lucie is probably best known for attracting many retirees to its idyllic beachside community. But, it is also regarded as one of the most liberal cities in Florida in terms of the lifestyle it offers.
There is a thriving arts and culture scene in Port St. Lucie, with many community events like theater shows, film festivals, and gallery tours available year round.
The local government also does a good job of sponsoring public workshops through the St. Lucie Cultural Alliance.
6. Coral Springs
Location: Check on Google Maps
Coral Springs sits in the middle of Broward County, which is one of the most liberal areas in Florida in terms of registered Democrats. The city is quite supportive of locally-owned businesses and offers a vast variety of shops to fit every lifestyle, such as vegan-friendly restaurants.
This family-friendly city also offers many things to do, such as the Coral Springs Museum of Art and the Cypress Water Park.
Overall, Coral Springs has emerged as one of the best cities in Florida for Democrats and liberally-minded folks.
5. Sarasota
Location: Check on Google Maps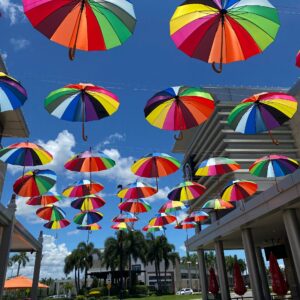 Sarasota is often regarded as Florida's epicenter for the arts. The calendar for the Arts and Cultural Alliance of Sarasota County is packed with live events, including performing arts, museums, festivals, and fairs. You can also find studios, theaters, and galleries all across the city. Sarasota even has its own opera house.
Additionally, Sarasota features an expansive local and organic food scene, which is a testament to its resident's environmental consciousness.
Sarasota may be politically conservative, but it is truly an excellent place for a liberal lifestyle. In fact, the county's government explicitly mentions how Sarasota County is "an inviting region for all people."
4. Gainesville
Location: Check on Google Maps
It is no wonder why Gainesville is one of the most liberal places to live in Florida as it is home to the University of Florida. It even earned the nickname, "The Berkeley of the South."
This college town features walkable streets, numerous entertainment venues, and tons of bars and restaurants that cater to the students and long-term residents. Ultimately, the youthful flair of the city helps to add to its liberal lifestyle.
But, Gainesville's recent revitalization has also started to attract many new businesses, especially innovative tech startups.
The city also scored an "A" grade for their diversity and family life in a recent study by Niche.
1. St. Petersburg
Location: Check on Google Maps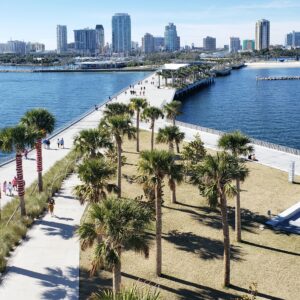 St. Petersburg tops our list as the most liberal city in Florida. It is a haven for liberal-minded folks who are looking for an active, inclusive downtown and numerous neighborhoods to choose from that share these liberal ideals.
We even named St. Petersburg (along with Tampa) as one of the best cities to live in the whole state.
The city boasts seven distinct arts districts such as the Waterfront Museum District and the Warehouse Arts District. There is also the massive Dalí Museum that is dedicated to the works of Salvador Dalí, which is rated as one of the best in the world.
St. Petersburg also helps build its community by offering numerous events, like its famous Saturday Morning Market and the Saint Petersburg Art Festival that occurs every February.
The city also hosts a wide range of LGBTQ events, such as their annual Pride Parade in June.
Summary – Most Liberal Cities in Florida
We hope this list of the most liberal places to live in Florida has helped you understand where there are pockets of progressive minds in the Sunshine State.
It will be up to you to visit these places and see if their community actually fits your values as they may still differ a bit in their overall culture.
Still, we believe that our research will help guide you in the right direction and identify cities and communities that you may not have considered to be as liberal or progressive.
We update this article each year as well to reflect the shifts in sentiment that are occurring within the state, so check back again soon to see if any new cities emerge.