8 Best Walkable Beach Towns in Florida in 2023 – Enjoy Without a Car
We picked the best walkable beach towns in Florida filled with top bars, restaurants, and shops where you can just park your car and go around by foot.
Of course, these beach towns are also right along the water, so you can truly enjoy a relaxing time without thinking much about using a car to get around.
We also made sure to find places around the Sunshine State that offer a lively downtown district with a diverse number of things to do for people of all ages.
Additionally, we added a mix of big and small towns to make sure that there is something for everyone.
So, let's find out what the best walkable beach towns in Florida are so that you can plan your next vacation. You might even find yourself looking to move to these places once you experience their warm and welcoming community.
8. Fort Myers Beach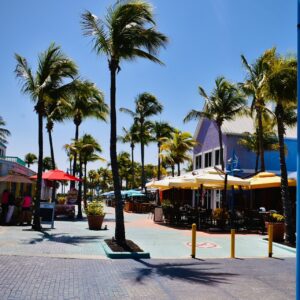 Location: Check on Google Maps
Fort Myers Beach captures the eighth spot on our list of the best walkable beach towns in Florida. It is located in the southwestern part of the state on the Gulf Coast.
It is, however, not attached to the mainland as it sits on its own barrier island just seven miles long.
The short span of this island makes it easy to get around on foot to experience its multiple white sand beaches no matter where your hotel or apartment is located.
When it comes to accommodations, there's something for everyone. From the highly-rate Myerside Resort and Cottages with rates starting as low as $138 per night, to the four-star Pink Shell Beach Resort and Marina, luxury lovers and budget-conscious families can all find a place to stay in Fort Myers Beach.
Adventurers will appreciate plenty of outdoor activities, including parasailing, jet skiing, and kayaking around the mangrove estuary.
For those with a more laid-back style, you can enjoy a sunset sail, a dolphin tiki cruise around the beach, and plenty of shopping and galleries to peruse.
Of course, there is also Fort Myers Beach's famous Times Square district, which is a walkable downtown right on the beach that is filled with bar and dining options as well as boutiques and a pier.
7. Clearwater Beach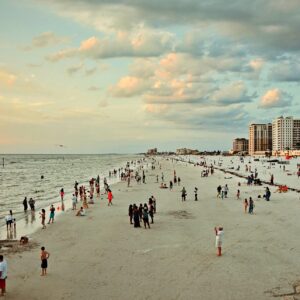 Location: Check on Google Maps
No matter where you choose to stay while you're in Clearwater Beach, it is one of the best walkable beach towns in Florida. Almost everything is within a mile in any direction from your hotel if you're staying on Clearwater Beach Island.
This quiet, family-friendly community offers a ton of hotel options on or within a few blocks of the beach, including the swanky Sandpearl Resort and familiar chains including Marriott Suites, Hampton Inn & Suites, and the Hilton Clearwater Beach Resort & Spa that is right on the water.
The public, walkable beach stretches for just 3.8 miles if you decide to explore the entire thing. The beach is also routinely named as one of the best beaches in Florida.
There is also the Cleveland Street District, featuring most of the island's entertainment and restaurants.
6. Lauderdale-by-the-Sea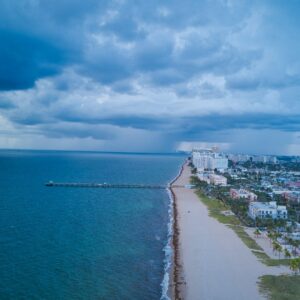 Location: Check on Google Maps
When you see Lauderdale-by-the-Sea for yourself, you'll understand why this community has been named one of the best walkable beach towns in Florida.
It is a charming and romantic beach community with adorable hotels and inns. Check out the highly-rated Beachside Village Resort and the High Noon Beach Resort. Lauderdale-by-the-Sea dubs itself as a "no car needed" community.
Once you've arrived in Lauderdale-by-the-Sea, you'll find plenty to do without ever stepping foot in a car, including beaches and parks for the kids, snorkeling and diving, and more than two dozen shops to discover.
You'll need to walk just five blocks to get from one end of Lauderdale-by-the-Sea to the other, and the beach is less than 2.5 miles long.
5. Siesta Key Village
Location: Check on Google Maps
Just a few blocks long, Siesta Key Village within Siesta Key is one of the best walkable beach towns in Florida.
Most people choose to visit Siesta Key Village not to sleep, however, but to party. "The Village," as it is lovingly referred to by locals, has more than 100 shops, restaurants, and bars packed into its small quarters. As long as you're fit and healthy, it is 100 percent walkable.
Don't miss some of the most popular and famous restaurants and bars among visitors and locals, including the Siesta Key Oyster Bar and the sunny Daiquiri Deck.
4. Destin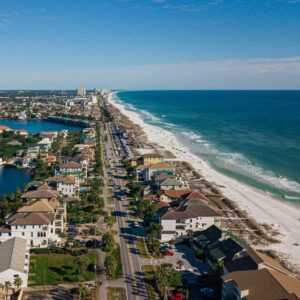 Location: Check on Google Maps
Destin was destined for our list of the best walkable beach towns in Florida for its perfect location on the Florida Panhandle and its compact size with plenty to do for the whole family.
Baytowne Wharf is one walkable area in Destin, with an adventure park for kids and plenty of fresh, local food for everyone's taste. And by fresh food, we mean seafood! This charming beach town has also been nicknamed "The World's Luckiest Fishing Village."
For live entertainment and beautiful sunset views, walk on over to Harborwalk Village on the Emerald Coast. From here, you can catch a boat ride for a dolphin cruise or take the kids on the Buccaneer Pirate Ship.
Feeling brave? There's a zipline for that. Rather stay in and relax? Don't miss the Destin Spa at Emerald Grande.
3. Seaside
Location: Check on Google Maps
You'll want a pair of sandals and a sun hat to take advantage of this pedestrian-friendly location, considered by many to be one of the most beautiful beach towns in the Sunshine State.
This charming beach town has laid-back, sandy-feet vibes for those who want to take in the cultural sights without the stuffiness.
You can easily get around by foot in this walkable community and browse several of the town's bookstores and art galleries, such as Sundog Books and the Fusion Art Glass Gallery.
Or, you can take a stroll and discover many quaint, seaside homes, beach sunsets, and even see the Seaside Farmers' Market during your walk through this small, 80-acre beach town.
2. Key West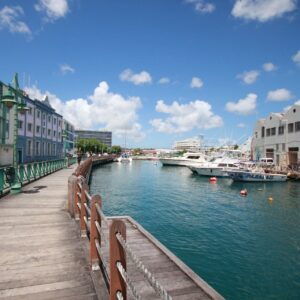 Location: Check on Google Maps
Once you arrive in Key West, you can kiss your car goodbye. It is easily one of the best walkable beach towns in Florida.
The community even goes so far as to recommend that visitors do not drive while they're in town.
Around Mallory Square, Duval Street, and Whitehead Street, you'll just need your legs and a good pair of walking shoes or sandals to explore the downtown area of Key West.
If you ever get tired, the Key West Trolley can pick you up for a ride.
The island life reigns supreme here, and that includes kayaking, salt-rimmed drinks, and plenty of key lime pie.
Need a culture fix? Don't miss the Ernest Hemingway Museum, where the author lived and worked for more than a decade.
1. Miami Beach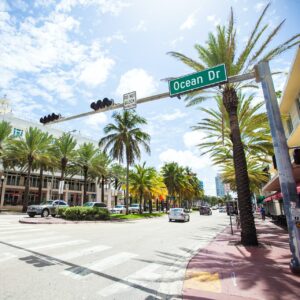 Location: Check on Google Maps
Nothing is inaccessible by foot in Miami Beach, making it our number one choice as the best walkable beach town in Florida.
At just over 15 square miles – that's 10 miles long and just over a mile wide – you can walk, run, or bike this quintessential Floridian Island with ease.
Head down to South Beach for most of the action, which is famous for its colorful Art Deco District, sugary white sand beaches, and perfectly manicured walking and bike paths that run parallel to the ocean.
Along it, you'll find dozens of high-end hotels, private and public beaches, and locals and tourists playing volleyball and working on their fitness.
Miami Beach's close proximity to the walkable downtown Miami, which we named as one of Florida's top cities, also makes it a great choice to visit.
Best Walkable Beach Towns in Florida
Overall, the best Florida walkable beach towns are:
Miami Beach

Key West

Seaside

Destin

Siesta Key Village

Lauderdale-by-the-Sea

Clearwater Beach

Fort Myers Beach
They all offer a great core downtown area with dining and entertainment options that are easily accessible by foot.
All of these beach towns are also located on some of Florida's most pristine waterfronts, which means that they truly deliver a quality experience both indoors and outdoors.