West Palm Beach vs Palm Beach – What's Different in 2023
Are you wondering how West Palm Beach vs Palm Beach differ now in 2023? Our in-depth comparison will show you exactly what's changed for your next visit.
To make sure you don't confuse these two, we made this detailed guide to help you choose your best destination for traveling or relocating.
West Palm Beach offers an exciting blend of small town warmth with big city amenities. It has the ambience of a local neighborhood, but you can also experience a dense urban feel. It is a hub of entertainment, clubs, bars, cultural spots and adventure in South Florida.
Meanwhile, you can take one of the three bridges from West Palm Beach to Palm Beach and discover a new and exclusive lifestyle.
Palm Beach is where some of the most beautiful beaches, fabulous restaurants, shops, theaters, bars, and festivals will welcome you.
According to Forbes, there are over 30 billionaires currently living in Palm Beach! Although it is home to the wealthy, Palm Beach offers more than just mega-mansions, private yachts, and secluded beaches.
This comparison of Palm Beach vs West Palm Beach was carefully compiled to help you plan your travels or your move more easily.
Before you decide where to go, let's get more familiar with these palm tree-filled cities.
1. West Palm Beach vs Palm Beach – Overview
Before we start with the similarities and differences between Palm Beach vs West Palm Beach, let's start with the basics: location and population.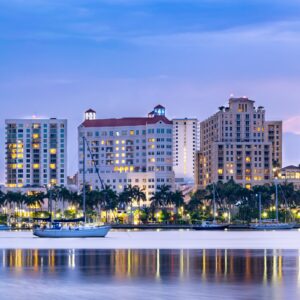 West Palm Beach is located in the upper part of South Florida. It is a major city within the Miami metropolitan area and is about 68 miles, or a 1 hour drive, north of Miami.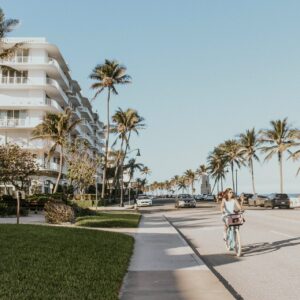 In comparison, Palm Beach is a neighboring city to West Palm Beach. It sits on its own barrier island that is just east of the mainland, which is where West Palm Beach is situated.
There is the Intracoastal Waterway that separates Palm Beach from West Palm Beach and Lake Worth Beach, but they are all essentially very close to each other.
The population of West Palm Beach is 117,415 as of the 2020 census, while Palm Beach is home to 9,245 residents.
Living in West Palm Beach would require a car since its walk score of 40 out of 100 is pretty low. However, its bike score stands at 50, which means that there is a decent amount of biking infrastructure around the city.
In contrast, Palm Beach allows you to reach more on foot or by bike. This small island city has an amazing walk score of 71. Feel free to bring your bike, too, since its bike score is 67.
2. West Palm Beach vs Palm Beach – Location
Did you know that many people can't really differentiate West Palm Beach vs Palm Beach? It's likely due to their very close geographical location (and their very similar names).
Here is a link to Google Maps to see the exact location of West Palm Beach vs Palm Beach.
They are only a couple of miles separating the two cities. To be more precise, the Intracoastal Waterway that splits them is just 0.3 miles wide at its most narrow point.
To get to Palm Beach, you would have to first get to West Palm Beach and then take either Flagler Memorial Bridge, Royal Park Bridge, or the Southern Boulevard Bridge east to reach Palm Beach.
Ideally, the car ride shouldn't take more than five minutes from downtown West Palm Beach to Palm Beach, but it can vary depending on which part of Palm Beach you want to reach and how busy the traffic is.
It is also possible to be environmentally-friendly and walk there, which would take around 30 minutes. It would also be very healthy!
The two cities are close to Delray Beach, Boca Raton, Deerfield Beach, Boynton Beach, Miami, Fort Lauderdale, and many other popular South Florida metro areas.
3. West Palm Beach vs Palm Beach – Reputation
Before you pack your suitcases and head to either one of these fine oceanfront cities, let's see if the energy and vibes in Palm Beach or West Palm Beach aligns with what you are looking for.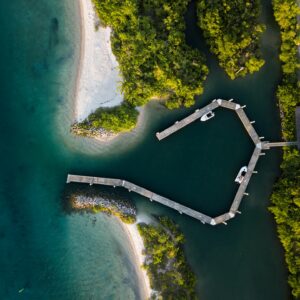 West Palm Beach is a beautiful and bustling place. Everyone here is busy and there is always something going on.
It is also a place where you can start a family and build your career, since it features a relatively strong job market. It is urban and dynamic, yet a bit more down-to-earth.
Ultimately, you will be able to enjoy the best of both worlds in West Palm Beach – a city lifestyle that features year-round vacation vibes.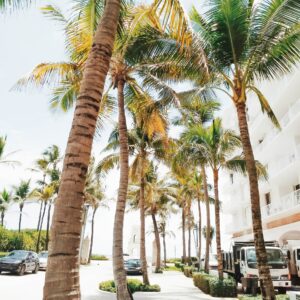 On the other hand, Palm Beach is the epitome of South Florida glamor and indulgent living. There is an easygoing and serene, no-pressure energy that permeates around this island.
It is much smaller and thus calmer and quieter, but also very refined and upscale. Palm Beach could be your bubble of privilege.
Overall, West Palm Beach offers you an exciting mix of urban and suburban living, while Palm Beach can better be described as a small, exclusive village (that is perfectly manicured).
If you find it difficult to choose between Palm Beach vs West Palm Beach, we recommend visiting both!
4. West Palm Beach vs Palm Beach – Things to Do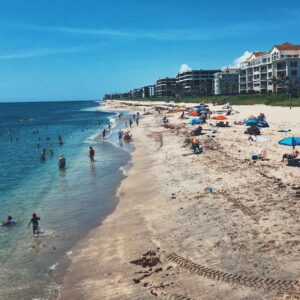 In West Palm Beach, The Square is the heart of dining, shopping, and entertainment within the city. Its architecture and style makes it feel like you've been transported to a European town center.
If you want to discover the city's art and culture, then visit the Norton Museum of Art or the Antique Row Art & Design District, which features over 50 galleries, specialty stores, and boutiques.
Nights can be magical in downtown West Palm, with its wide selection of lively restaurants and hotspots. We recommend visiting trendy establishments like Camelot or the Blind Monk.
If you opt for Palm Beach, you definitely need to visit what's missing in West Palm Beach – the beaches.
We recommend top beaches like Delray Beach, John D. MacArthur Beach State Park, and Palm Beach's municipal beach.
Palm Beach is also home to the magnificent and timeless Breakers Hotel, which is the last family-owned grand hotel that is even listed on the National Register of Historic Places.
You might also want to visit the Flagler Museum, which used to be the home of the city and hotel's founder, Henry Morrison Flagler.
If we compare shopping in West Palm Beach or Palm Beach, the winner would most likely be Palm Beach.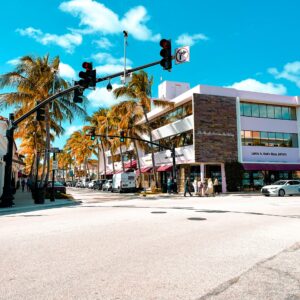 That is because Worth Avenue in Palm Beach is one of the most phenomenal shopping streets in the nation that delivers an out-of-this-world experience.
If you visit Palm Beach's commercial district, you will be able to find almost every store in the book, which includes names like Saks, Tiffany, Chanel, and Gucci that sit alongside some of the finest gourmet restaurants in the region.
Don't miss local favorites like Buccan and Flagler Steakhouse when in Palm Beach.
5. West Palm Beach vs Palm Beach – Safety
When comparing the safety levels in West Palm Beach vs Palm Beach, there is actually quite a stark difference.
Although West Palm Beach is a beautiful city to live in, its crime rates are 78% higher than the U.S. average.
On the positive side, crime in West Palm Beach has decreased by 8% year-over-year.
Surprisingly, Palm Beach has a 37% lower crime rate than the rest of the country and year-over-year crime decreased by 25%.
In fact, Palm Beach is considered to be one of the safest areas in the nation to visit or to live in, which makes it clear why so many billionaires opt for Palm Beach as their permanent residence.
6. West Palm Beach vs Palm Beach – Cost of Living
Finally, we will compare how affordable Palm Beach or West Palm Beach are.
Life in West Palm Beach is 6% more expensive than the Florida average. Specifically, housing prices are 10% higher than the national average.
You can also expect to spend more on groceries, transportation, and healthcare in this city compared to an average US city.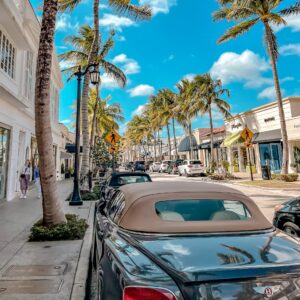 On the other hand, Palm Beach is much more costly. Its cost of living is a staggering 95% higher than the U.S. average, mainly driven by housing.
Home prices in Palm Beach are 417% higher than in the rest of the country. Meanwhile, renting an apartment is also 48% more expensive than in other American cities.
Currently, the average home costs about $1.5 million to $1.8 million in Palm Beach.
Apparently, high safety and great amenities do come at a price. While we definitely recommend visiting the beautiful city of Palm Beach, you might want to search for a better value for money when it comes to owning a house.
West Palm Beach vs Palm Beach – Summary
We hope that you have enjoyed this evaluation of West Palm Beach vs Palm Beach. It's clear that these two neighboring destinations can be quite different.
The decision to move to or travel to one of them comes down to your preference and budget.
This Palm Beach vs West Palm Beach comparison wouldn't be complete without mentioning the obvious – for some of the most stellar beaches in the world, head to Palm Beach.
But, for a feeling of a bigger city, head over to West Palm Beach.
Either way, you really can't go wrong with choosing West Palm Beach or Palm Beach since you can easily hop between these two excellent cities.
Lastly, check out this updated review of the best places to live in Florida in 2023.