Lake Tahoe vs Yosemite – 2023 Unbiased Review With Latest News
It's not so easy to choose between Lake Tahoe vs Yosemite, so we did some in-depth research to figure out which location is best for your next trip based on your preferences.
We also noted the ideal times of the year to visit these majestic locations as well as the optimal length of your stay.
When it comes to Yosemite vs Lake Tahoe, there really isn't a clear winner. It will truly depend on what you and your family are looking for. Either way, both of these Californian natural wonders are sure to invigorate you and reveal to you the true wonders of the great outdoors.
We divided this comparison between Yosemite vs Lake Tahoe into 6 major categories – an overview of each location, their accessibility, the amenities and things to do in each place, accommodation options, the best time to visit, and the ideal length of stay.
Let's take a look at the differences between Lake Tahoe vs Yosemite so that you can make the right choice for your next adventure.
Please note that some links below are affiliate links, which means that we receive a small commission if you make a purchase through our links, but at no extra cost to you. Thank you in advance for your support!
Lake Tahoe vs Yosemite – Overview
Let's start with an overview of Lake Tahoe and Yosemite. First of all, where are they?
They are both located in the mid-northern part of California. Lake Tahoe is on the northern border between California and Nevada. In fact, the physical lake of Lake Tahoe is actually split between California and Nevada.
It is about 4 hours east of San Francisco and about an hour south of Reno, Nevada.
Yosemite National Park is about 150 miles south of Lake Tahoe, nestled deep in the heart of the Sierra Nevada Mountains. It takes about 3 to 3.5 hours to reach from San Francisco or Reno. Las Vegas is also about a 6 hour trip away.
As you can see, they are relatively close to one another, so they share a similar climate and, if you had ample time, you could probably visit both in one trip.
But, they differ drastically in what they have to offer.
Lake Tahoe is not officially a national park, but it does offer a national forest. In fact, it is the most visited national forest in all of California. Roughly 10 to 20 million people visit the region every year.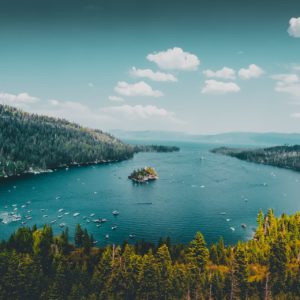 Of course, it is well-known for its lake, where you can swim, kayak, fish, and hike around its crystal clear waters. But, it is more than just a lake. There are numerous towns and cities that surround the waterfront.
It is split into Lake Tahoe North and Lake Tahoe South, with each area providing its own unique experience.
Lake Tahoe is also fun to visit throughout the whole year. In the winter, it transforms itself into a winter wonderland with snow that covers the entire area, which generates some of the nation's best ski slopes.
Check out the official visitor's bureau for Lake Tahoe here.
Meanwhile, Yosemite National Park is an official national park that spans over 1,000 square miles of scenic parkland and mountain peaks. Yosemite hosts roughly 4 to 5 million visitors a year, with an all-time high of 5.03 million in 2016.
While it is approximately half as popular as Lake Tahoe, Yosemite is not as accessible year-round as Lake Tahoe, so the majority of those visits are crammed in during the spring and summer.
That makes Yosemite a bit more crowded than Lake Tahoe during peak seasons.
Still, Yosemite is known for its vast, breathtaking landscapes, where hikers and bikers can witness sheer beauty that is unlike anywhere else in the world.
It offers visitors magnificent rock formations, extraordinary waterfalls, and memorable landscapes. There are also all kinds of wildlife in every corner of the park.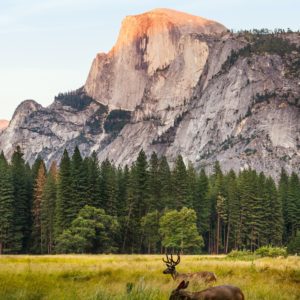 Read through all the travel guides and message boards across the internet and you'll find that they all agree that Yosemite is a "must see" at least once in your lifetime purely for its unique scenery.
Please keep in mind that you need a reservation to enter Yosemite National Park. Check out the official Yosemite website here.
Lake Tahoe vs Yosemite – Accessibility
So, how easy is it to get to these areas? They are both connected by highways from the major cities in the region. However, be aware that the roads may not always be open due to the amount of snowfall.
Always check the current conditions before heading out, as a closed roadway may eliminate your only route to reach these places.
To get to Lake Tahoe from San Francisco, many travelers prefer taking US-50 or I-80, depending on if you want to get to North or South Lake Tahoe.
For a drive out to Yosemite from the west, it is best to travel along California Highway 49, which is one of the best scenic roads on the West Coast and passes through many wineries and old gold mining towns.
Be sure to check out towns like Murphy, Columbia, and Amador City along the way.
If you are coming from the east, we recommend going down US-395, which stretches from the top of Washington all the way down through Southern California while passing through Yosemite. Its amazing scenery will add extra memories to your trip.
So, when it comes down to Lake Tahoe vs Yosemite for accessibility, both are relatively easy to get to as long as the weather cooperates.
Lake Tahoe vs Yosemite – Things to Do
As we mentioned earlier, Lake Tahoe is an area that provides entertainment during all four seasons and actually has numerous towns and cities along the lake.
That means that there is always something to do during any time of the year. For example, there are numerous free recreational activities, such as hiking, leisure biking, challenging mountain biking, cross-country skiing, boating, kayaking, and fishing.
There are also many recreational activities that you can pay for, like golfing, skiing, snowmobiling, and relaxing lake cruises.
You can also gamble at one of the many casinos in and around Lake Tahoe on the Nevada side, where gambling is legal.
The fact that there are towns and cities also means that there are numerous options for restaurants, cafes, and boutiques all around Lake Tahoe. There are also many different types of hotels and accommodations available, ranging from basic to opulent.
This differs quite a bit from Yosemite, since its primary focus is the actual parkland. You're not going to find many food options within the park, although there are some clustered near the Half Dome.
Additionally, outside of walking, hiking, biking, rafting, and rock climbing, there aren't the same plethora of activities that Lake Tahoe has to offer.
But, Yosemite makes up for it with its iconic and unbelievable sights that cannot be found anywhere else. You don't come to Yosemite to be pampered, enjoy fine dining, and partake in an active nightlife.
Instead, you come to connect with nature and truly escape from modern civilization for a while.
It excels in not offering you many amenities and allowing you to get back to your roots.
Lake Tahoe vs Yosemite – Accommodations
That brings us to accommodations. If you've made it this far, you understand that Lake Tahoe can offer you everything from a tent to a 5-star hotel.
Meanwhile, many of the hotels and accommodations in Yosemite are quite rustic and extremely basic.
There is 1 luxury hotel within Yosemite, The Ahwahnee, but be prepared to shell out at least $500 per night for the cheapest room. Also, all of the accommodations within the park are managed by the Yosemite Hospitality company.
Our Top Picks of the Best Hotels in Lake Tahoe
Our Top Picks of the Best Hotels in Yosemite
Lake Tahoe vs Yosemite – Best Time to Visit
For Lake Tahoe, the best time of the year to visit really depends on what activities you are looking for. It's never overly crowded compared to Yosemite since it offers things to do in every season.
There is so much space around the whole lake that you are sure to find your slice of tranquility.
Yosemite's peak months are usually June until September, when it can get crowded. It can average over 500,000 visitors per month during that time period. The trails get congested and parking can be a pain.
Therefore, we think the best time to visit Yosemite is in the spring or fall. In the spring, the weather is getting warmer, the flowers are blooming, and the runoff from the winter's snow creates spectacular waterfalls. Meanwhile, the fall offers a bit cooler weather compared to the summer and much fewer people.
Lake Tahoe vs Yosemite – How Long to Stay
We recommend at least 4 to 5 days for either Lake Tahoe or Yosemite to truly appreciate what they have to offer. Ideally, you should stay a whole week to capture it all – there is that much to do and see in both areas.
If you are only looking to travel for a weekend or long weekend, then we think Lake Tahoe would be the perfect getaway spot.
Lake Tahoe vs Yosemite – Summary
Overall, when you compare Yosemite vs Lake Tahoe, you can see that they offer very different experiences. If you are looking for a mix of nature and entertainment, and also like to try a variety of outdoor activities, then Lake Tahoe cannot be beat.
Instead, if you want a pure experience in the wild and don't mind being a bit more rugged, then Yosemite would be the right choice for you.
If the idea of living full-time in California sounds good to you, then check out our research on the top places to live in the Golden State.
Frequently Asked Questions
Lake Tahoe vs Yosemite in September?
If it is early September, our recommendation would be to visit Lake Tahoe as the crowds in Yosemite may still be quite strong. For trips during mid-to-late September, you can't go wrong with either choice.
Is April a Good Time to Visit Lake Tahoe?
April is one of the most beautiful months to visit Lake Tahoe. The whole area transforms during that month, waking up from its winter slumber and blossoming into a beautiful, flower-filled landscape. The waterfalls are also plentiful during this time of year. You can even still get on the slopes as the ski season usually lasts until mid-April.
Is September a Good Time to Visit Lake Tahoe?
Yes, we think September is a good time to visit Lake Tahoe. The crisp autumn air starts to fill the mornings, while the bright sun will still provide a comfortable, warm day. The crowds start to dissipate as folks head back to work from their summer vacation.
Lake Tahoe in September may be the perfect time to enjoy warm weather at a relaxed pace with limited tourists and traffic.
Can You Swim in Lake Tahoe in September?
Yes, you can swim in Lake Tahoe in September, but be warned, it may be quite chilly. The average water temperature in the main lake gets down to roughly 60 degrees, so it may be only for the brave. So, we do not recommend it for most people.
Is October a Good Time to Visit Lake Tahoe?
October is a great month to visit Lake Tahoe if you are looking for that quintessential autumn vibe. The foliage is near its peak while the weather is still relatively warm. But, the air has that distinct bite to it that reminds you that the season is changing.
October is also one of the quietest months in Lake Tahoe since it sits between the summer vacationers and the winter skiers, so it is the perfect time to have it almost all to yourself.
What is the Worst Time to Visit Yosemite?
For those who hate the crowds, we think that the worst time to visit Yosemite is July and August, when the excessive number of visitors may put a damper on your experience.
For those who want full access to the park, then the worst time to visit Yosemite would be the winter months, when parts of the park can be off-limits due to the weather.
Is October a Good Time to Visit Yosemite?
Yes, October is a good time to visit Yosemite. The large summer crowds are long gone and the park (and roads around it) still usually maintain good access. Meanwhile, the trees are near their peak of foliage, providing a vibrant palette of colors among the already awesome scenery.