Is Naples Florida Safe? Analysis with Crime & Hurricane Data
Southern Florida has grown in popularity, which has also attracted different levels of crime. But, is Naples, Florida safe compared to the other cities in Florida? Also, is Naples safe from natural forces like hurricanes and tropical storms?
We analyzed the latest statistics from the FBI crime database and weather agencies to figure out how Naples compares to the rest of the state. We will go over the overall safety of the city and determine if and why is Naples, Florida safe from hurricanes as well.
Please note that some links below are affiliate links, which means that we receive a small commission if you make a purchase through our links, but at no extra cost to you. Thank you in advance for your support!
Naples, Florida Crime Rate – Overview
Based on FBI data for 129 cities, Naples, Florida is the 6th safest city in Florida based on the total number of violent and non-violent crimes. This is according to the National Council For Home Safety and Security.
A separate study named Naples, Florida the 2nd safest city. Meanwhile AreaVibes, a leading city review database, also awarded Naples with an A+ rating for crime, noting that they have 40% less crime than the national average. It is clear that Naples is one of the lowest areas for crime in Florida.
Naples, Florida Crime Rate – Analysis
Let's break down the details of Naples, Florida's crime rates and statistics. To identify the safest cities, the National Council For Home Safety and Security reviewed the FBI's most recent crime report statistics. They limited their analysis to cities with at least 10,000 people.
They included the numbers for violent crimes and non-violent crimes, such as property crimes like burglary or theft. Then, they combined that information with data from law enforcement agencies to determine the total police coverage.
Naples registered only 9 violent crimes in 2018, which was the 4th lowest amount across all 129 Florida cities. Additionally, there were only 320 property crimes for the whole year, for a rate of 14.3 per 1,000 people.
Meanwhile, they employ 93 law enforcement employees for a city with a population of 22,000 people. Naples' ratio of 4.17 law enforcement employees per 1,000 people is one of the highest in Florida, which is 30% to 40% more than places like Tampa, Orlando, or Miami.
Is Naples, Florida Safe from Hurricanes?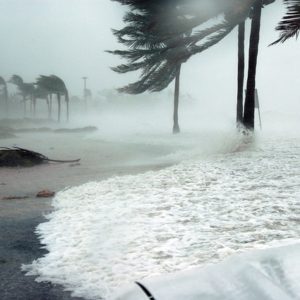 What about Naples, Florida and its safety from natural disasters, like hurricanes, tropical storms, and flooding? Well, virtually every city in Florida is exposed to the risk of a hurricane every year, but some cities do have lower probabilities of being hit and also have lower insurance claims.
A recent study named Naples the #7 safest city from hurricanes out of 35 large cities across Florida. This was based on the frequency of storms and the resulting property damage, meaning that Naples is one of the safest cities in Florida from hurricanes.
Why is Naples Florida Safe from Hurricanes?
So, why is Naples safe from hurricanes? It may not actually be geographically safer than other cities in Florida. But, it may be due to the strong preparedness and planning for hurricanes and disaster management by the City of Naples.
It may also be due to the high quality of the homes and buildings within Naples, which is known to be a wealthier city. They may have better built structures that could then withstand hurricanes better and also lead to fewer insurance claims.
There is no definitive answer as to why Naples is safe from hurricanes, but the reason may lie in the nature of the city rather than in nature itself.
Summary – Is Naples Florida Safe?
We can confidently conclude that Naples, Florida is very safe, both in terms of crime as well as from hurricanes compared to other cities in the Sunshine State. Naples' crime rate is one of the lowest in Florida, while its probability of being hit and damaged by a hurricane is relatively lower than other large cities. It is also one of the best cities in Florida and made our list of the top places to live.
Of course, you should always take necessary precautions and exercise common sense to ensure your safety in any situation, both for personal safety and from extreme weather.