Breckenridge vs Vail – 2023 Guide Summer & Winter Adventures
This full comparison between Breckenridge vs Vail gives you an inside look at how these fun and luxurious ski resorts differ so you know for your next trip.
It is not so easy to choose between Vail vs Breckenridge for those who have not been to either of these cozy mountain towns.
They are both located deep in the heart of the Rocky Mountains about 1.5-2 hours away from Denver by car. They also both offer some of the best slopes in the winter and a rugged outdoor experience in the warmer months.
We even rated them both as some of the top cities in Colorado to consider.
But, they offer a bit of a different vibe that may ultimately sway your decision. You may also choose one based on your ski experience and your budget.
This comprehensive review will break down every major aspect between each place so that you can understand if you belong more in Breckenridge or Vail.
1. Breckenridge vs Vail – Overview
Before we start looking at Breckenridge vs Vail, let's find out a bit more about both of these places.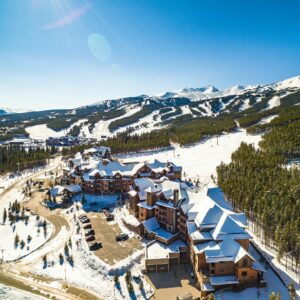 Breckenridge is a town famous for its ski resorts, and it sits at the foot of the Rocky Mountains, with a population of approximately 5,070 residents. On the other hand, Vail has a slightly smaller population of around 4,835. It sits near the base of the Vail Mountain, and is also a famous tourist spot.
If you want to see how easy it is to get around in Breckenridge vs Vail, the walk score for Breckenridge is 54, and for Vail, it's 49. That means that both can be explored on foot, but you may need a car at points.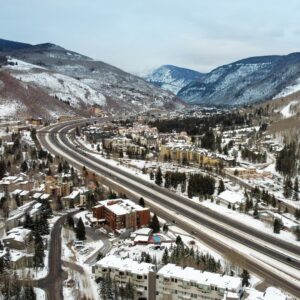 Vail hasn't been given a biking score yet, but it is quite a spread out area, which may make it more difficult to bike around conveniently. Breckenridge gets a score of 34 for biking, and it does have some biking infrastructure, which should make it easier for you to get around.
2. Breckenridge vs Vail – Location
If you're thinking about Breckenridge vs Vail in terms of their location, it's worth checking out where they are in relation to each other. The two cities are nearly 21 miles apart geographically, but by road, it's 36 miles. You would need about an hour by car to drive from one to the other.
You can check out the journey on Google Maps here.
In terms of the positions of Vail vs Breckenridge, Vail sits a bit further north and east of Breckenridge, on the far side of Copper Mountain.
Breckenridge is just to the west of the Continental Divide, while Vail is in the White River National Forest. It's 100 miles west of Denver and to get from Vail to Breckenridge, you'll need to take the I-70 E, which runs between the two cities, avoiding the Copper Mountain range.
The halfway point between the two is the quaint mountain town of Frisco, and Lily Pad Lake is nearby, along with the Dillon Reservoir and Swan Mountain.
3. Breckenridge vs Vail – Reputation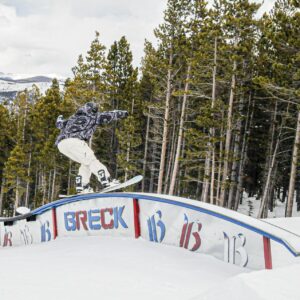 The next thing to consider is the reputation of Breckenridge vs Vail. Breckenridge is generally regarded as a more casual location than Vail, making Vail the better option if you want a resort atmosphere and sleek, elegant style.
In terms of the approach of Breckenridge vs Vail, Breckenridge offers tourists a more relaxed stay, with an array of different activities and the option to focus on its history, as well as outdoor pursuits.
Meanwhile, Vail has a reputation as one of the largest ski resorts in the world, so if you're there purely for the sport, it might be the better option.
However, if you're up for a challenge, Breckenridge is known as one of the hardest ski resorts in America, and it's mostly aimed at expert skiers.
If you're interested in the history of Vail vs Breckenridge, Breckenridge has the better offerings. It is more historically significant, having been shaped by the Gold Rush prospecting era of the mid-1800s.
Vail, being purpose-built, doesn't offer the same degree of history, but it provides a wide range of activities for all kinds of tourists to enjoy.
4. Breckenridge vs Vail Summer & Winter Things to Do
Perhaps the most important consideration when comparing Breckenridge vs Vail is what you can do there – so let's find out about the events.
Breckenridge vs Vail – Summer
Breckenridge offers historical tours around its old town, which still retains a Wild West atmosphere and is packed with shops and souvenirs to purchase.
In the summer, you can also spend time hiking, golfing, kayaking, or boating. You can even enjoy the alpine slides.
Vail lacks some of the history of Breckenridge but offers a range of fun activities, including gondola rides, ten-pin bowling, and nearby access to some amazing ice castles. There's also the famous Taste of Vail festival that occurs in the spring, highlighting the amazing foods and drinks of the region.
Breckenridge vs Vail – Winter
In terms of winter activities in Breckenridge vs Vail, both towns are famous for their skiing, and both have great winter sports options, although Vail is better for beginners. In Breckenridge, you can also participate in sledding and sleigh rides.
5. Breckenridge vs Vail – Amenities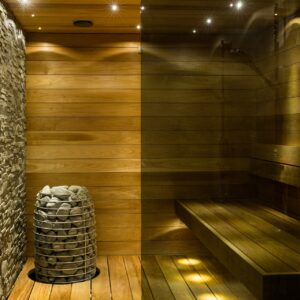 A lot of tourists prefer Vail's skiing facilities because they have more options for beginners and more varied terrain, but Breckenridge might be popular for experienced skiers. In terms of Vail vs Breckenridge, Vail has almost double the space, and it's great for people who are just starting out.
For other amenities, Vail tends to be more upscale and exciting and has a greater range of restaurants, although Breckenridge does have some great options, and can cater to more casual clientele.
In terms of accommodation, Vail offers some excellent hotels, but you'll find many suitable places to stay in Breckenridge, too.
There are a few nice spas in both Breckenridge and Vail, but if you'd like a more high-end feel, Vail's cobblestone streets are probably the best option for you, while Breckenridge is a little more relaxed, casual, and family-friendly. Some people even complain that they feel out of place in the more upper-class Vail.
On the whole, Breckenridge is better if you want to go shopping because of its wide range of choices, whereas Vail is more about activities and experiences.
6. Breckenridge vs Vail – Cost Comparison
So, what about prices? Well, comparing the two towns in terms of cost, Breckenridge is always going to be more economical, with Vail being one of the most expensive ski resorts out there.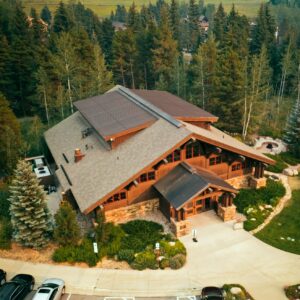 A short stay in Vail could cost more than $1,000 more than staying in Breckenridge, which is a lot for just a short trip!
A night in a hotel in Vail often costs around $278 for a couple, with an average daily cost of $233 if you don't sleep overnight.
In Breckenridge, an average hotel price for a couple is only $169, and the daily cost without a hotel is about $160.
Of course, both places will experience higher prices during ski season, but Vail more so, and it's far from an affordable travel option for most tourists. Since Breckenridge offers cheaper accommodation and more affordable activities, it's likely to be a lot more budget-friendly overall.
Ultimately, everything tends to be more expensive in Vail, including the food, the transport, and the entertainment. If you like a high-end feel, Vail is for you, but for budget travelers, Breckenridge is definitely the preferable option.
Breckenridge vs Vail – Summary
We hope this detailed evaluation between Vail vs Breckenridge has given you the insights you need to choose your next ski adventure in Colorado.
There really isn't a wrong choice here as both offer a great atmosphere and fun for all ages.