The 10 Most Livable College Towns in America – 2022 Edition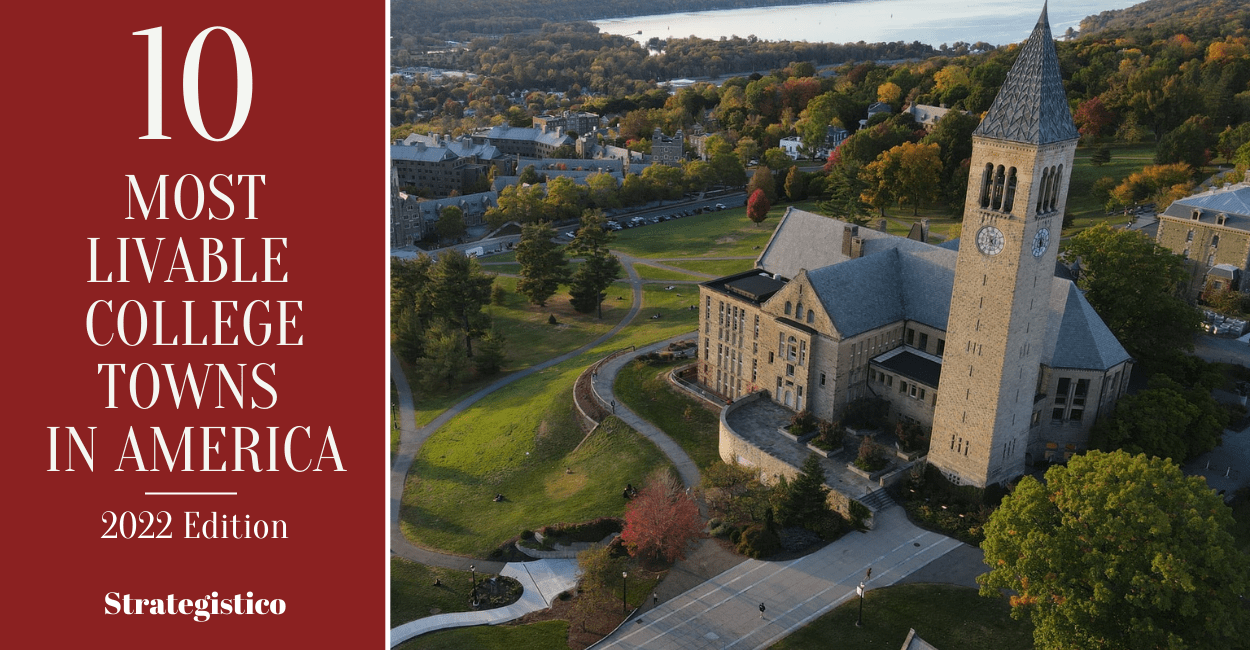 College towns across America are thriving once again. They have proven to be the perfect post-pandemic places to find well-rounded communities that blend energetic students with full-time residents.
Of course, college towns can offer much more than just youthful energy and a college or university campus. For instance, many feature a walkable downtown filled with boutiques, restaurants, and bars alongside numerous cultural attractions that the whole family can enjoy. They can also provide a strong job market for young professionals and families to develop in.
Therefore, we looked to determine the most livable college towns in 2022 that offer the best mix of living, leisure, and overall good vibes.
Our study reviewed over 800 college towns in the U.S. and scored them based on key factors such as cost of living, concentration of cultural and entertainment amenities, walkability, unemployment rate, and safety.
Research Methodology
To thoroughly evaluate the livability of all the college towns in America, we first had to define what makes a place truly livable. So, we developed a rating system based on eight metrics that impact the quality of life of residents:
Cost of Living:

Affordability of a city based on costs for major expenses like housing, food, transportation, health care, and entertainment. Data from the Council for Community and Economic Research and the Bureau of Labor Statistics – Consumer Price Index.

Arts & Culture:

Vibrancy of the performing arts and culture scene based on the concentration of museums, historic sites, and performing arts venues. Data from the U.S. Census Bureau – County Business Patterns.

Dining & Entertainment:

Number of restaurants, bars, lounges, cafes, and shops in a city. Data from the U.S. Census Bureau – County Business Patterns.

Outdoor Amenities:

Access to nature through public parks, rivers, lakes, and mountains in or around the city. Data from the National Environmental Public Health Tracking Network and The Trust for Public Land.

Walkability:

The ability for residents to walk to major points of interest around the city. Data from Walk Score.

Unemployment Rate:

Seasonally-adjusted percent of workers without work in the active labor force. Data from the US Bureau of Labor Statistics – Local Area Unemployment Statistics.

Crime Rate:

Measure of safety evaluated by the number of reported crime incidents. Data from the FBI – Uniform Crime Reporting.

Overall Atmosphere:

The culture and vibe of a city based on feedback and reviews from residents and visitors. Data from various review aggregator sites and social media platforms.
We developed a database to review all 815 cities that feature a college or university in the U.S. We then chose the top ten college towns that scored the highest overall across all of these categories.
The 10 Most Livable College Towns in America
Ames, Iowa
Ames is a vibrant city of roughly 66,000 residents that is located right in the center of Iowa and is home to Iowa State University. It features a lively downtown with a historic main street that offers over 50 locally-owned shops and restaurants.
It also houses many cultural points of interest, including the Ames History Museum, the Brunnier Art Museum, and Octagon Center For the Arts, as well as an extensive public parks system.
Additionally, it is one of the more affordable cities on this list, with housing prices that are 7% lower than the national average.
Athens, Georgia
This energetic college town is home to the University of Georgia's main campus and is one of the fastest-growing cities in the nation. The 127,000 residents of Athens enjoy great weather, a legendary live music scene, some of the region's best restaurants, and more bars than you can even imagine.
There is never a lack of entertainment around Athens, from the 80 bars within a one mile radius, to the art galleries and live venues for music and performing arts.
If that's not enough, Atlanta is also just 1 hour and 15 minutes away by car.
The best part is that the city is still affordable. The average home prices in Athens are 17% below the U.S. average.
Bloomington-Normal, Illinois
The twin cities of Bloomington and Normal host two major universities, Illinois Wesleyan University and Illinois State University, and provide some of the most livable college-based communities in the nation.
They blend a superb arts and entertainment culture with a great nightlife within their two distinct commercial centers, Uptown Normal and Downtown Bloomington.
The cities also combine to offer a solid job market, with unemployment rates around 3% and wages that are consistently above the state average.
Meanwhile, the cost of living in the area is about 3% lower than the rest of the U.S., and home prices here are roughly 13% lower than the national average.
Burlington, Vermont
This classic New England community is also one of the most down-to-earth college towns in the nation. It features a thriving, walkable downtown filled with locally-owned restaurants, cafes, breweries, and is the home to Ben & Jerry's ice cream.
Nature also plays a big part of Burlington's excellent livability, as the city sits right on Lake Champlain and offers multiple parks with hiking and biking trails nearby.
Meanwhile, the city does a great job bringing its community together by hosting numerous festivals and events throughout the year.
College Station, Texas
Texas A&M's huge student body makes up the majority of College Station's 120,000 residents. But, the city offers much more than just college-aged amenities.
It has developed an ideal blend of affordability, safety, education for all ages, and things to do that are suitable for virtually all age groups. That's why it's been named one of the best cities for young professionals as well as for retirees.
College Station also mixes small town charm with easy access to larger metro areas, as Austin and Houston are both less than a 2 hour drive away and Dallas is only 3 hours north.
Columbia, Missouri
You can find Stephens College, Columbia College, and University of Missouri all within this bustling Midwestern town of 126,000 residents.
It has become a true center for culture, excitement, and overall livability. The city has its own arts district (the North Village Arts District), tons of restaurants, cafes, and bars in its lively downtown.
It is also in close proximity to tons of outdoor hotspots, like the 1.5 million acre Mark Twain National Forest and the Missouri River.
Meanwhile, Columbia is strategically situated right between Kansas City and St. Louis as both cities are reachable within a 2 hour drive.
Yet, all of these amenities won't burst your budget. The cost of living in Columbia is 4% lower than the rest of the U.S., with home prices that are 7% lower than the nation's average.
Frederick, Maryland
This charming city of almost 80,000 residents features a quaint downtown with historic buildings that house multiple shops, restaurants, and bars alongside numerous museums and performing arts venues.
Locals as well as students from Hood College and Frederick Community College all get to enjoy this welcoming community.
Frederick also maintains an excellent public parks system as well as many small residential neighborhoods, making it a truly livable community to settle in for all ages.
Additionally, it is home to the U.S. Army's Fort Detrick, which provides numerous jobs for its local residents as well.
Its proximity to Baltimore and Washington D.C. also make Frederick a great base for commutes or weekend visits to either city.
Harrisonburg, Virginia
The historic city of Harrisonburg is home to four major colleges and universities, including James Madison University and Eastern Mennonite University.
It has emerged as one of the most diverse and welcoming communities in America and lives up to its nickname as "The Friendly City."
Harrisonburg offers tons of entertainment and things to do in its revitalized downtown district. It is also a great base for nature lovers, as the city is just 15 miles from George Washington National Forest and 25 miles from the majestic Shenandoah National Park.
Ithaca, New York
Some call Ithaca the best college town in the whole nation. It's also not uncommon for alumni of Cornell University or Ithaca College to call Ithaca their permanent home after graduating.
So, what makes Ithaca so livable? For starters, it is located in one of the most beautiful landscapes on this list, with its famous gorges and waterfalls surrounding the area. The local government is also being proactive in maintaining its beauty and livability with its Green New Deal plan.
Meanwhile, there are numerous things to do around downtown Ithaca on The Commons and in Collegetown near Cornell's campus. Both of these walkable districts are filled with locally-owned restaurants, lively bars, and cute cafes.
The city also offers live performances and art exhibits throughout the year, both within the college and university as well as in town.
Stevens Point, Wisconsin
This quaint city of 25,000 people sits on the Wisconsin River right in the middle of the state.
Residents here can take a stroll around its walkable Main Street and enjoy one of the many community events that occur in and around the town square, including farmers markets, festivals, and performing arts.
There are also other points of interest, like the Riverfront Arts Center, which exhibits the works of local artists, and the Schmeeckle Reserve, a 280-acre nature area on the campus of the University of Wisconsin-Stevens Point.
Best of all, Stevens Point is very affordable. With housing costs that are over 30% lower than the U.S. average, it is also the cheapest place to live on this list.
Data Sources
Council for Community and Economic Research
https://www.c2er.org/
FBI – Uniform Crime Reporting
https://www.fbi.gov/services/cjis/ucr
National Environmental Public Health Tracking Network
https://ephtracking.cdc.gov/
The Trust for Public Land
https://www.tpl.org/
US Census Bureau – Census of Population and Housing
https://www.census.gov/topics/population/data.html
U.S. Census Bureau – County Business Patterns
https://www.census.gov/programs-surveys/cbp.html
US Bureau of Labor Statistics – Local Area Unemployment Statistics
https://www.bls.gov/data/
US Bureau of Labor Statistics – CPI for All Urban Consumers
https://www.bls.gov/data/
Walk Score
https://www.walkscore.com/cities-and-neighborhoods/