Why is Seattle so Expensive in 2023? 4 Cause & Effect Reasons (Explained)
Why is Seattle so expensive still in 2023? We take a deep-dive into the economic history of The Emerald City to uncover the major factors driving its high costs.
Seattle routinely is ranked as one of the most expensive areas to live in based on its high average cost of living and real estate prices.
It's not hard to see why Seattle has become so popular. It is surrounded by forests, mountains, and beautiful bodies of water with a bustling community of 737,000 residents and great job opportunities right in the middle of it all.
Why is Seattle so Expensive? Background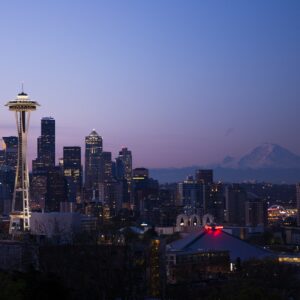 Property prices in Seattle have historically been higher than in the rest of the country, partially due to the smaller amount of geographic space that Seattle has to offer compared to other cities.
Meanwhile, the state has attracted many large tech firms like Amazon and Microsoft, which have helped to increase the overall pay for residents in the area. According to Payscale, the average salary for a Seattle employee is around $85k per year.
Therefore, the cost of living has also risen as the wages for workers have increased as well.
Ultimately, the success of big tech in Seattle has led to an elevated cost of living that has affected everything from housing to the cost of bread.
Why is Seattle so Expensive? The Tech Industry's Influence
Seattle has become one of the most expensive places to live in America primarily due to its booming tech industry.
Some of the largest corporations in the world have chosen to establish their headquarters in Seattle, which has attracted many high-skilled workers who want to be a part of these companies.
For example, Microsoft was founded in 1975 by two Seattle natives – Bill Gates and Paul Allen. They decided to build their headquarters in the Seattle suburb of Redmond in 1986.
Today, Microsoft is the 2nd biggest private employer in Washington, with over 50,000 employees located at their Redmond headquarters.
Meanwhile, the biggest private employer is Amazon, which started in Jeff Bezos' garage in the Seattle suburb of Bellevue in 1994. Amazon currently employs over 80,000 workers in its headquarters in Seattle.
Due to the coincidence of these two large corporations settling in Seattle, the city has become a magnet for tech workers, which in turn has led to more tech companies relocating in Seattle, making it the thriving tech hub it is currently.
Tech companies have been enjoying huge success lately, so they are then able to pay more to retain top talent. As a result, many workers here receive premium salaries that rival the wages found in Silicon Valley or Manhattan.
According to Payscale, the average salary for a software engineer in Seattle is estimated to be about $100,000 to $150,000 per year.
The consequence of these high salaries is that the cost of living also increases as there is more demand and more money to spend on roughly the same supply.
Why is Seattle so Expensive? – Rising Property Prices & Strict Zoning Laws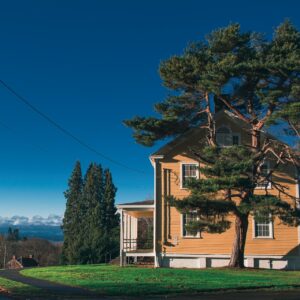 The biggest impact that the previous point on high wages has had on the Seattle economy is on housing costs. When tech workers are lavished with high salaries and big bonuses, many want to use their new fortune to buy a nice house.
But, Seattle is not actually that big in area and generally offers a finite amount of space given its geographical layout. It is also known for its fairly strict zoning regulations that limit skyscrapers and dense developments in favor of single-family homes.
As a result, the extra demand is fighting over a relatively fixed supply of homes that also cannot expand fast enough to satisfy the overall demand.
Therefore, property prices in Seattle have continued to rise to astronomical levels. In fact, housing costs are roughly 125% higher here than the rest of the US.
Meanwhile, the average cost of a home in Seattle's King County has risen to over $1 million.
Rentals in Seattle are also more expensive than other cities. Don't be surprised to pay over $3,000 per month to rent an apartment or home here.
Why is Seattle so Expensive? High Sales Tax
Another reason why living in Seattle is quite expensive is due to its high sales tax, which is added onto nearly everything that gets sold by a business.
Seattle charges a 10.25% sales tax rate for all items sold here. By comparison, the whole state of Washington only charges a 6.5% sales tax on items sold in the state.
Therefore, virtually all everyday items cost a bit more in Seattle than in most other places.
Why is Seattle so Expensive? Inflated Cost of All Goods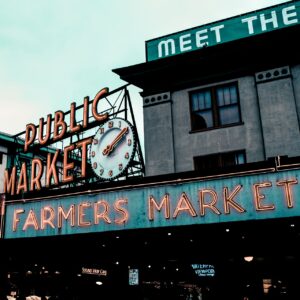 That leads us into the final major aspect of why Seattle is so expensive. All of the previous elements actually feed into this reason, which is a higher cost of consumer goods.
Since there are higher wages, people have more money to spend. They are also willing to spend more on housing, which increases the prices of the overall real estate market. That also impacts the price of commercial and retail locations as well.
Since restaurants and supermarkets have to pay higher rents, they need to recoup their money by charging more for their goods and services.
When you combine the high taxes with the overall inflation of goods based on higher wages, you get a city with an overall cost of living that is about 50% to 60% higher than the US average.
In fact, residents in Seattle pay more than the US average for nearly every consumer good. There are just two items that cost less in Seattle – milk and margarine.
Why is Seattle so Expensive? Summary
So, why is Seattle so expensive in 2023? Ultimately, it is due to the cascading effect that tech giants Microsoft and Amazon have had on the community. Their success has led to higher salaries, which led to an increase in housing prices and the cost of everyday items.
Seattle's reliance on zoning for single-family homes and their general lack of space has also contributed to the situation.
But, there may be good news ahead. The Seattle City Council is evaluating different ways to allow more housing to be built around the city, including amendments to its zoning laws to permit more diverse (and denser) housing types as well as requirements for developers to include below-market rentals as part of their plan.
However, previous promises have not been fulfilled to help mitigate Seattle's housing crisis. In 2019, Microsoft pledged up to $750 million to help improve the housing shortage. But, its impact has not been fully realized even today.
Still, we are optimistic that the situation will improve and that Seattle will become a more affordable place to live.
If you want to find some more affordable places to live in this state, check out this list of the best cities and towns to live in Washington State in 2023.