12 Best Downtowns in Florida – Lively Places to Shop & Eat
We picked the towns and cities with the best downtowns in Florida where you can walk around and enjoy top restaurants, bars, and shopping all in one place.
All of the locations that we chose feature a vibrant downtown district that is filled with amenities and exciting entertainment options that are sure to keep you busy, whether you are looking to just visit or are looking to move to one.
Florida offers a diverse list of great cities, but not all of them feature a bustling central district, so let's take a look at all the best downtowns in Florida for 2023.
We also divided our list into three main categories – small towns, mid-sized cities, and big cities – so that we provide options for every type of destination in the Sunshine State that you may be looking for.
Best Downtowns in Florida – Small Towns
Our definition of a small town is a place with less than 20,000 residents. It just so happens that most of these small towns are also located right on the beach, making them the perfect combination for relaxation and fun around town.
Destin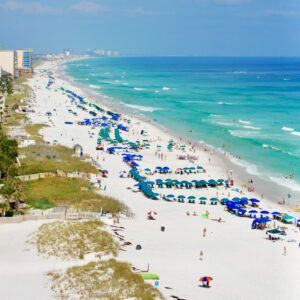 Population: 13,312
Location: Check on Google Maps
Destin is a magnificent beachtown located right on the shores of the Gulf on the Florida Panhandle. The town has so much to offer, from its emerald beaches with dolphin tours, to water sports, and fishing galore.
Downtown Destin features the lively Destin Harbor Boardwalk, which is filled with boutiques, shops, and some of the best restaurants in the region, including:
If shopping is what you seek, Destin offers some excellent fare for those looking to take something home for the family. Some of the top shopping areas include:
Additionally, Crab Island is a great draw for visitors and is only accessible by water. This beautiful sandbar offers a host of water activities such as snorkeling, paddle boarding, jet skiing, etc.
Overall, Destin is one of the best downtowns in Florida for those looking to experience some small-town charm along with easy access to the beach.
Mount Dora
Population: 13,204
Location: Check on Google Maps
Mount Dora is known as "The Festival City," but it also has oodles of small-town charm and historic buildings dating back to the late 1800s, including the Lakeside Inn, which has been in operation since 1883.
Mount Dora is also surrounded by multiple lakes. Downtown Mount Dora is poised over the beautiful Lake Dora and offers excellent water activities and public parks like Elizabeth Evans Park.
You can take a pontoon or catboat along the picturesque scenery or try your hand at reeling in bass fish in the "Bass Capital of the World."
Downtown Mount Dora also offers a host of eateries in gorgeous settings that cater to all tastes, such as the:
The historic downtown district offers a vibrant art scene with galleries, studios, and art events. It is also one of the best stops on Florida's antique trail, with iconic spots such as Renninger's Flea Market and Antique Center.
St. Augustine
Population: 13,867
Location: Check on Google Maps
As the oldest continually occupied settlement in the US, St. Augustine offers stunning Spanish colonials, a colorful history, and pristine beaches such as St. Augustine Beach and Crescent Beach.
St. Augustine will delight history lovers as it is the home to fascinating museums and ancient forts and castles. The top visitor attractions include:
Historic Downtown St. Augustine also offers top-class cuisine that reflects the town's multicultural heritage, including places such as:
The downtown also offers galleries, boutiques, shopping, theaters, and live music venues, which makes it the perfect spot to enjoy a day (and night) out and one of the best downtowns in Florida for those who like to mix history, culture, and beaches.
Stuart
Population: 16,204
Location: Check on Google Maps
A couple of decades ago, Stuart's downtown received an overhaul and transformed into a quaint and iconic district with 1920s retro vibes. The restored 1920s Lyric Theater forms the hub of this community of burgeoning arts, theater, and historical museums.
Steeped in history, visitors will love the Stuart Heritage Museum and Road to Victory Military Museum, with artifacts dating back to the town's earliest days.
Stuart is also located right on the St. Lucie River and near the Atlantic Ocean, so it offers opportunities to relax on the beach as well as watersports abound, including riverboat cruises, such as the famous Treasure Coast River Cruises and Treasure Coast Sailing Adventures.
Stuart has a reputation for offering outstanding cuisines, including restaurants such as:
The walkable streets of downtown Stuart are also home to flea markets, galleries, and great shopping venues on the bustling Osceola Street.
Best Downtowns in Florida – Mid-Sized Cities
Here, we chose the best downtowns in Florida in medium-sized cities with a population of 100,000 or fewer residents.
Dunedin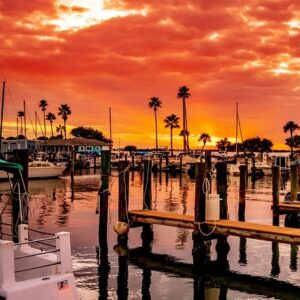 Population: 35,882
Location: Check on Google Maps
The charming downtown in Dunedin, Florida offers a scenic waterfront and a quaint and bustling lively arts community with the backdrop of 4 miles of beautiful beaches.
Downtown Dunedin has a walkable main street and also features the famous Dunedin Downtown Market every Friday and Saturday morning, offering gourmet treats, souvenirs, and fresh produce.
The town is also home to several parks, such as the Honeymoon Island Park and Caladesi Island State Park.
Meanwhile, The Dunedin History Museum and the free Beatles Museum Dunedin are great draws for visitors, as is the Dunedin Fine Art Center.
Dunedin offers excellent eateries for foodies as well, including the popular spots:
Key West
Population: 26,039
Location: Check on Google Maps
Duval Street is the heart of downtown Key West and offers iconic bars, galleries, and a selection of mouth-watering places to dine.
The historic district of Old Town offers many attractions for history lovers and sightseers. This includes the famous Hemingway House, where Ernest Hemingway lived for most of the 1930s. Other places of historical interest include:
Meanwhile, downtown Key West offers some great restaurants, including:
Downtown also offers excellent attractions for art and theater lovers, such as the San Carlos Theater and the popular Art@830.
Of course, the beach is just a stone's throw away from downtown Key West, which makes it the perfect place to blend culture and outdoor activities.
Winter Park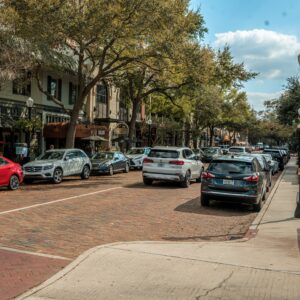 Population: 29,543
Location: Check on Google Maps
Winter Park was once just a winter destination, but has now transformed into a burgeoning arts and culture scene.
The Charles Hosmer Morse Museum of American Art is an excellent draw for visitors and includes some rare exhibits, such as Louis Tiffany's glass windows.
The elegant historical downtown offers unique buildings and quaint, cobbled streets where you can explore contemporary art, such as the famous Cornell Art Museum.
Fine cuisine is another draw in Winter Park, with offerings such as the James Beard-nominated chefs at The Ravenous Pig.
The walkable downtown district also offers excellent shopping options and is just 30 minutes away from Disney World.
Sarasota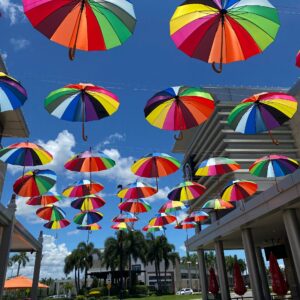 Population: 54,425
Location: Check on Google Maps
Historic Burns Square is a great area in downtown Sarasota, with many galleries, antique shops, and boutiques.
The Marie Selby Botanical Garden boasts some of the world's most rare orchids and a children's rainforest play area.
Meanwhile, you can enjoy a world-class arts and culture scene here, including the Saratoga Opera House, or indulge in one of Saratoga's numerous fine eateries, such as:
Best Downtowns in Florida – Large Cities
This section of the list of the best downtowns in Florida focuses on large cities with a population over 100,000 residents. These are truly the centers of entertainment and industry within The Sunshine State.
Orlando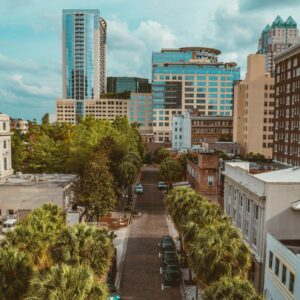 Population: 263,306
Location: Check on Google Maps
Downtown Orlando is not your typical theme park fairground, but rather a historic neighborhood with a strong arts and culture vibe as well as numerous museums, parks, and shops.
For example, Lake Eola Park draws many visitors each year, where you can rent a swan boat or soak up the lakeside sun.
Meanwhile, the nightlife in downtown Orlando offers something for everyone, including live music and great theater venues such as the SAK Comedy Lab. Additionally, Wall Street Plaza has a wide range of bars and nightclubs to choose from and hosts famous block parties with live DJs.
Right in the heart of downtown, there is also the Amway Center, which hosts the Orlando Magic basketball team as well as numerous concerts and events.
The Orlando Science Center includes fascinating exhibits as well as KidsTown with interactive learning games.
Orlando has also emerged as a top spot for foodies, as downtown is filled with some of the region's best eateries, including:
St. Petersburg
Population: 253,585
Location: Check on Google Maps
Downtown St. Petersburg offers history, art, culture, and food in a beautiful setting.
This area is known for its choice of topline breweries and the $92 million St. Pete Pier that was recently built.
Additionally, Vinoy Park offers spectacular ocean views and a park with lots of buskers and live entertainment.
Downtown is also home to the world-famous Salvador Dali Museum and impressive glassworks at Chihuly Collection.
There are also tons of great restaurants and breweries abound in the downtown region, including local favorites such as:
Tampa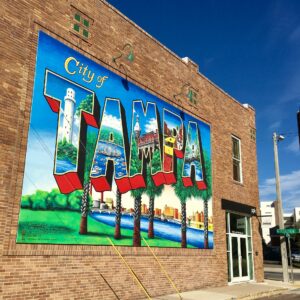 Population: 361,477
Location: Check on Google Maps
Downtown Tampa offers a vibrant mix of culture, arts, and eateries and offers as much to do for families as those who are seeking an endless nightlife.
Don't miss The Tampa Riverwalk, which offers scenic river views and loads of shops and attractions along its 2.4-mile stretch, including:
Downtown is also famous for its food, offering local gourmet favorites such as:
You can also find Amalie Arena right in the middle of downtown, where you can watch the Tampa Bay Lightning hockey team or a live concert.
Miami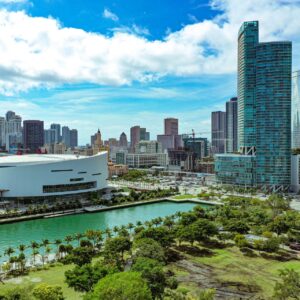 Population: 432,622
Location: Check on Google Maps
No list of the best downtowns in Florida can be complete without including Miami.
The diverse and bustling area of downtown Miami offers a lively blend of dining, arts, entertainment, and sightseeing.
Public parks such as the Ferré Park and Bayfront Park attract many visitors, while the Skyviews Miami observation wheel offers 200-foot high panoramic views.
You can also take a boat tour as well as a bus tour, often passing the homes of the rich and famous.
In addition, there is the world-famous Olympia Theater, which is a great draw for tourists, as well as the Perez Art Museum and the FTX Arena/American Airlines Arena that is located right in the middle of downtown.
Downtown Miami is also home to some of the best restaurants in the world, with offerings such as:
Best Downtowns in Florida – Summary
Overall, the best downtowns in Florida to visit or to live in are:
Small Towns
Destin

Mount Dora

St. Augustine

Stuart
Mid-Sized Cities
Dunedin

Key West

Winter Park

Sarasota
Large Cities
Orlando

St. Petersburg

Tampa

Miami
All of these towns and cities offer an excellent area where you don't need a car to enjoy plenty of shops, restaurants, and bars.
Be sure to check them all out if you get the chance so that you can compare and contrast their vibes and see which one is the right fit for you.