Orlando vs Tampa – Unbiased Comparison for Living & Visiting in 2023
If you are trying to decide between Orlando vs Tampa to move to or to visit, then read through this detailed guide that breaks down all the differences and similarities between the two cities.
Despite both cities being located in the central part of Florida and just 1 hour and 20 minutes apart by car, Orlando and Tampa offer quite a different lifestyle and experience.
On the surface, Orlando is well-known for being the amusement park capital of the world, while Tampa is famous for its revitalized downtown and the Tampa Riverwalk.
But, there are a lot more to these cities than that, which we have detailed into several key categories:
Population & City Layout

Climate

Cost of Living

Things to Do

Culture
Ultimately, the choice between Orlando vs Tampa will likely come down to your personal preferences about what you are looking for at this point in your life. We are sure that both cities offer a great opportunity for all age groups, including young professionals, families, and retirees as well.
So, let's take a look at the full comparison between Orlando vs Tampa so that you can decide which city to move to or to travel to next.
Orlando vs Tampa – Population & City Layout
Tampa currently has a population of 385,000 people, making it the 3rd largest city in Florida behind Miami and Jacksonville. But, Orlando is not very far behind as the 4th largest city with 308,000 residents.
Tampa is a denser city than Orlando despite being bigger in terms of its area. Tampa covers 175 square miles, while Orlando is about 120 square miles.
Layout-wise, Tampa is well-known for its bustling downtown area and also offers numerous suburban neighborhoods in its surrounding area.
Meanwhile, Orlando is a bit more spread out with several smaller communities like Thornton Park, Winter Park, Winter Garden, and Baldwin Park all throughout the city.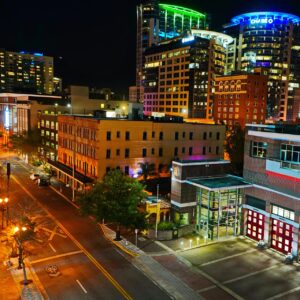 Overall, both cities are generally car-dependent and do not offer a robust public transit system. Here are their scores for walkability and bikeability according to Walkscore.com:
Tampa – Walkability: 49
Orlando – Walkability: 41
Tampa– Bikeability: 34
Orlando – Bikeability: 33
Orlando vs Tampa – Climate
The climate found in Orlando vs Tampa is pretty similar. Since Tampa is located on the warm shores of the Gulf of Mexico, it is a bit warmer in the winter time by a few degrees compared to Orlando.
During the summer, both can be quite hot, with several days over 100 degrees.
Both Tampa and Orlando's average high for the year is 83 degrees, while Tampa's average low is 66 degrees compared to Orlando's 62 degrees.
However, Tampa's location on the Gulf makes it more at-risk for hurricanes and subsequent flooding compared to Orlando, which is more inland.
Accuweather ranked Tampa as one of the top 5 cities that are the most vulnerable to hurricanes in the US.
Orlando vs Tampa – Things to Do
For amusement park lovers, there is no comparison between Tampa vs Orlando.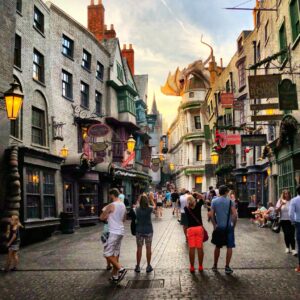 Orlando is home to several of the most famous theme parks in the world like Disney World, Universal Studios, and LEGOLAND while also hosting other attractions like Sea World and water parks like Blizzard Beach and Typhoon Lagoon.
While Tampa may not be able to match Orlando's quantity of theme parks, they do offer a handful of attractions like Busch Gardens Tampa Bay and Adventure Island.
However, Tampa features many more beaches in close proximity to its city than Orlando. Tampa residents can access world-class beaches on the Gulf Shores like St. Pete Beach and Clearwater Beach in just 30 minutes.
The closest beaches to Orlando are about an hour away and are located on the Atlantic Ocean, which is usually a bit cooler and more wavy than the Gulf.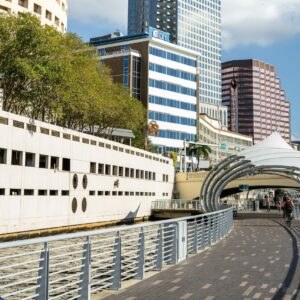 City-wise, Downtown Tampa is a bit more established than Orlando and offers a wide range of art galleries, theaters, and museums alongside numerous restaurants, lively bars, and an overall energetic nightlife. There is also the gorgeous Tampa Riverwalk that sits right on the waterfront.
Orlando's downtown is a bit younger and is still developing, but it offers a nice area with tons of restaurants and an emerging nightlife scene. There are also many sub-communities with different things to do dispersed across Orlando.
When it comes to sports between Tampa vs Orlando, Tampa has more professional teams, including the Ray for baseball, the Buccaneers for football, and Lightning for hockey. Orlando only has the Magic for basketball.
Orlando vs Tampa – Culture
The culture of Orlando vs Tampa comes down to the nature of each city. At its core, Orlando is a tourist city and caters heavily to its visitors. It is one of the most visited cities in the world.
Meanwhile, Tampa has developed as one of the primary hubs of Florida with a thriving core for business and leisure.
Both cities have proven to be attractive and accommodating to all age ranges and remain relatively safe places to live. Tampa has a bit less crime than Orlando, with a crime score of 36 out of 100 versus Orlando's 44 out of 100 according to Best Places.
Orlando vs Tampa – Summary
These two cities in the center of Florida both offer an amenity-filled experience for those who want to relocate as well as for those who just want to visit. When you compare Tampa vs Orlando, you will have to determine which city truly aligns with your lifestyle and preferences.
But, the good news is that you may not have to choose. Since they are only 1 hour and 20 minutes apart from each other, you could try them both during your visit or when you decide to explore the area further to relocate.