Seaside vs Rosemary Beach – 2023 Beach Town Comparison Guide
This detailed guide between Seaside vs Rosemary Beach will give you the inside scoop about which beach town on Florida's Emerald Coast is the best for you.
These two wonderful beach communities attract thousands of tourists from around the world. Both are popular vacation spots where visitors come to enjoy their idyllic landscapes, wonderful beaches, and quaint small town vibes.
Seaside is a small resort community in northwest Florida on the Panhandle that is known for its New Urbanist design. The area is famous for its pastel-colored houses, porches, and white fences that look like they are right out of Architectural Digest.
Its warm weather and gentle waves makes it a perfect place for families with children to visit.
Meanwhile, Rosemary Beach is renowned for its diverse and picturesque architecture. The town offers everything from breathtaking beaches to fine dining alongside one-of-a-kind Floridian housing.
There are plenty of reasons to love Rosemary Beach, like the delicious food at local restaurants and wonderful shops that you can find across the town.
So, here is a first-timer's guide to Rosemary Beach vs Seaside to help you plan your travels or your relocation more strategically.
1. Seaside vs Rosemary Beach – Overview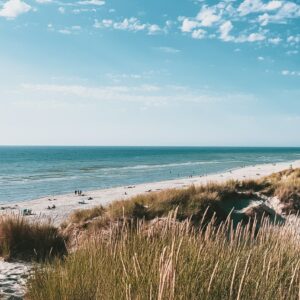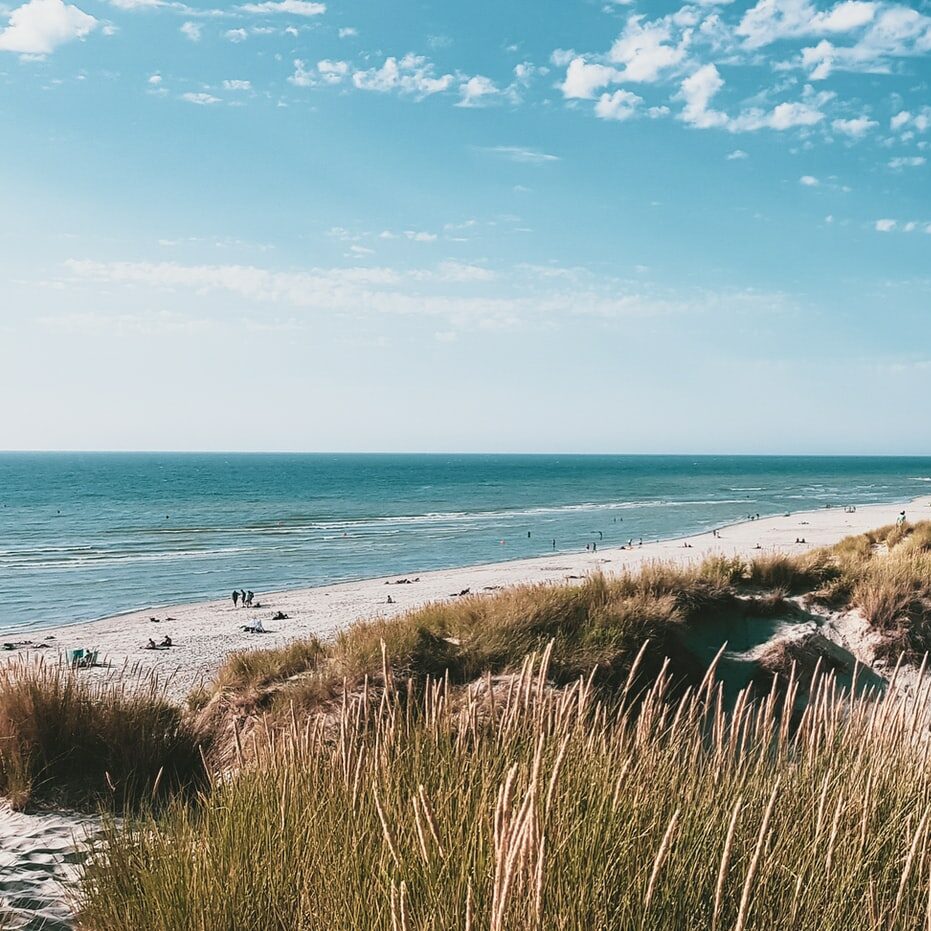 On our hunt for the perfect vacation destination, we gathered some basic information on Rosemary Beach vs Seaside to help you get a better picture of both places.
Seaside is one of the most charming small towns in Florida. It is an award-winning, "New Urban" master-planned community of 10,816 permanent residents.
It is located right on the Gulf Coast on the Florida Panhandle in Walton County, between Panama City Beach and Destin.
Meanwhile, Rosemary Beach is a neighboring town on the Emerald Coast that is also a planned community that belongs to Walton County. Its full-time population stands at 4,328 residents.
Are you expecting to walk a lot during your stay? Or, have you thought about renting a bike? Let's dive into the walkability and bikeability in Rosemary Beach vs Seaside:
Most parts of both beach towns are not extremely walkable or bikeable, so you should definitely plan to bring your car.
But, there are areas of both cities where you can park your car and walk or bike around, such as Seaside's town center around its open-air amphitheater and Rosemary Beach's quaint little Main Street and the area around The Village of South Walton Beach.
2. Seaside vs Rosemary Beach – Location
Seaside sits in the heart of Northwest Florida's Emerald Coast, hugging the Gulf of Mexico.
It is located along County Road 30A and is 16 miles away from Miramar Beach to the northwest. This picturesque town also is near other major destinations like Destin, Panama City, and Niceville.
Meanwhile, Rosemary Beach is located right down the road and is also situated right on the shores of the Gulf.
The town is connected to Panama City Beach by US-98 16 miles away and Miramar Beach 24 miles away.
You could reach both cities in about 15-20 minutes by car, as Seaside is only 8 miles away from Rosemary Beach via County Road 30A.
Here is a map of Seaside on Google Maps.
Here is a map of Rosemary Beach on Google Maps.
Here is a map of the distance between Seaside vs Rosemary Beach on Google Maps.
3. Seaside vs Rosemary Beach – Reputation
How can you choose between Rosemary Beach or Seaside when they are similar in many ways? We think it's their vibe and culture that makes the difference! Therefore, we did some research to uncover the reputations of both destinations.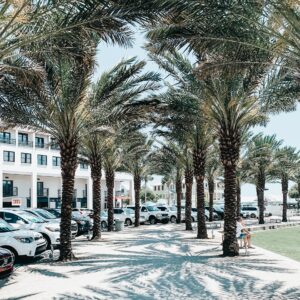 Seaside offers a great sense of community, but it does get busy with tourists and traffic, especially during spring break and the summer vacation months.
There is constant activity and always something going on. Still, the vibe is cozy, casual, and quite easy-going.
If you are seeking a laid back beach town atmosphere with a cute town center, this is the place!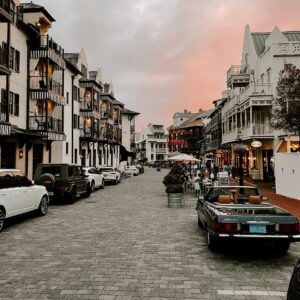 Rosemary Beach is a wonderful town as well. The rental prices are not as high here and the community has grown a lot over the years. Overall, most visitors say that it is a bit more quiet and relaxed than Seaside.
When comparing the beauty of Rosemary Beach vs Seaside, you will find that both feature absolutely fabulous modern urban architecture and picture-perfect neighborhoods.
But, the retail district in Seaside is bigger and a bit more diverse than the restaurants and shops in Rosemary Beach. There really isn't a distinct downtown district in Rosemary Beach, while Seaside features a charming town square with an amphitheater that was even named as one of the world's most beautiful spaces.
However, Rosemary Beach offers more public parks and green spaces around town compared to Seaside.
Either way, choosing Seaside or Rosemary Beach will give you a classic Florida beach town feeling with a laid-back environment and easy access to the beach.
4. Seaside vs Rosemary Beach – Things to Do
You should know what to expect when visiting such small communities. So, let's dive into all the things that they have to offer!
Comparing Rosemary Beach vs Seaside in terms of their beaches is quite challenging since both are absolutely fabulous.
But, Rosemary Beach features four stellar swimming pools and public parks that are scattered across the community that we suggest visiting as well. There are even some pools that are right on the beachfront, too.
Seaside offers some great dining options. We urge you to visit the local favorites like Grayton Seafood and Chanticleer Eatery.
Additionally, there is the famous Airstream Row, which features a large park of food trucks retrofitted in Airstream trailers. Here, you can find all types of mouth-watering gourmet cuisines, including barbecue, donuts, crepes, hot dogs, and ice cream.
While in Rosemary Beach, check out Restaurant Paradis and Edward's Fine Food & Wine and enjoy the most delicious food in town. Or, check out one of its other fine dining experiences.
You can do tons of shopping in both destinations as they offer locally-owned stores and quaint little boutiques. You will find a greater variety of stores in Seaside, but Rosemary Beach also features a fine selection of goods.
5. Seaside vs Rosemary Beach – Cost of Living
The cost of living in Seaside and Rosemary Beach significantly differs from the Florida average and the US overall.
Seaside is 38% more expensive than the rest of the country. While groceries and utilities are slightly more expensive, the most significant difference is with home prices.
In fact, housing is 123% more expensive than the national average, as homes in the whole Santa Rosa Beach area average about $900,000 to $1 million. That makes Seaside quite an expensive town to make your permanent residence.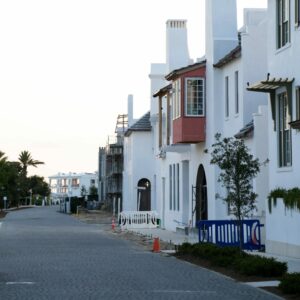 Similarly, Rosemary Beach is not so affordable either. The cost of living in this town is 96% above the national average.
Such an expensive lifestyle is driven by housing, which stands at a jaw-dropping 305% higher rate than the US average.
In fact, the average home price in Rosemary Beach is $3 million to $4 million.
Seaside vs Rosemary Beach – Summary
We know that the decision between Seaside vs Rosemary Beach is tough, but their close proximity means that you can stay in one town and visit the other.
However, moving to either one of these communities will depend primarily on your budget, as Rosemary Beach is significantly more expensive than Seaside.
Before you pick Rosemary Beach or Seaside, make sure that you factor in the vibe and energy that each town offers and see if it matches what you are looking for.
Be sure to check out other great Florida cities in our latest article about the 16 best cities in the Sunshine State.