Clearwater Beach vs Cocoa Beach – Best Pick from Disney & Orlando
Are you choosing between Clearwater Beach vs Cocoa Beach during your stay in Orlando or Disney World? Our guide breaks down all their differences in 2023 with the inside scoop that will give you every detail you need to know about these beautiful Florida beach cities.
Clearwater Beach dazzles with exotic, world-class tropical beaches and warm, inviting emerald waters on the Gulf Coast.
It is a calm and peaceful destination for families with children of any age. The centerpiece is its beach, with sugary sands that are a few minutes away from premium hotels, resorts, and superb restaurants.
On the other hand, Cocoa Beach is also a great gateway to some of the most stunning, sun-soaked Florida beaches on the Atlantic Ocean. Its fabulous small-town spirit will also make you feel at ease.
Whether you are looking for thrills or peaceful relaxation, you'll be sure to find many attractions in both cities.
If you are thinking of moving permanently to one of these two beach locations, it's good to know that they are also excellent places to relocate to.
Who wouldn't want to enjoy the warm weather and wonderful nature all year round?
If you are heading to Florida and need to choose between Cocoa Beach vs Clearwater Beach, this guide has you covered. So, let's dig into the details.
Please note that some links below are affiliate links, which means that we receive a small commission if you make a purchase through our links, but at no extra cost to you. Thank you in advance for your support!
1. Clearwater Beach vs Cocoa Beach – Overview
As we investigate Cocoa Beach vs Clearwater Beach, let's start with their location within Florida and their population.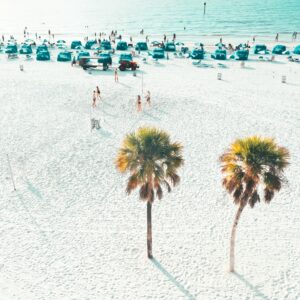 Clearwater Beach is situated on its own barrier island in the Gulf of Mexico and is located on the west-central coast of Florida. Its mixture of residential neighborhoods and resort areas are home to 117,292 people as of the 2020 census and is a part of Pinellas County.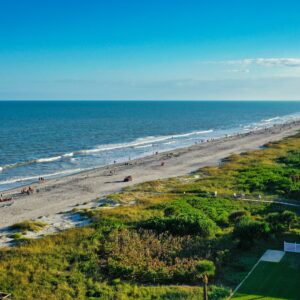 Cocoa Beach is a much smaller city and is part of the Palm Bay-Melbourne-Titusville Metropolitan Area on the eastern shores of Florida. In 2020, it was inhabited by 11,354 residents.
Let's compare these two appealing destinations in terms of how you can get around once you're there, according to Walk Score:
We would suggest renting a car or bringing your own to Clearwater Beach. If you are visiting Cocoa Beach, you may want to bring a pair of sneakers since some areas can easily be reached on foot, like in downtown Cocoa and on its main street.
In addition, biking is a bit easier in Cocoa Beach. Clearwater Beach offers minimal biking infrastructure in comparison.
2. Clearwater Beach vs Cocoa Beach – Location
If you are thinking of visiting both coasts, you should know that the distance between Clearwater Beach and Cocoa Beach is around 156 miles. In other words, there is about a three hour drive across Florida separating these two cities.
For those planning a trip to Clearwater Beach or Cocoa Beach from Disney World or Orlando and can only choose one, here is how long each journey would take:
Disney World to Clearwater Beach – 2 hour drive west

Disney World to Cocoa Beach: 1 hour and 15 minute drive east
Clearwater Beach is located just across the bay from Tampa and is near St. Petersburg, Largo, Tarpon Springs, and Dunedin.
A perfect complement to a vacation in Clearwater is frequent day trips to these nearby cities, where you can experience even more attractions and things to see.
Places like St. Petersburg and Dunedin even made our list of places you should consider living in Florida, so you might want to check out that article before your adventure.
On the other hand, Cocoa Beach is 22 miles away from the beautiful Merritt Island, 64 miles from Cape Canaveral, and 60 miles from Orlando on the Atlantic Coast of Florida.
3. Clearwater Beach vs Cocoa Beach – Reputation
Would Cocoa Beach or Clearwater Beach suit your vibe more? Let's dive into all the things people say about each location so you can get an insider scoop of both cities.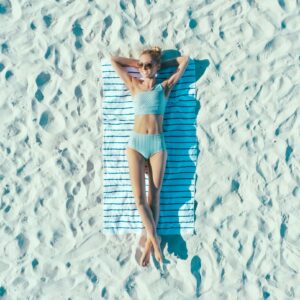 Clearwater Beach is famous for its sandy white, heaven-like beaches. Due to its great safety record and overall cleanliness, families love creating long-lasting memories in this city.
The water is also warmer and calmer in Clearwater Beach than in Cocoa Beach.
Overall, Clearwater Beach is a wonderful place to visit, but is also a good place to relocate to. It was even named one of the best cities to retire in the US for 2023.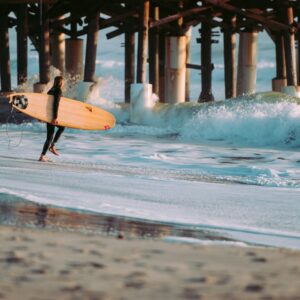 On the contrary, if you want a lot of waves, opt for Cocoa Beach. It is overall a bit cooler, but perfect for surfing.
Additionally, Cocoa Beach offers a tight-knit community since it is significantly smaller than Clearwater Beach. Everyone around town is relaxed and very friendly.
While Cocoa Beach is a mid-sized city, it has an urban feel to it with some core commercial districts within the city. There are also a lot of retirees and the city is overall a bit more on the conservative side.
Ultimately, both are a good option for families who seek an adventurous, eventful vacation near the water.
4. Clearwater Beach vs Cocoa Beach – Things to Do
Let's talk about all the possibilities and attractions in Cocoa Beach vs Clearwater Beach so that you can make the best use of your time.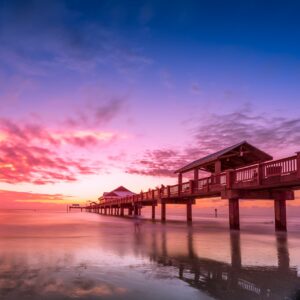 Clearwater Beach is known for having some of the best beaches in the US. You shouldn't miss classics like Honeymoon Island State Park or the fine white quartz sand at Clearwater Beach. There are a lot of fancy water sports to choose from, such as parasailing or jet skiing, and you can also go swimming with the dolphins or take a boat tour.
Additionally, there are a ton of delicious food options in Clearwater Beach. We recommend you stop by at some local restaurants like The Salty Crab Bar & Grill North Beach and Cabanas Coastal Grill.
The area offers great shopping options as well, so if you like some good retail therapy during your trip, you can visit Westfield Countryside Mall and Pelican Walk Plaza.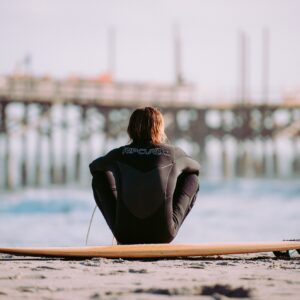 On the other hand, Cocoa Beach features a wonderful coastline with waters that are a bit colder and with more waves. Make sure to visit Cocoa Beach and Alan Shepard Beachfront Park, where you can go snorkeling, scuba diving, or fishing.
The bars and restaurants are also superb in and around Cocoa Beach. Check out local favorites like Longboards Tiki Beach Grille and Florida's Fresh Grill.
Also, don't miss the quaint Historic Downtown Cocoa Village, which is a walkable little commercial area where you can visit boutiques, art galleries, gourmet restaurants, and cozy cafes.
5. Clearwater Beach vs Cocoa Beach – Safety
If you are thinking about a permanent stay in Cocoa Beach or Clearwater Beach, or simply want to know more about their safety levels for your trip, then pay close attention to the statistical information we gathered here for you.
You will be pleased to find out that crime rates in Clearwater Beach are 61% lower than the national average. Also, the city is safer than 86% of the cities in Florida.
On the other hand, Cocoa Beach has a total crime rate that is 13% higher than the national average.
Either way, both areas are generally considered as safe places, especially when you stick to the beaches and the core dining and retail areas of the city.
6. Clearwater Beach vs Cocoa Beach – Cost of Living
As for your budget planning, we compared the costs of living in Clearwater Beach vs Cocoa Beach.
The city of Clearwater Beach is quite pricey, with an overall cost of living that is 33% higher than the national average. But, you don't have to worry much about prices for groceries, transportation, healthcare or utilities, as all of those costs are generally in-line with national averages.
But, housing costs are skyrocketing. The average home in Clearwater Beach costs 110% more than the national average.
Meanwhile, Cocoa Beach's cost of living is 9% higher than the national average.
The housing costs seem to be the biggest issue again. Homes here cost 36% more than the U.S. average.
On a positive note, goods and services in Cocoa Beach are actually 6% cheaper on average than the rest of the country!
7. Clearwater Beach vs Cocoa Beach – Top Hotel Choices
Clearwater Beach and Cocoa Beach both feature some stunning beachfront hotels right on the water. You will find a wide-range of brands and accommodation types in both locations, so there isn't one that is necessarily better than the other in terms of places to stay.
We picked out the top rated hotels in each city at different price points to ensure that you will find the right match for your budget.
Our Top Picks of the Best Hotels in Clearwater Beach
Our Top Picks of the Best Hotels in Cocoa Beach
Clearwater Beach vs Cocoa Beach – Summary
Have you already made your decision between Clearwater Beach or Cocoa Beach? You shouldn't overthink it – follow your intuition and enjoy visiting one of these two beautiful cities.
Who knows, maybe after your trip you will have a better image of the pros and cons of living in Cocoa Beach vs Clearwater Beach and even decide to relocate!