Miami vs Key West – 2023 Ultimate Guide for Visiting & Living
We know it's hard to choose between Miami vs Key West for your next vacation or as a place to move to. So, we developed this in-depth guide to help you.
Miami is the second-largest city in Florida, but it wasn't always like that. It's rapid, almost magical growth has earned it the nickname as the "Magic City."
It is also the only major city in the US that was founded by a woman and still caters to people from all walks of life to this day. It almost has a magnetic attraction as it is a perfect vacation location and place to live since beaches and partying are part of Miami's DNA.
On the other hand, Key West is the most famous Florida Key. Its small size still manages to deliver a lively nightlife, broad range of activities, delicious food, and more.
Surely, the pace of life on the island is much slower and less stressful. The more isolated life could be a disadvantage, or in fact, an advantage, depending on your taste.
So, how will you decide which one to visit or where to move to? Before you travel or relocate to Miami or Key West, make sure to get to know them on a deeper level with our comprehensive breakdown.
Let's take a look at how Key West vs Miami compare to one another.
1. Miami vs Key West – Overview
If you want to find out more about Miami vs Key West in terms of their location and population, here is a closer look.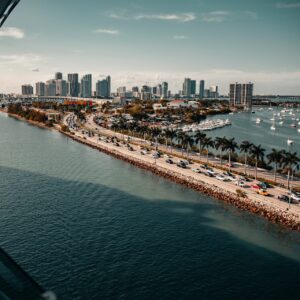 Miami sits on the southeastern coast of Florida and is located in Miami-Dade County. The metropolis has grown to a population of 467,963 residents, as of the 2020 census, and is now the second-most populated city of the Sunshine State, and the 44th most populous city in the whole country.
We also included on our latest update of the best places to live in Florida for 2023.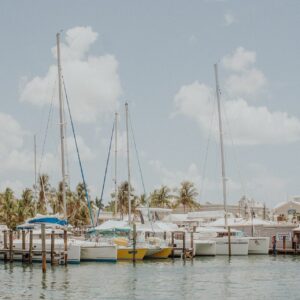 Key West, on the other hand, is a tiny but breathtaking island in the Florida Keys. Paired with other separate islands, it makes up the City of Key West, which is the county seat of Monroe County.
It is also the westernmost island connected by the highway in the Florida Keys and the southernmost city in the contiguous U.S. According to the 2020 census, the total population of Key West was 26,444 residents.
Miami and Key West are separated by about 160 miles and it would take you roughly 3 hours and 20 minutes to drive from one to the other.
If you are choosing between Key West or Miami based on how you can get around, let's check out these statistics.:
The walk score of Miami is 77, while its bike score is 64.
Meanwhile, the walk score of Key West is 63, while its bike score stands at a phenomenal 87!
Turns out, Key West is a biker's paradise!
2. Miami vs Key West – Climate
When looking at Key West vs Miami in terms of weather, it's pretty much a tie!
Prepare your sunscreen and umbrellas if you are planning to visit Miami during the summer. Miami features a tropical savanna climate, with hot and wet summers paired with warm, dry, and overall comfortable winters.
The average winter temperatures still range from 76 to 80°F with January being the coolest month. In the summer, the average temperatures range from 86 to 92°F while August is its hottest month.
Key West shares Miami's tropical savanna climate, so you can also expect two main seasons. The chilliest time of the year is January, with an average temperature between 66°F and 74°F.
You can expect the mercury in your thermometer to hit somewhere between 81°F and 89°F during the hottest months in summer.
3. Miami vs Key West – Cost of Living
For those of you planning to move to Miami or Key West, living costs are very important for you to compare.
You are looking at two quite expensive locations, and we would say that they are both luxurious places for the privileged.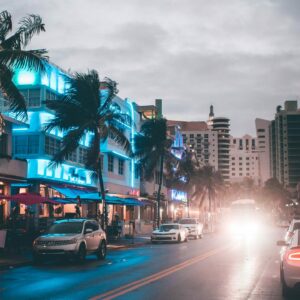 Living in Miami is 11% more expensive than Florida and the US average. You will pay more for almost everything, including groceries, transportation, housing, health care, and goods & services.
Still, utilities in Miami are actually slightly less expensive than the average of Florida and the whole country.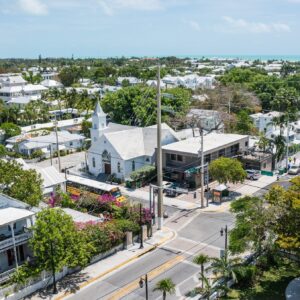 Shockingly, the cost of living in Key West is 44% above the Florida average. You will be surprised by the steep prices of everything, but especially the home prices, which are 131% above the national average.
4. Miami vs Key West – Job Market
Still enthusiastic about living in Key West or Miami? Let's investigate your chances of finding a good job in these two cities.
Although the unemployment rate in Miami is 8.3%, which is higher than the national average of 6%, this city has seen positive job growth of 0.8% over the past year.
The average salary here is $30,858, with the highest paying jobs in the legal and tech fields.
Still, the average household income is $33,999, which is significantly lower than the U.S. average of $57,652.
Meanwhile, the average salary in Key West is $54,306 and its unemployment rate is just 3.2%, which is lower than the national average.
However, beware that the job growth in Key West has been negative and it actually decreased by 7.2% over the last year.
The job market in Key West mainly revolves around tourist and service industry jobs, so do not expect to find many corporate office jobs here.
But, for those who manage to find a solid job, the average household income here is higher than the average in the rest of the country, at $62,052.
5. Miami vs Key West – Things to Do for Travelers
Is your choice for a vacation destination narrowed down to Key West vs Miami?
Miami is a must-see part of Florida. It feels like the party never stops in the Magic City.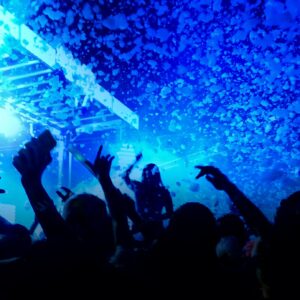 You will be enchanted by its vibrant nightlife and the unbeatable bar scene. The diversity in options and vibes is amazing, and it is home to some of the country's best clubs, like Club Space, Basement, and Story Nightclub.
During the day, you can visit some of the most stunning beaches in the world such as North Miami Beach or the world-famous South Beach and try some exciting watersport options, like surfing, snorkeling, or deep-sea diving.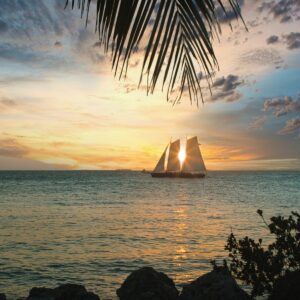 Meanwhile, Key West is home to a small selection of the most beautiful, picture-perfect beaches shaded by palm trees.
We recommend visiting some of the most well-known spots such as Smathers Beach along with South Beach.
Additionally, this isolated island will make your night out a raucous adventure, so take your time and visit places like the Aqua Club, Green Parrot bar, or other place that offers your kind of vibe, which we are sure you will find in Key West.
When it comes to Miami or Key West in terms of the things travelers can enjoy, it is clear that both have a lot to offer.
6. Miami vs Key West – Things to Do for Residents
In both cities, the fun doesn't stop at its sandy beaches and their club scene.
If you crave a fresh breeze and sunlight, visit the Greynolds Park in Miami, or the Fairchild Tropical Botanic Garden. Or, you can visit the relaxing Venetian Pool.
Additionally, Greater Miami is a fabulous shopping destination!
It offers everything from glamorous malls, to independent boutiques, and luxurious designer stores. Whatever you need, Miami can deliver.
Meanwhile, Key West offers its locals tons of options for restaurants and bars as well as public parks and, of course, its beaches.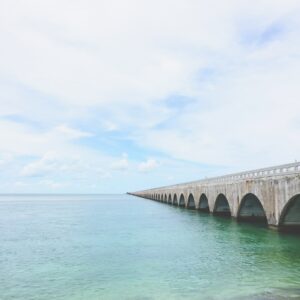 We strongly encourage you to check out the Florida Keys Overseas Heritage Trail, which stretches from Key Largo to Key West.
There are not as many things to do on an island as in a big city like Miami, but you will be able to discover smaller stores and malls there, too.
Still, for more shopping and mainstream amenities, you will have to take a ride to a bigger city.
7. Miami vs Key West – Culture
If you are a passionate art lover, you shouldn't forget about the cultural attractions in Miami vs Key West.
The rich multicultural heritage of Miami is something you should definitely explore. Its Cuban influence can be spotted in its vibrant cultural scene starting from the Perez Art Museum Miami, Miami Science Museum, Adrienne Arsht Center for the Performing Arts of Miami-Dade County, to the New World Symphony. Options are endless!
On the other hand, Key West is well-known for the Ernest Hemingway Museum, the Museum of Art & History at the Custom House, underwater archeological spots, and many other attractions.
Coming here will grant you a unique opportunity to immerse yourself in a rich mix of ethnicities and their unique customs! Still, the cultural attractions are fewer, since Key West is a smaller place.
Overall, Miami offers a faster pace with more people looking to see and be seen, while people in Key West just want to relax and take it easy.
Miami vs Key West – Summary
Whether you are just traveling or moving to Miami or Key West, we hope that this guide will give you the inside scoop to help you decide.
Both are absolutely stunning locations for your long-awaited vacation or for your next move.
If you are planning to relocate, think carefully before you decide between Miami vs Key West.
The beautiful Florida Keys have their charm, but not everyone loves island life!