Key West vs Key Largo – 2023 Detailed Comparison Guide
If you are heading to the Florida Keys and can't decide between Key West vs Key Largo, then this comparison guide will give you the inside scoop for 2023.
Visiting either island is like visiting paradise. They both feature a distinctive tropical charm that never fades away along with magnificent white sand beaches and delicious seafood specialties.
Choosing Key West or Key Largo is perfect for aquatic activities, like swimming, snorkeling, kayaking, or jet-skiing.
Key West and Key Largo feature an active nightlife for adults as well as tons of things to do for families with children of any age as there are a countless number of outdoor activities to choose from.
In case you are thinking of moving to these cities full-time, we have you covered, as well. Our comparison guide will also go into details like the cost of living and things to do year round.
So, let's take a look at all the similarities and differences between Key Largo vs Key West so that you know which city is the right destination for your next visit or your next move.
1. Key West vs Key Largo – Overview
Let's start with some basic information that will help you differentiate Key Largo vs Key West.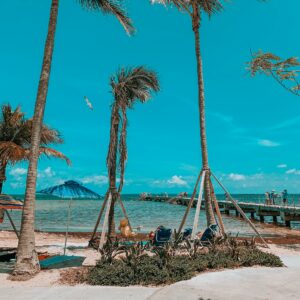 Key West is an island that is paired with a handful of other separate islands that make up the City of Key West at the end of the Florida Keys.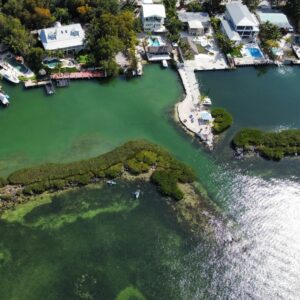 On the other hand, Key Largo is the largest section of the Florida Keys archipelago and is located in the upper part of it closer to the mainland.
As of the 2020 census, there were 26,444 residents living full-time in Key West, and 12,447 people living in Key Largo.
When we look at the infrastructure of each city, we see that Key West is quite walkable. However, you might need a car to get around in Key Largo:
Meanwhile, Key West is known as a haven for bikers, with a lot of bike lanes and bike-only paths throughout the city and parks. It is also possible to bike around Key Largo, but it is a lot more spread out than Key West.
2. Key West vs Key Largo – Location
If you are thinking of bringing a car to travel around the Florida Keys, this section can help you plan your trip better.
We checked the location of Key West vs Key Largo and discovered that they are roughly 100 miles apart from each other.
Here is a link to Google Maps to show the trip between Key West and Key Largo.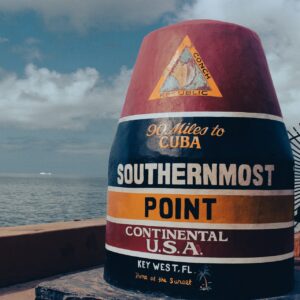 While Key West is at the southernmost part of the Florida Keys, Key Largo is almost at the northernmost.
Key Largo is connected directly to the mainland by US Route 1 and is the first major city that you encounter on the highway through the Keys. In fact, Miami is about a 1 hour drive to Key Largo.
If you take US Route 1 all the way to its very end, you will wind up in Key West.
It would take around two hours to drive directly from Key Largo to Key West. So, if you are considering a Florida Keys road trip, you might want to stop at a couple of interesting highlights in between.
For example, the Everglades National Park is just a quick ride away from Key Largo back on mainland Florida. There is also the Laura Quinn Wild Bird Sanctuary that is definitely worth visiting close to Key Largo.
We also encourage you to visit the Caribbean Club that sits on Florida Bay. If you are up for a quirky shopping destination, then we recommend visiting the Rain Barrel Sculpture Gallery.
3. Key West vs Key Largo – Reputation
Before choosing your favorite Florida Key, let's check to see if the energy of Key West or Key Largo matches your own.
The island of Key West feels like a small town, but is a bit busier thanks to the numerous tourists who come around every season.
What draws so many people to Key West is its unique "Floribbean" vibe, which is a free-spirited and chilled energy that makes you want to toss your watch into the ocean and forget about the time.
It also features spectacular beaches on virtually every shore around the city.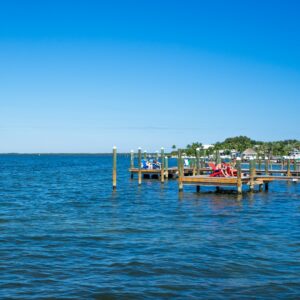 Similarly, Key Largo will surprise you with its kind and hospitable residents. If you stay a bit longer, you will experience a rare small-town, intimate feeling of knowing your neighbor and bumping into friends wherever you go.
It is a tight-knit community and restaurant staff will remember you and greet you with your favorite drink if you stay long enough.
But, it is much more known for diving and fishing than for relaxing on the beachfront since there aren't as many great beaches around Key Largo as there are in Key West.
Overall, Key West has a more exciting social scene and great dive bars, while Key Largo features more outdoor activities and is a bit quieter.
Key West is also a lot more densely populated and more developed than Key Largo. There are about 1,000 people living in every square mile in Key Largo, while Key West is almost 5 times denser with 4,700 people for every square mile.
But, either choice between Key Largo or Key West will set you far apart from the rest of Florida and offer isolation that you may or may not be seeking.
4. Key West vs Key Largo – Things to Do
If you are looking for an eventful vacation to enjoy different activities with your kids or your spouse, you may want to check what the options are in Key West or Key Largo.
Key West is famous for its picture-perfect beaches. Since it is surrounded by the ocean, there are a lot of water sports and activities that you can do.
For instance, you can visit the Key West Aquarium and its touch tank to get up close and personal with sea animals or attend a shark or jellyfish exhibit.
You can also go on the Key West Mangrove Kayak Eco Tour, enjoy some snorkeling, or go dolphin watching.
Are you hungry for some seafood specials? Must-visit Key West restaurants include Red Shoe Island Bistro and Kaya Island Eats.
Of course, there are many lively bars and cafes all around the town as well.
Meanwhile, Key Largo is the "Diving Capital of the World" due to its living coral reef that is located a few miles offshore, so you shouldn't miss out on premium scuba-diving and sport fishing. You can also try kayaking, jet skiing, or snorkeling!
Key Largo is also known for its excellent, locally-owned dining options. We recommend checking out Harriette's Restaurant and Key Largo Fisheries Backyard Café.
5. Key West vs Key Largo – Safety
Next, we investigate the crime levels of Key West vs Key Largo. Long story short, Key Largo is a bit safer.
In Key West, the crime rate is about 7% above the Florida state average, which is still 1% lower than the average of the whole country.
On the other hand, Key Largo's crime rates are 62% below the Florida average.
To wrap up this breakdown, Key West is safer than 26% of all US cities, while Key Largo is more secure than 72% of the cities in the country.
Still, each destination is generally regarded as being a safe place since they feature a lot of small communities that look after each other.
6. Key West vs Key Largo – Cost of Living
Island life is often associated with rich inhabitants and high price tags, and sadly the statistics confirm this claim.
Still, we researched the living costs of Key Largo vs Key West to help you identify the more affordable option.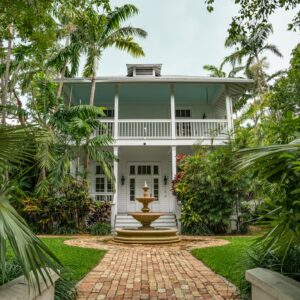 The overall cost of living in Key West is 44% above the Florida average. Goods and services, groceries, transportation, and healthcare will all cost you a bit more than in the rest of the Sunshine State.
However, the most extreme price difference can be seen with housing, which stands at a rate of 131% higher than the national average.
The average home in Key West is currently valued at around $900,000 to $1,000,000.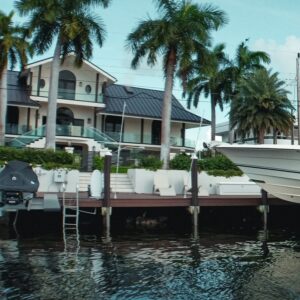 A more budget-friendly option is Key Largo, which features costs of living that are 27% above the Florida average. Goods and services are just 2% higher than the national average, while housing is 73% more expensive than the US average.
Still, the average house in Key Largo is being sold for around the same rate as in Key West, ranging from $900,000 to $1,000,000.
These laid-back lifestyles definitely come at a price in these two luxurious destinations!
If you are interested in learning about cheaper communities in the area, then check out our latest research article on the most affordable places to live in the Florida Keys in 2023.
Key West vs Key Largo – Summary
This deep-dive guide between Key Largo vs Key West was created to help you choose your exotic travel destination more easily.
Let's close this comparison with one last remark – both Keys offer a similar lifestyle, but it is your preference and the vibe of each location that will make the difference.
If you want to know more about the rest of Florida, don't miss our latest rankings of the top cities in Florida.