Is Downtown Orlando Worth Visiting? 5 Reasons Why It Is
We all know Orlando is great for its theme parks, but is Downtown Orlando worth visiting? We think the answer is yes due to the new investments and improvements that the city has made, especially over the last 10 years.
Downtown Orlando has slowly become an attraction in itself, providing fun and entertainment for the whole family to enjoy. It offers a lively nightlife alongside a family-friendly arts and culture scene that is full of museums and theaters.
So, let's find out why we think Downtown Orlando is worth visiting for both adults looking for a break from Disney World as well as for kids to enjoy something different.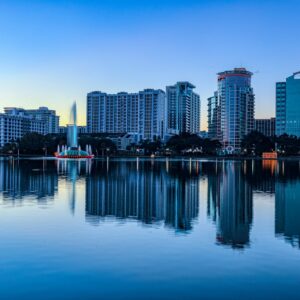 First, a bit of background on Downtown Orlando. The City of Orlando is the 3rd largest city in Florida, with a population of 307,000 people.
It has blossomed into a major commercial hub of Florida and even features 19 skyscrapers.
As a result, Orlando has continued to evolve and now offers numerous amenities and things to do to suit its residents as well as its visitors.
We even named it the 7th best city in Florida to live.
For instance, the government has invested heavily in the revitalization of multiple neighborhoods. It has funded several "Orlando Main Street Districts" that seek to enhance the commercial districts around the city.
There are also the popular City District and Parramore neighborhoods right in the heart of Downtown Orlando that offer virtually everything you would expect from a major city.
Combined with its warm weather all year round, we think that Orlando is truly a sight to see and experience for all visitors. Here are the top 5 reasons why we think Downtown Orlando is worth visiting.
1. Dining and Nightlife
Downtown Orlando is the ideal place to have a fun night out on the town. You can bar hop along the famous Church Street, which is a historic, brick-lined street right in the heart of the city.
This vibrant street is also home to some of the best restaurants in Orlando, including Kres Chophouse and Hamburger Mary's.
In fact, Downtown Orlando has emerged as a haven for foodies, with a dining culture that offers some of the best bites in the whole region.
If that is not enough, there is also the lively Wall Street Plaza that is just 2 blocks away from Church Street that features a whole street of bars that feels like a block party every night.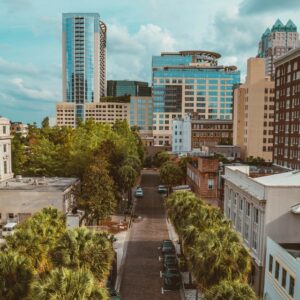 Downtown Orlando also offers several elegant hotels with rooftop terraces, such as the new AC Hotel by Marriott and the Grand Bohemian Hotel Orlando.
Finally, Downtown Orlando is home to numerous breweries for beer lovers to enjoy. Be sure to check out Motorworks Brewing, Persimmon Hollow Brewing Co. and Broken Strings Brewery.
2. Leisure Activities
When you're done eating and partying, you can relax with some of Downtown Orlando's top leisure activities.
You can visit Lake Eola Park, which is located right in the middle of the city and features a 23-acre park that surrounds a beautiful lake with a fountain.
While there, you can rent a swan boat and pedal along the serene lake. Or, you can visit the Farmers Market that takes place in the park every Sunday.
There is also the Walt Disney Amphitheater that sits on the west side of the lake that offers outdoor concerts and performances throughout the year.
Downtown Orlando also offers a great experience for sports fans looking to take in a live game. The Orlando Magic play basketball at the Amway Center that is located in the heart of downtown on Church Street.
Nearby, there is Exploria Stadium, which is home to the new Orlando City SC soccer team.
3. Arts and Culture
Downtown Orlando's arts and culture scene received a huge boost in 2014 when the modern, multilevel Dr. Phillips Center for the Performing Arts opened right in the middle of the city.
This beautiful space offers three theaters and an outdoor arts plaza. There are Broadway shows, ballets, music performances, and much more occurring all throughout the year.
Additionally, Downtown Orlando hosts a wide range of museums and exhibits for the whole family to enjoy. Be sure to check out places like the Orlando Science Center, Orlando Museum of Art, CityArts Factory, and the Orange County Regional History Center.
Don't miss "See Art Orlando", which is a series of street art sculptures that are located throughout Downtown Orlando.
If these options are all too serious for you, then you can enjoy a laugh at the SAK Comedy Lab, where there are improv shows every night.
4. Shopping
The City of Orlando offers a wide range of shopping options, ranging from upscale boutiques and malls to some of the best outlets in the country.
Although they are not located right in the heart of Downtown Orlando, these shopping areas are still within the city and are easily accessible by car.
The three top malls in the city are The Mall at Millenia, The Florida Mall, and Orlando Fashion Square, all of which are just 10-15 minutes away from downtown.
There are also many designer outlets in the area that sell brand-name goods at a discount. You can find a bargain at the Lake Buena Vista Factory Stores that are close to Disney World or the Orlando International Premium Outlets next to Universal Studios.
5. Day Trips
A trip to Downtown Orlando also gets you close by to several other exciting neighborhoods that you can visit in a day.
Just 10 minutes north of downtown is the beautiful Winter Park, which features charming, brick-lined streets full of high-end boutiques and cozy restaurants and cafes.
There is also Celebration, Florida, which is 30 minutes south of downtown. This is the city designed by Walt Disney himself and founded in the mid-1990s that seeks to capture that small town charm that is missing from most modern suburbs.
This walkable city features mixed-use residential and commercial zones, where you can enjoy top quality dining, entertainment, and shopping experiences.
Is Downtown Orlando Worth Visiting? Summary
Is Downtown Orlando worth visiting? Overall, we think the answer is yes.
There are so many things to do both indoors and outside for the entire family that it would be a shame to miss.