Destin vs Panama City Beach – Which Beach Town Wins in 2023?
Choosing between Destin vs Panama City Beach is hard, but we found all the differences and similarities between these two paradise beach destinations.
Whether you are just planning a visit or looking to move to these dream beach locations, you need to understand the inside scoop before making your final decision.
Destin is a calm and breathtaking island city. It is famed for its super white, soft sandy beaches and is often referred to as the "Crown Jewel of the Emerald Coast" because of its intense beauty.
It is also nicknamed the "World's Luckiest Fishing Village," as it is an ideal place to peacefully enjoy the water while trying to catch some fish.
On the other hand, Panama City Beach doesn't fall much behind in terms of its beauty and style. This city is well-known for its 27 miles of white-sand beaches in front of the pristine turquoise waters of the Gulf of Mexico. It is a place to enjoy, have fun in, party, and eat tasty seafood delicacies.
Both destinations radiate with life and authenticity. They welcome people from all walks of life – especially families with children. Before traveling or relocating, think of your personal preferences as we delve into this in-depth analysis of Panama City Beach vs Destin.
Please note that some links below are affiliate links, which means that we receive a small commission if you make a purchase through our links, but at no extra cost to you. Thank you in advance for your support!
1. Destin vs Panama City Beach – Overview
To get a better image of these two Florida cities, let's compare Panama City Beach vs Destin in terms of their population and location.
They are both located on the waterfront of Florida's Panhandle in the northwestern region of the state.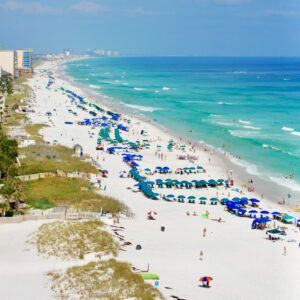 Destin is conveniently located on the Emerald Coast of Florida, in Okaloosa County, and is the main city of the Crestview–Fort Walton Beach–Destin metropolitan area.
It is located on a peninsula, which used to be a barrier island in the past.
As of the 2020 census, 13,931 residents are lucky enough to call Destin their permanent home.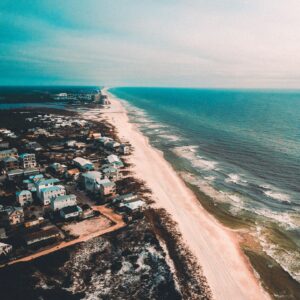 Panama City Beach sits on the Gulf of Mexico coast and is part of Bay County, Florida. As of the census of 2020, there were 18,094 residents living here in total, so it is a bit bigger than Destin.
Additionally, Destin is a somewhat walkable community, with a walk score of 52 out of 100. Still, we think that you should consider renting a car during your trip!
Its bike score is only a 45, so you won't find much biking infrastructure, either.
Panama City Beach's walk score is even lower, at 47. It is also somewhat bikeable, with its bike score being 42, but we think that you will need a car here, too.
2. Destin vs Panama City Beach – Location
This Destin vs Panama City Beach review wouldn't be complete without analyzing their locations.
If you are considering visiting both cities, you will be pleased to hear that they are not far away from each other on the Panhandle. In fact, they are only 47 miles apart, which is a quick 1 hour, 15 minutes drive on US Route 98.
Although you can drive straight through, it might be more interesting to stop along the way and enjoy the beautiful scenic view.
For example, there are great beach towns like Fort Walton Beach, which is 8 miles west of Destin, and Niceville, which is up north across the bay that you can enjoy as well.
While in Destin, we also recommend visiting Grayton Beach State Park, which is only 23 miles away.
There, you can enjoy the wonderful coastline, go fishing, or discover its wildlife! If you love animal exhibits, you can also visit the Gulfarium Marine Adventure Park since it's only six miles away.
On the other hand, Panama City Beach is in close proximity to the large metropolis of Panama City, Callaway, Alys Beach and Port Saint Joe. When you are there, we recommend visiting Bocas Del Toro islands or Soberania National park since they are just 45 minutes away from the city.
Here is a link to Google Maps for Destin's location.
Here is a link to Google Maps for Panama City Beach's location.
3. Destin vs Panama City Beach – Reputation
Imagine going on your long-awaited vacation after working hard the whole year and realizing the spot you've chosen doesn't match your expectations! Therefore, it's crucial for you to match the energy of the place you're going to and to find the right vibe.
When choosing between Panama City Beach vs Destin, you need to get some inside scoops.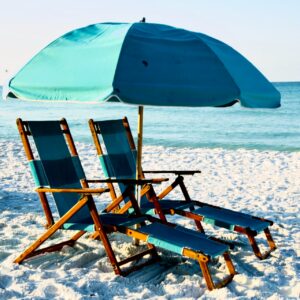 Destin offers a wide range of family-friendly activities. It is a sophisticated and quiet town, so don't expect a lot of wild parties. If slow living and laid-back people are what you are looking for, Destin is the perfect place.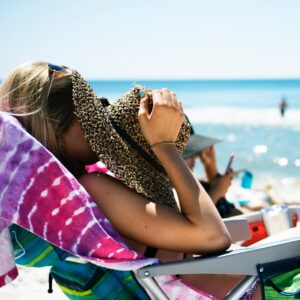 We feel like Panama City Beach offers more of a spring break atmosphere for fun and partying, but it is also a wonderful location for families. It is not as upscale as Destin, but some may consider that a plus. A bit busier and faster, Panama City Beach will still enchant you with its quirky spirit.
As for this part of our Panama City Beach vs Destin comparison, it all comes down to your personal preference.
4. Destin vs Panama City Beach – Entertainment & Attractions
Are you one of those people who goes to the beach and lies in the sun for the whole day? Or, are you seeking a more lively and adventurous vacation?
You might want to evaluate Destin or Panama City Beach based on the things that you can do in each city. So, let's begin.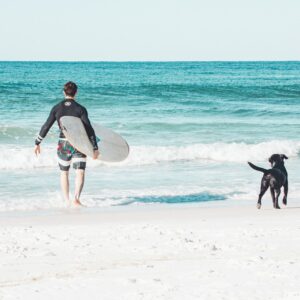 Of course, you will find some of the world's most beautiful beaches in both locations. If you visit Destin, we encourage you to go on a dolphin cruise or rent a jet ski and explore Crab Island.
It would be a shame to visit Destin and not experience deep-sea fishing or inshore bay fishing. Remember, these folks are proud to be living in the "World's Luckiest Fishing Village!" You can also go sailing or parasailing around Destin.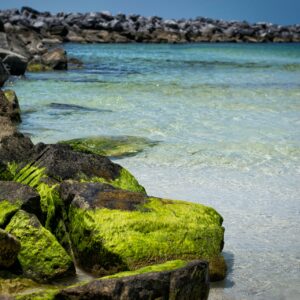 When visiting Panama City Beach, make sure to go to Shell Island and St. Andrews State Park, and depending on your taste, go for a hike or a swim.
If you want to meet some tropical fish, sea turtles, or even a bottlenose dolphin, take your snorkeling gear and enjoy the unique Panama City Beach snorkeling experience.
You can also rent a pontoon boat or go kayaking instead.
5. Destin vs Panama City Beach – Safety
Destin is a great place to relax and unwind. In fact, the crime rates are 58% lower than the Florida average. Amazing, right?
Sadly, you will have to be more alert in Panama City Beach. The crime rates are 224% higher than the Florida average. But, on a positive note, crime has decreased by 5% year-over-year in Panama City Beach.
6. Destin vs Panama City Beach – Cost of Living
Even if you are going on a short trip, you should check how expensive your stay will turn out in Panama City Beach or Destin.
The living costs in Destin are about 15% higher than the Florida average. Still, it seems that groceries and transportation are actually a little bit less expensive there, as well as health care services, but we hope you won't be needing any during your trip.
Renting an apartment will cost you 42% more than the national average and the overall cost of housing in Destin is 48% higher than the rest of the country.
In comparison, Panama City Beach's cost of living is just 3% higher than the average of Florida. It is mainly driven by its housing, which is 14% higher than the national average, while rental prices are 16% higher than the rest of the US.
7. Destin vs Panama City Beach – Top Hotel Choices
Both Destin and Panama City Beach offer some exquisite hotels and accommodation directly on their beachfronts. Destin tends to have some more upscale properties available, while Panama City Beach can offer more budget-friendly options, especially during peak seasons.
We looked through all of the choices in each city and hand-picked our favorite places to stay in each location:
Our Top Picks of the Best Hotels in Destin
Our Top Picks of the Best Hotels in Panama City
Destin vs Panama City Beach – Summary
This comparison between Destin vs Panama City Beach is meant to show you all the ins and outs of these two beautiful cities.
We compiled this list to assist you in choosing your perfect destination for traveling or a more permanent place to relocate to.
Now, it is just up to your personal needs and preferences when choosing between Panama City Beach vs Destin.
Here, instead, we listed other good places to see in Florida.