West Palm Beach vs Miami – Which is Better for Visiting & Living in 2023?
Which is a better place to visit or to move to between West Palm Beach vs Miami? Our detailed guide gives you all the answers about these two beach cities.
For all of you attempting to escape your cold and windy realities, it can be a tough choice between Miami vs West Palm Beach.
On one hand, West Palm Beach is a great place for everyone, regardless of age. Whether you are young and ready to party, looking for a family vacation, or a place to actively enjoy your retirement, West Palm has something in store for you.
While it may not be as well-known as Miami, West Palm Beach manages to deliver the perks of a big city while keeping its local spirit and ambiance.
On the other hand, Miami is a major business center and premier vacation destination due to its lovely weather, picturesque beaches, flamboyant culture, and delicious cuisine. It is a place to enjoy life and forget about your worries.
But, there are some downsides to Miami, just like any other city.
So, let's get acquainted with the details of both of these cities and see if Miami or West Palm Beach suits your preferences better.
1. West Palm Beach vs Miami – Overview
So, what is the difference between Miami vs West Palm Beach? First things first: let's discuss their location and population.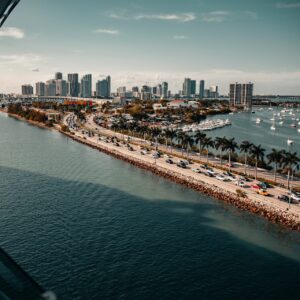 Both cities are part of the Miami metropolitan area, which is the 7th largest metropolitan cluster in the US. Miami is its financial and cultural heart and is located in Miami-Dade County while West Palm Beach is one of the region's prime cities, located in Palm Beach County.
As for their population, Miami is the 2nd biggest city in Florida with 467,968 residents as of the 2020 census.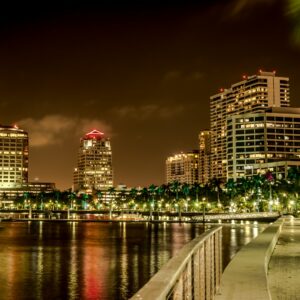 West Palm Beach is home to considerably fewer people, with a population of exactly 117,415 residents.
To get a clear picture of how life feels in both cities, we compared some more data from Walk Score:
You could easily fall for Miami if you love walking and biking, however, you better bring a car to West Palm Beach.
2. West Palm Beach vs Miami – Location
Which one has a more convenient location and what is the distance between Miami vs West Palm Beach?
Let's take a look at each city's location on the map:
Miami is located on the shores of the Atlantic Ocean right in the heart of South Florida. On the other hand, West Palm Beach is also right on the waterfront, but in the upper part of South Florida.
The distance between West Palm Beach and Miami is roughly 70 miles, so you could hop from one city to the other in around one hour.
There are also several good places to stop along the way, such as Coral Gables, which also made our latest review of the best places to live in Florida.
Additionally, Miami Beach and Fort Lauderdale are also great destinations for a visit while you are driving between Miami and West Palm Beach. In fact, they offer some of the best beaches in Florida with crystalline waters and idyllic sandy shores.
Of course, there is also Miami Beach that is located east of Miami. We recommend visiting the Art Deco Historic District and South Beach.
3. West Palm Beach vs Miami – Reputation
Have you read many reviews of statistical information and tourist attractions, but still can't get a feel about the vibe and atmosphere in Miami vs West Palm Beach?
Before you pick your travel destination or decide to relocate, you should understand the culture of each city.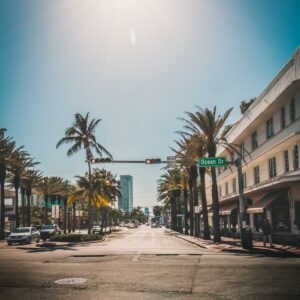 Miami boasts a let-loose vibe alongside a very diverse population. The thrill of "Magic City" is to indulge and not take life too seriously!
It offers a strong blend of a Caribbean and Latin-American culture that makes the city very flamboyant and warm. It is also packed with friendly residents who will welcome you with open arms.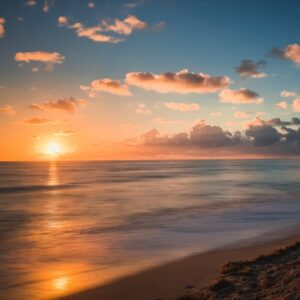 On the other hand, West Palm Beach is a popular travel destination, but not as busy or diverse. It exudes a fully South Florida vibe, but it is more low-key than Miami.
Still, it can surprise you with big city amenities in a small town environment.
Therefore, the choice between Miami vs West Palm Beach should be based on your personal taste and plans for the future.
4. West Palm Beach vs Miami – Things to Do
In order not to miss out on anything, we came up with this list of the most relevant attractions that you can do in West Palm Beach or Miami.
Are you into science? West Palm is home to the Cox Science Center and Aquarium. If not, we are sure everyone will enjoy the beautiful tropical oasis in Mounts Botanical Garden.
If you are thirsty for a glimpse of culture, we recommend visiting the Norton Museum of Art.
For some premium shopping and delicious food,visit the Square in West Palm Beach, which is a beautiful shopping and entertainment district that is modeled after an old European city.
Meanwhile, Miami offers breathtaking beaches, fine dining, and a vibrant nightlife. Start from the legendary South Beach, choose from various water sports, or visit the Dolphin Mall!
Additionally, the Miami Design District is surely something to explore, as well as Vizcaya Museum and Gardens.
The city is a whole new world when the sun goes down and features a lively and diverse night scene. Don't miss out on the South Beach nightlife and enjoy the late-night energy of clubs like Story or Sweet Liberty.
When you're bored of West Palm Beach, you could always hop over to the barrier island of Palm Beach in 10 minutes and enjoy some of the finest and most exclusive beaches in the region.
5. West Palm Beach vs Miami – Safety
Nowadays, crime rates can be a huge part of choosing your future home, so we made sure to compare Miami vs West Palm Beach in terms of their safety.
West Palm Beach is not for the easily frightened. This beautiful city has not been particularly successful in regulating its crime recently, with crime rates that are 94% higher than the Florida average.
Although less dangerous, Miami's crime rates still surpass the Florida average by 54%.
While they both may not seem very safe, keep in mind that there are always some good and some not-so-good neighborhoods in every city, especially in big metropolises like Miami and West Palm Beach.
6. West Palm Beach vs Miami – Cost of Living
For those of you searching for a budget-friendly travel destination or an affordable lifestyle, we compared the cost of living in West Palm Beach vs Miami.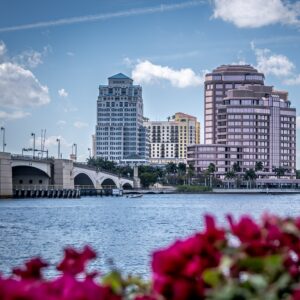 West Palm Beach features living costs that are 6% higher than the national average. The housing prices are particularly intimidating, at a rate 10% higher than the US average.
The average home is worth about $350,000 to $400,000 in West Palm Beach.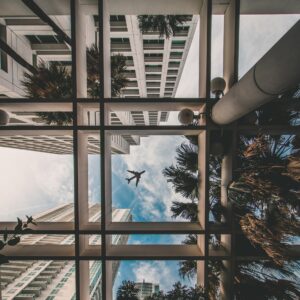 In contrast, Miami is 11% more expensive than the national average.
You will encounter elevated housing prices here as well, as they are 23% above the US average.
In Miami, average home prices are now around $450,000 to $500,000 based on the latest real estate stats from Zillow.
West Palm Beach vs Miami – Summary
We hope this detailed breakdown of West Palm Beach vs Miami has given you enough information for your next move or to pick a travel destination more easily.
They both offer you the chance to revel in South Florida's exciting lifestyle. Miami is almost four times bigger, but also a bit more expensive than West Palm Beach.
But, rest assured that choosing either Miami or West Palm Beach will give you access to some of the highest caliber beaches in the nation, so you are sure to have a good time in either.