What Food is California Known For? 6 Delectable Dishes to Try
What food is California known for? We took a detailed look to find the best historic cuisines and modern dishes that have been perfected in California.
The Golden State is well-known as a foodie heaven that covers virtually all tastes, from original inventions to a vast array of authentic and diverse ethnic foods.
It also offers a wide range of restaurants, which include countless fast food joints, food trucks, and many upscale Michelin-starred restaurants.
But, what are these places serving and what should you look out for during your trip to California? We consulted the history books as well as several contemporary sources to see what unique foods that the chefs of California have cooked up.
Overall, you will not be disappointed with the quality of food when you visit California regardless of your palette or your budget. There is truly something tasty for everyone.
So, let's answer the question of what food California is known for.
Please note that some of the links included below are affiliate links. These links allow us to earn a small commission if you complete a purchase through our links, without any extra cost to you. Thank you for your support!
Overview
What food is California known for? The most basic answer is Mexican-inspired food, seafood, California-style pizza, and of course, fast food like In-N-Out Burger, Del Taco, and Fatburger.
But, there are also some more obscure dishes and cuisines that are just as important to the California food scene. Here are the top 6 dishes and foods that truly define California cuisine.
1. Mexican Food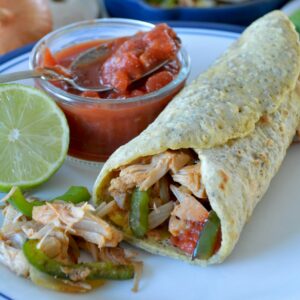 California's close proximity to Mexico has led to a heavy Mexican influence in kitchens across the state. You can find Cal-Mex food in virtually any city in California.
Everything from burritos to tacos and quesadillas have been perfected by Californian restaurants for almost 100 years.
In fact, the first burrito appeared on an American menu in Los Angeles in the 1930s.
The best Mexican restaurants are usually found in the SoCal area.
Some top spots include Guelaguetza Restaurante and Cha Cha Cha, although there are also many small independent food trucks and taquerias across the state that serve up cheap and authentic Mexican plates.
3. California-Style Pizza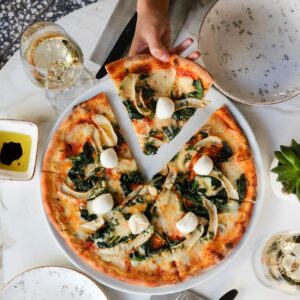 Californians have created their own take on pizza by creating what is called the "California-style pizza." They combine the classic thin-crust found in New York and Italian pizza with unique, nontraditional toppings like artichokes, chicken, and goat cheese.
Celebrity chef Wolfgang Puck and the California Pizza Kitchen restaurant helped popularize the California-style pizza and it remains a must-try for visitors today.
4. Fast Food Restaurants
California is the king of fast food restaurants. Historically, Southern California was a hotbed for fast food restaurants and many well-known chains got their start there.
Iconic fast food companies like McDonalds, In-N-Out, Jack in the Box, Taco Bell, and Del Taco all started in California before expanding nationwide.
It's not just burger and taco chains that have thrived in California, either. IHOP and Denny's both originated in California. Even Baskin-Robbins was established in California first.
When you're visiting, a trip to one of these fast food joints is mandatory.
In the case of In-N-Out, the hype is real. Their fresh, mouth-watering burgers are something that everyone should try at least once in their life.
6. Monte Cristo Sandwich
The rich and decadent Monte Cristo sandwich is believed to have been first conceived in Southern California in the 1960s.
It is a cousin of the French Croque monsieur sandwich and features slices of ham, turkey, or chicken along with some cheese between two pieces of white bread.
The whole sandwich is then dipped in an egg batter and pan-fried until golden brown.
To make the experience even tastier, Monte Cristo sandwiches are often served with a side of jelly or maple syrup for dipping.
The Monte Cristo rose to prominence, especially in California, when it was introduced in Disneyland in 1966. Since then, it has become one of the most popular menu items in Disneyland.
The best place to try one of these famous sandwiches is at Mama's On Washington Square in San Francisco or the Blue Bayou Restaurant in Disneyland, where it was first introduced.
What Food is California Known For? Summary
California is known for many delectable dishes that have been refined over the years. They have taken advantage of their proximity to Mexico to learn to produce some of the best Mexican-inspired foods while also benefiting from the Pacific Ocean for their seafood.
On top of that, California has been a prime location for starting fast food chains and they continue to offer some of the tastiest and highest quality fast food options in America.
But, don't forget to try their regional specialties like black mission figs and the Monte Cristo sandwich.
You should be able to sample all of these foods in whatever city you visit in California, so you don't have to plan much in advance. Just remember to pack some comfortable pants!
If you want to learn more about relocating to California to eat all of these foods everyday, then read our latest review of the top cities in California.
Articles You Might Also Like