Austin vs Seattle – 2023 Full Guide for Living & Visiting
If you're trying to choose between Austin vs Seattle to move to or to travel to, our comprehensive guide breaks down everything they offer now in 2023.
They are two of the hottest cities in the US recently as their booming job markets and extraordinary list of attractions make them prime locations to relocate to or travel to.
They are both located in beautiful backdrops that allow residents and visitors to explore nature while also providing an endless number of amenities and things to do around town.
Austin and Seattle are also well-known for their relaxed, progressive communities that offer an inclusive welcome to all new residents and travelers.
Our breakdown between Austin vs Seattle covers all the similarities and differences between these two cities in terms of their reputation, cost of living, job market, and things to do for both travelers and residents.
So, let's find out if Austin or Seattle aligns the most with your preferences in this comparison.
1. Austin vs Seattle – Overview
Let's start with some introductions to compare Austin vs Seattle.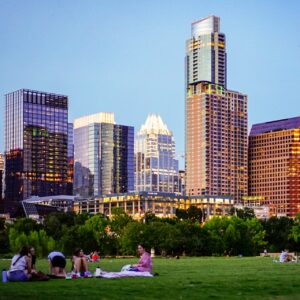 Austin, Texas is the capital city of The Lone Star State and is located in the majestic rolling plains of the Texas Hill Country on the Colorado River.
It is one the most populated cities in the US with over 961,000 residents. It is also one of the fastest-growing large cities in the nation over the past few years.
In fact, Austin was the fastest growing major metro area since 2010.
We also ranked Austin as one of the best places in Texas for 2023.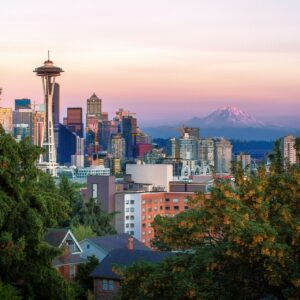 Seattle, Washington is a seaport community on the West Coast of the US. It is located in the northwest corner of the state and is the largest city in the Pacific Northwest region.
Seattle has a population of roughly 737,000 residents, and, like Austin, it is one of the fastest-growing large cities in the country.
Looking at the metrics of Seattle vs Austin in terms of their walkability and bikeability, Walk Score gives us these ratings:
Austin – Walkability: 42

Seattle – Walkability: 74

Austin – Bikeability: 54

Seattle – Bikeability: 71
It is clear that Seattle offers a better infrastructure to get around by foot or by bike. However, both cities have been committed to developing solutions to make them less car-dependent and more human-scaled.
2. Austin vs Seattle – Reputation
Austin is considered to be one of the most desirable places to move to in America based on its quality of life, scorching hot job market, and relative affordability.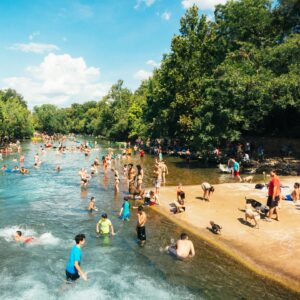 Since so many startups and tech companies have been flocking to Austin lately, it has earned the reputation of being the tech hub of the South and the nickname of "Silicon Hills."
Also, the city's adopted motto of "Keep Austin Weird" helps to promote its eccentricity and keep people interested in coming to Austin.
Residents in Austin are known to be quite warm and friendly to outsiders, so newcomers and travelers often mention that it is easy to fit in around town.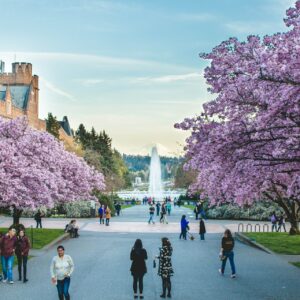 In comparison, Seattle is considered one of the best places to live in the US. It's an environmentally-friendly city that is filled with greenery all year around. For this reason, Seattle gained the nickname as the "Emerald City."
Recently, it has also seen a large influx of residents due to the presence of the ever-expanding tech giants Microsoft and Amazon.
It also has a reputation of being a bit unfriendly, which even has its own term. The "Seattle Freeze" reflects its cold social culture, where it may be hard to meet new people and make friends.
3. Austin vs Seattle – Climate
In terms of climate, there is quite a big difference between Seattle vs Austin, which we think will make you clearly have a preference for just one of them.
Austin shares the climate of the dry deserts of the Southwest and the green and more humid climate of the Southeast. The product is a humid subtropical climate, although it is not as humid as places like Houston.
Its summers are pretty long and hot, with average highs reaching 90°F and more, while its winters are mild, reaching highs of 63°F.
Additionally, Austin receives about 230 days of sun per year, which is significantly more than Seattle.
It doesn't rain often in Austin, with rainy days accounting for only about 20% of the year. Yet, it is also possible to experience snow in Austin.
Therefore, it is a great climate for those who like to enjoy all four seasons along with warm, sunny summers.
On the other hand, Seattle is considered to have a "modified Mediterranean" climate that is much cooler and wet. The city has relatively dry summers, but very wet and mild winters.
Seattle is truly a place for people who prefer cooler weather. Average highs in the summer usually don't peak past 80°F, while winters only see average highs of around 48°F.
Most of the year, Seattle is cloudy, and though people think it rains all year round, the city actually gets less rainfall than other US cities like Miami or New York.
But, don't expect to get much sun in Seattle. There are only about 160 days of sun each year, on average.
4. Austin vs Seattle – Cost of Living
When comparing the cost of living in Seattle vs Austin, it is important to keep in mind that Seattle is ultimately much more expensive than Austin.
Austin is only 9% more expensive than the national average, with the most apparent distinction in housing, which is 33% higher.
Overall, the average home values in Austin are currently around $600,000 to $700,000.
Meanwhile, the cost of living in Seattle is a staggering 56% more expensive than the rest of the US, with housing costs that are an astounding 124% higher.
The average price for a house in Seattle stands around $900,000 to $1,000,000.
That makes housing costs in Seattle almost 2 times higher than Austin, which is already pretty elevated to begin with.
5. Austin vs Seattle – Job Market
The job market in Austin has always been a hot topic. And guess what, Austin's job market bounced back to its pre-pandemic level and was recently ranked as the 2nd best in the US.
The job market in Austin is simply booming and you can find opportunities in numerous industries around the city.
Average salaries are pretty solid as well, coming in at around $74,000.
In comparison, Seattle is a city that continues to provide job opportunities in many sectors. Its unemployment rate of 4.8% is lower than the national average and its overall market is bolstered by giants like Amazon, Microsoft, and Starbucks.
Meanwhile, the average salary in Seattle is a bit higher than in Austin, coming in at about $84,000.
However, the high-end of salaries in the tech field can be much higher in Seattle than in Austin.
For instance, the average tech salary in Austin was about $144,000 in 2021, while average salaries for tech workers in Seattle was about $158,000.
6. Austin vs Seattle – Things to Do for Travelers
When it comes to entertainment, you will never be bored when visiting Austin. The city has many places around town that you can visit, like the Austin Aquarium, LBJ Presidential Library, and Barton Spring Pool in the beautiful Zilker Park right in downtown Austin.
Austin also offers a stunning landscape to enjoy right outside of town. Don't miss the nature preserves and state parks that are filled with lakes and waterfalls that surround Austin.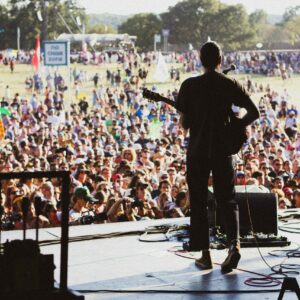 By the way, we all know how Texans love some good music and dancing. The best time to travel to Austin is in March, when you can check out the famous SXSW, a music and multimedia festival, as well as The Austin Rodeo.
In October, the city hosts Austin City Limits, which is a two-weekend festival with more than 100 shows each year.
And what about the things to do in Seattle? Well, it has almost everything you could wish for. You will find plenty of outdoor activities around the city and easy access to the mountains for a day-trip, too.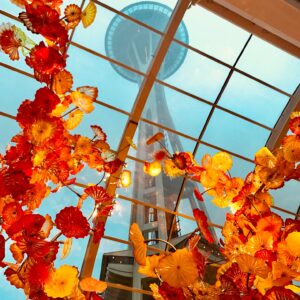 There are many attractions to see, like The Museum of Flight, the astonishing views from Kerry Park, the Sky View Observatory, the Seattle Art Museum, and many more.
Seattle also offers opportunities to watch some live sports. It is home to six professional sports teams, including the Seattle Seahawks for football, the Mariners for baseball, and the newly-created Kraken for hockey.
Therefore, you'll be able to catch a game virtually any time of the year.
Of course, Seattle is close to many gorgeous national parks as well. Among the top choices include Olympic National Park and Mount Rainier National Park.
It's clear that you can have a lot of fun in either Seattle or Austin. It will just depend on the type of vacation you are looking for.
7. Austin vs Seattle – Things to Do for Residents
Residents in Austin have multiple neighborhoods where they can enjoy a night out. For instance, there is the iconic Rainey Street, which is home to some of the city's top restaurants and bars, including local favorites like Banger's Sausage House & Beer Garden.
Meanwhile, East Austin is where many locals go to enjoy their friendly neighborhood bars and live music, which is a staple of Austin's culture.
Austin also features many activities for families, including the Austin Nature & Science Center, the Zilker Botanical Gardens, and the Austin Zoo.
On the other hand, Seattle offers its residents many community-based events that help to make Seattle feel a bit smaller and bring its residents together.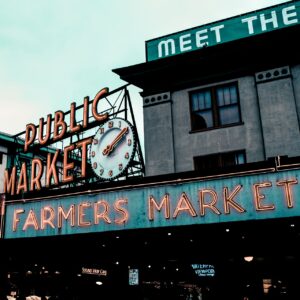 You can find farmers markets nearly every day of the week, including Seattle's first and most famous one, Pike Place Market.
There are also many things to discover for families around Seattle. For instance, you can visit the Seattle Aquarium, Seattle's Children Museum, or the Pacific Science Center.
Or, you can take a stroll in the relaxing Seattle Japanese Garden that is located in the northeastern part of town.
Austin vs Seattle – Summary
When deciding between Seattle or Austin, we hope that our comparison has provided you with a clearer understanding of where you may want to visit or move to next.
Whatever your pick, we are confident that you will be making a great choice. After all, you're deciding between two of the best and most enjoyable cities in the whole nation.