Is Santa Monica Worth Visiting? 5 Major Reasons Why We Think So
If you are visiting the Los Angeles area, you might wonder, "is Santa Monica worth visiting?" Is it just a tourist trap or are there many things to do in the city?
We take an in-depth look at what Santa Monica has to offer these days in 2023 so that you can understand if it is the right destination for you to visit during your trip and how long you may want to stay.
Santa Monica is certainly not for everyone and it does get quite crowded, but we think that this famed city where Route 66 ends is ultimately worth your time, even if it is just for a few hours.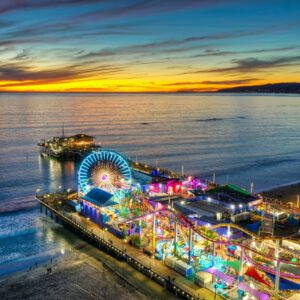 First, we will start with a little background on Santa Monica. It is a city in Los Angeles County that sits directly on the Pacific Ocean. It started as a resort town for Hollywood celebrities and remains a place to see and be seen today.
It is located just 20 minutes from downtown Los Angeles, making it quite convenient to visit for a daytrip. It is also only 15 minutes from Los Angeles International Airport, so it could be the first place you visit when you get off the plane.
While it may be best known for its pier and the beachfront, Santa Monica offers a lot more and is a bustling city that is home to over 90,000 residents.
Here are all of the top reasons why we think that Santa Monica is worth visiting.
1. Unlimited Fun in the Sun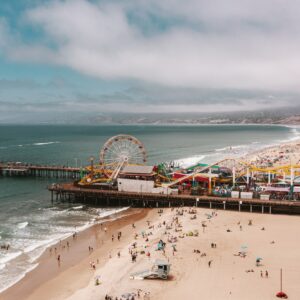 We believe that the famed Santa Monica Pier and Santa Monica State Beach are already reasons enough to visit the city.
The Pier offers many attractions and things to do for the whole family to enjoy. There is a roller coaster, ferris wheel, and tons of restaurants and food carts that can take up a whole afternoon.
It is also a great place to catch one of California's most dazzling sunsets.
Meanwhile, Santa Monica's beach is the perfect place to relax and catch some rays. This beach is one of the most beautiful spots in all of Southern California and is a must-see for any first time visitor. Best of all, the beach is free to enjoy!
It features beach volleyball courts, a muscle beach area, and bike paths. The beach will also be hosting beach volleyball and surfing for the 2028 Summer Olympics.
You can also rent a bike or some roller blades and go all the way down the boardwalk and reach Venice Beach.
2. Parks to Enjoy
Santa Monica is not just about the beach life. It offers numerous green spaces across the city where you can relax without getting any sand in your clothes.
Check out Palisades Park, which is a 26-acre park located along the northern shores of Santa Monica.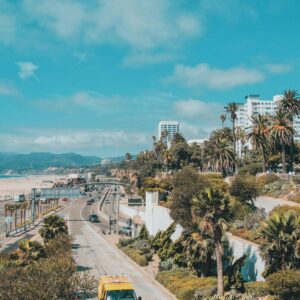 This elevated bluff offers stunning views of the ocean and is another excellent (and free) activity for the whole family to enjoy.
There is also Tongva Park, a recently revitalized green space that features a playground, an amphitheater, and waterfalls. It provides scenic views of the ocean and of Santa Monica Pier.
3. Beach Clubs
No visit to Santa Monica can be complete without a visit to one of their beach clubs. These social houses are located right on the beach front and offer a cool space to eat, swim, play, and relax.
One of the most famous beach clubs is the Annenberg Community Beach House, which was commissioned by William Randolph Hearst in the 1920s. This public beach facility is open to the public and features a swimming pool and an art gallery.
You can also check out Jonathan Club, which is a private social club with good food and a fun atmosphere.
4. Unique Shopping Experiences
Santa Monica is a great place for shopaholics. You can find everything from small boutiques to large retail stores across the city.
The most famous shopping street in Santa Monica is the Third Street Promenade, which offers 3 blocks with 80 stores that are also just 3 blocks from the beach.
Here, you can find upscale retailers like Tiffany, Rolex, and Coach alongside many locally-owned small businesses. There are also numerous food options that you can indulge in on this street.
At the end of the promenade, there is also Santa Monica Place, which is a huge open air mall that features Nordstroms, a food court, and a movie theater.
Additionally, you can shop for fresh and local foods at various Santa Monica Farmers Markets, which take place during the weekends and on Wednesdays around the city.
One Reason Not to Visit Santa Monica
There is one major warning that we have to give those looking to visit Santa Monica. If you are planning to drive in, be aware that there can be some extremely heavy traffic around downtown depending on the time of day.
It can take up to 30 minutes just to go from the exit off the highway to the parking garage next to the pier.
So, we advise you to plan ahead when driving or to consider using public transportation so that you don't have to worry about the traffic or pay for parking.
Is Santa Monica Worth Visiting? Summary
So, is Santa Monica worth visiting? Overall, we think that the answer is yes. It offers so many things to do outside at the beach or the parks as well as several great shopping districts that are filled with top stores and restaurants.
You probably only need 2 or 3 hours to get the taste of Santa Monica, but don't be surprised if you stay the whole night and watch the sunset in this delightful city.
We are confident that you will not regret it.