Long Beach vs Huntington Beach – Best Beach to Visit & Live in 2023
This complete guide comparing Long Beach vs Huntington Beach will help you determine which beach is the best to visit or to live in based on 7 categories.
We want to help you decide which of these two Southern Californian cities fits you the best.
With a tangible difference in size, these two cities offer different experiences and lifestyles for those who want to visit them or live them everyday.
But, they both offer the same sweet taste of Southern California with beautiful beaches and its unique charm.
When comparing Huntington Beach vs Long Beach, we took several different factors into account and parameters and collected them into seven main categories:
Overview

Climate

Cost of living

Job market

Things to Do for Travelers

Things to Do for Residents

Culture
Join us in this journey throughout L.A. County and Orange County and discover whether Long Beach or Huntington Beach should be your next destination or your future home.
1. Long Beach vs Huntington Beach – Overview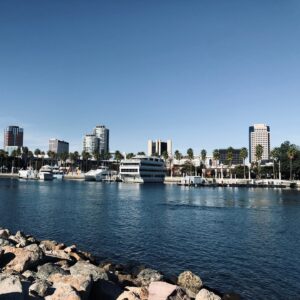 Separated by approximately 15 miles, Long Beach and Huntington Beach are different faces of the same Californian culture.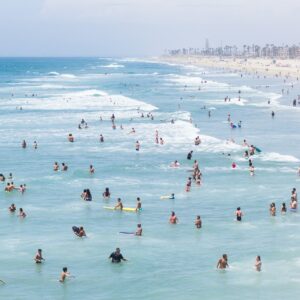 Long Beach is home to 470,000 residents and belongs to Los Angeles County, while the smaller Huntington Beach, with approximately 200,000 residents, resides in Orange County.
This difference in size is visible when comparing the two cities based on their things to do and attractions, but both cities offer similar amenities and services in their downtown district.
Moreover, the proximity of Long Beach to Los Angeles, which is ranked as one of the best cities in California, makes it easier to reach the biggest metropolitan area of the West Coast.
On the other hand, Huntington Beach is located further down south on the coast and is just a bit more isolated.
However, this also creates more traffic in Long Beach than in Huntington Beach. Generally speaking, Huntington Beach is considered more livable than Long Beach, which also has a far higher crime rate, while Huntington Beach's crime rate is actually lower than the national average.
Furthermore, Huntington Beach is considered to be more family-oriented than Long Beach as Long Beach offers a more vibrant nightlife.
Ultimately, both of the cities offer a beautiful seaside location, with Long Beach offering tons of attractions in and around the waterfront while Huntington Beach earned the nickname of Surf City by featuring 9.5 miles of beachfront that is ideal for surfing and relaxing.
2. Long Beach vs Huntington Beach – Climate
Since Long Beach and Huntington Beach are pretty close to each other, there isn't much of a difference in their weather.
In both cities, the summers are short and warm, and arid rather than muggy. There is a slight difference in their average high temperatures, which are slightly higher in Long Beach, with average highs of 82°F compared to 79°F in Huntington Beach.
Winters for both cities are pretty long but cool, with temperatures that never go below 48°F.
Precipitation is rare during summer and not so common during winter either, while snow is a foreign concept in Southern California.
Furthermore, in Huntington Beach, there is an interesting atmospheric effect from the movement of the swells around Santa Catalina Island, which creates the perfect condition for surfing all year long. This phenomenon doesn't occur in Long Beach and contributes to Huntington Beach's surf culture.
If you're going to visit Long Beach or Huntington Beach, fellow travelers consider the period between June and October as the best period to visit either city.
3. Long Beach vs Huntington Beach – Cost of Living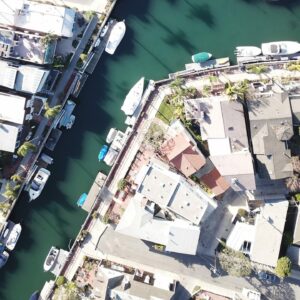 If you're going to relocate to California and are deciding between Huntington Beach or Long Beach, then this analysis will interest you the most.
Both Long Beach and Huntington Beach are more expensive cities compared to the US' national average, but they are generally on-par with the rest of California.
Huntington Beach comes out about 15% more expensive than Long Beach overall.
Utilities are cheaper in both cities even when compared to the national average, while healthcare is a bit cheaper compared to the rest of California.
However, the average prices for transportation, services and groceries, are all more expensive here than in the rest of the US.
However, what creates the most significant difference in the cost of living is housing. In Long Beach, the average price to buy or rent a house or apartment is double than the rest of the country, while in Huntington Beach is approximately three times higher.
Thus, if you're going to move soon and your next house has to be in Long Beach or Huntington Beach, don't overlook this aspect as it may affect your plans.
4. Long Beach vs Huntington Beach – Job Market
Regarding the job market, a comparison between Huntington Beach vs Long Beach highlights the different opportunities in each city.
When looking at the data between them, you can see that both places are expected to post lower-than-average job growth rates over the next 10 years.
Huntington Beach seems to be a more reliable city from an employment standpoint as its unemployment and poverty rates are lower, its average income per capita is higher, and its growth rate is a bit more optimistic.
In fact, Huntington Beach even outperformed its expected job growth in the past year.
However, Long Beach is a bigger city and is within the metropolitan area of Los Angeles, so it may be able to offer more opportunities, especially since the commute to downtown LA is easier from here.
In Long Beach, the biggest employment sectors are generally aviation, financial services, health care, hospitality, and technology.
Meanwhile, Huntington Beach's biggest industries are tourism and technology.
5. Long Beach vs Huntington Beach – Things to Do for Travelers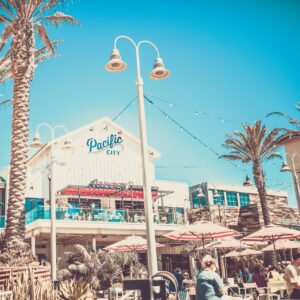 If you're going to visit Huntington Beach or Long Beach as a traveler, there are different attractions and amenities in both cities that will make you enjoy your stay.
In Long Beach, one of the main attractions is the RSM Queen Mary, a former ocean liner that sailed between Southampton and New York for more than 30 years and was then sold to the city of Long Beach, where it serves as a museum today.
Additionally, Long Beach offers many guided tours, such as a gastronomic tour as well as a walking tour through the port and see the different kinds of waterfront attractions and amenities.
In Huntington Beach, whether you're a professional surfer or just a beginner, you will find every amenity or attraction that involves surfing.
If you're not into sports, you can always take advantage of the miles of beachfront that run alongside downtown Huntington Beach, or visit the different parks and ecological reserves that surround the city.
You could also take a ferry to Santa Catalina Island or go whale watching.
6. Long Beach vs Huntington Beach – Things to Do for Residents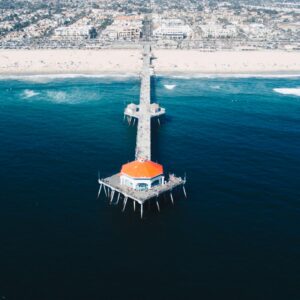 Having compared the things to do for travelers in Long Beach vs Huntington Beach, it is now time to write about the things that residents of these cities can do.
In Long Beach, the nightlife is a bit more lively and orientated towards a younger crowd, with more bars, restaurants, and clubs that stay active until sunrise.
Meanwhile, downtown Long Beach features a busy district with tons of shops and amenities for every necessity.
In Huntington Beach, the vibe is more relaxed and there is a slower-paced environment, where many families help shape the quieter atmosphere.
It features a quaint, walkable downtown area with its Main Street that is filled with taco stands, boutiques, surf stores, and cute little cafes.
Huntington Beach is also adjacent to Newport Beach, which adds to the variety of amenities available in the area.
7. Long Beach vs Huntington Beach – Culture
Long Beach has a culture that is highly influenced by its proximity to Los Angeles, which is reflected by its arts scene. Attractions such as the Museum of Latin American Art, the Pacific Island Ethnic Art Museum and the Earl Burns Miller Japanese Garden showcase the history of Long Beach and the surrounding area.
Overall, Long Beach is very diverse and residents here are extremely down-to-earth.
In Huntington Beach, the surf culture dominates the vibes here, as it is shown with attractions like the Surfing Walk of Fame that sits nearby the International Surfing Museum.
On the other hand, Huntington Beach feels a bit more like a classic SoCal city that revolves around the beachlife.
People here are friendly and laid-back and generally live a lower profile life compared to neighboring beach communities like Newport Beach.
Long Beach vs Huntington Beach – Summary
We hope that this comparison between Huntington Beach vs Long Beach has helped you better understand the differences and similarities between these two coastal cities.
They are pretty equal in some aspects, but extremely different in others. Either way, they both offer an endless amount of things to do and discover. Now, the final decision is up to you.