The 8 Least Humid Cities in Florida in 2023 – Data-Based Analysis
After looking through all the data, we found the least humid cities in Florida so that you can comfortably enjoy the great weather in the Sunshine State.
Florida is world-renowned for its paradise-like beaches, and, well, excessively high humidity.
But, in this article, we used the latest data to determine the least humid cities in the Sunshine State.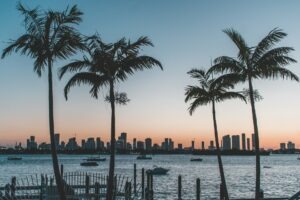 These comfortable climates offer a bit of a break from the sweltering heat. So, whether you're a local looking for a less sticky city or a visitor seeking relief, these cities offer you an ideal blend of temperate weather and unique experiences. Let's dive in and explore the least humid cities in Florida.
Research Methodology
To determine the least humid cities in Florida, we evaluated data from several sources, including The National Oceanic and Atmospheric Administration (NOAA).
We analyzed the average annual humidity levels of all cities in Florida and also filtered out cities with a population of less than 10,000 residents.
While we did succeed in finding the least humid places to live in Florida, we must warn you that a "low" humidity level in Florida is all relative.
Florida is the 2nd most humid state in the US with an average humidity of almost 75%, so you really can't truly escape at least some levels of mugginess when in the Sunshine State.
Still, there are some areas of the state that are less humid than others, and the time of year and time of day also impacts the overall humidity level that you will experience.
8. Eustis
Population: 18,920
Average Humidity: 74.0%
Location: Check on Google Maps
The small town of Eustis is located in pretty Lake County, about 40 minutes north of Orlando in the middle of the state.
It boasts a small-town charm and a moderate climate among the rolling hills and lakes of Central Florida, offering a slight reprieve from the heavy humidity that affects many other Florida cities.
Nature lovers can rejoice as Eustis is an outdoor paradise, with hiking trails, boating adventures, and even the nearby Ocala National Forest.
Don't miss the Eustis Historical Museum and Preservation Society. It's a real treasure trove of the city's captivating past.
7. Upper Grand Lagoon
Population: 14,917
Average Humidity: 73.9%
Location: Check on Google Maps
Ready to get your beach on? Upper Grand Lagoon is where it's at! This charming community is all about pleasant weather and lower humidity levels.
It's practically neighbors with the famous Panama City Beach on the Florida Panhandle, so you can soak up the sun, dive into thrilling water sports, or simply take a leisurely stroll along the sandy shores.
Need more nature? Head to St. Andrews State Park for breathtaking beaches, enchanting hiking trails, and wildlife galore. Upper Grand Lagoon is the ultimate chill spot for beach lovers and nature enthusiasts.
6. Tavares
Population: 14,343
Average Humidity: 73.8%
Location: Check on Google Maps
If you're a bit adventurous and like flying, then Tavares is the place for you. They call it "America's Seaplane City," and it's easy to see why. Situated on the shores of Lake Dora about 45 minutes from Orlando, Tavares offers a combo of natural beauty and a climate that keeps the humidity relatively at bay.
Get ready for boating, fishing, and even seaplane tours that take you soaring above the enchanting landscapes.
Additionally, don't miss the downtown area, where you'll find charming shops, mouthwatering dining options, and the delightful Wooton Park. Tavares is a true hidden gem for those seeking a relaxed, less humid getaway or place to live.
5. Doctor Phillips
Population: 12,028
Average Humidity: 73.8%
Location: Check on Google Maps
Calling all thrill-seekers and Disney fanatics! Doctor Phillips is a delightful community that is located just 10 minutes south of Orlando.
This suburban town has a drier climate than many other parts of Florida. Plus, it's extremely close to the world-famous Orlando theme parks. Brace yourself for heart-pounding rides at Universal Orlando Resort or dive into the magical world of Walt Disney World.
Doctor Phillips also offers upscale dining options, shopping galore, and beautiful golf courses for a truly unforgettable experience or lifestyle.
Its proximity to Orlando and location in the center of the state makes Doctor Phillips one of the most well-rounded least humid cities in Florida.
4. Mount Dora
Population: 12,663
Average Humidity: 73.4%
Location: Check on Google Maps
Prepare to be charmed by Mount Dora's old-world allure. Nestled among rolling hills in Lake County in Central Florida, this city boasts relatively lower humidity levels and a picture-perfect atmosphere.
Here, you can take a leisurely stroll through the quaint downtown, where unique boutiques, art galleries, and cozy cafes await your discovery.
Don't miss the city's incredible festivals and events, like the Mount Dora Arts Festival or the whimsical Christmas Lighted Boat Parade.
If you're craving outdoor adventures, Lake Dora and its surrounding parks are a nature lover's paradise, with boating, fishing, and serene walks in nature's embrace.
3. Gladeview
Population: 11,825
Average Humidity: 73.4%
Location: Check on Google Maps
Gladeview is a hidden gem in Miami-Dade County that features a bit of a drier climate than many other places in Florida.
It's just a 15 minute drive away from Miami's bustling downtown, so you can get the best of both worlds here. Dive into the vibrant cultural scene, explore the historic neighborhoods of Little Havana and Wynwood, and tantalize your taste buds with a diverse range of cuisines.
Or, retreat back into the calmer atmosphere of Gladeview.
Nature lovers will find solace in the lush parks dotting the area, like Amelia Earhart Park. There's so much to discover in Gladeview and beyond!
2. Brownsville
Population: 14,835
Average Humidity: 73.1%
Location: Check on Google Maps
Brownsville is another neighbor of Miami that is located in the northwestern part of Miami-Dade County.
This quiet area offers a more arid climate compared to many of its Florida counterparts.
Explore the vibrant Liberty City neighborhood, where soul food restaurants, art galleries, and bustling markets bring the area's rich cultural tapestry to life. Brownsville lets you experience the multifaceted side of Miami beyond its renowned beaches.
1. Miami
Population: 416,432
Average Humidity: 72.3%
Location: Check on Google Maps
Miami takes the crown as the least humid city in Florida. Located in the southern part of Florida, this vibrant city enjoys a tropical climate, but with a milder humidity level than basically any other city in Florida.
Of course, there's no shortage of unique things to experience in Miami that you won't find anywhere else in the world, let alone Florida.
For instance, you can take a stroll through South Beach and find some serious fun in the sun, take in its art deco architecture in the historic district, or indulge in some world-class dining and Miami's world-famous nightlife scene.
With its year-round pleasant weather, Miami is an outdoor lover's paradise as well, offering water sports, golfing, and the incredible Everglades National Park for a taste of untamed nature.
We even named Miami one of the best places to live in the Sunshine State.
Summary
These are the least humid cities in Florida and are your ticket to beating the heat and enjoying a fabulous getaway.
Whether you're into small-town charm, beachside bliss, thrilling theme parks, or vibrant city life, there's something for everyone. Pack your bags, leave the humidity behind, and embark on an unforgettable journey through Florida's least humid cities.