Scottsdale vs Sedona – Which Resort Town to Visit & Live in 2023
If you are deciding between Scottsdale vs Sedona, this unbiased guide will give you the inside scoop on these two desert cities so you know which to choose.
Our breakdown into key categories like their reputation, entertainment, and costs will help you make a solid choice between these two excellent Arizona cities.
Scottsdale and Sedona may seem like similar destinations, but they are vastly different in several important aspects. Geographically, they are separated by about 125 miles, and culturally, they are two separate worlds.
Scottsdale used to be known as Orangedale for its large citrus groves, but these days, it is popular for its luxury resorts and is one of the nation's finest golf destinations. On the other hand, the beautiful desert city of Sedona is renowned for its natural attractions and relaxed, artistic atmosphere.
Our in-depth comparison between Sedona vs Scottsdale will be focusing on these key categories below:
Overview

Location

Reputation

Things to Do

Safety

Cost of Living
So, will it be Sedona or Scottsdale? Let's take a look at all the details so that you can decide which city to visit or to move to next.
Certainly, you will not be disappointed with either choice, as both cities made it on our list of the best places to live in Arizona for 2023.
1. Scottsdale vs Sedona – Overview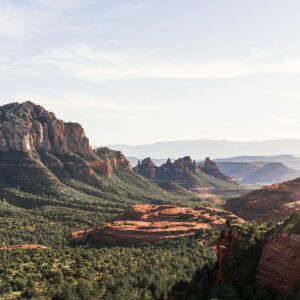 Sedona is characterized mostly as a tourist destination and it is known for its gorgeous landscape that is decorated with breathtaking red rock formations, pine forests, steep canyon walls, and a handful of national parks close by.
Sedona promises those who visit and live within this desert city access to rare wildlife, over 400 miles of hiking trails, and a warm, dry climate.
It is also more of a small town than a large city, as there are only about 9,600 residents living in Sedona.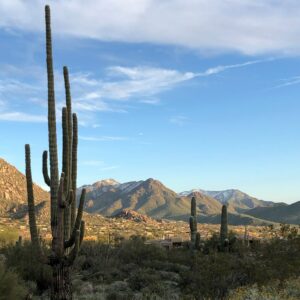 On the other hand, Scottsdale is a suburb of Phoenix, which is the largest city in Arizona as well as the state's capital. This luxurious desert city is famous for being one of the best golf and resort destinations in the world.
It is also much larger than Sedona. This sprawling suburb has become a proper city itself and is home to roughly 241,000 residents.
Because of its abundance of luxurious amenities, it is often regarded as the Beverly Hills of the desert. When you are in Scottsdale, you are treated to a wealth of top golf courses, spa resorts, nature activities, like hiking trails through the McDowell Sonoran Preserve, and a lot more.
Of course, that all comes with a great climate, as Scottsdale experiences about 300 days of sunshine per year.
2. Scottsdale vs Sedona – Location
Sedona is located right in the center of Arizona and is made up of 19 square miles of land that spills into two counties, Yapavai and Coconino. The closest large city to Sedona is Flagstaff, which is about 40 minutes north.
On the other hand, Scottsdale is situated in the more southern part of Arizona and comprises a much larger 144 square miles of land. It is also part of the Phoenix metro area, so it is only about 20 minutes from downtown Phoenix.
When you compare the location of Sedona vs Scottsdale directly, you will see that Sedona is about 2 hours north of Scottsdale and the greater Phoenix metro area.
When comparing their distance to the Grand Canyon, Sedona is closer, although it is still about 2 hours away. That is closer than Scottsdale though, which is about 3.5 hours south of the majestic canyon.
3. Scottsdale vs Sedona – Reputation
The reputation of both cities may be similar in terms attracting a lot of visitors every year, but what attracts their visitors actually differs greatly.
This section will break down exactly what these desert cities are best known for in order for you to discover if Scottsdale or Sedona best aligns with your personality.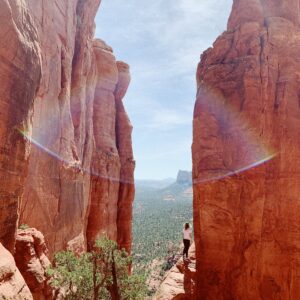 Sedona used to be a quiet retirement community and has recently become quite touristy.
Today, Sedona is known for its breathtaking beauty, a multitude of outdoor adventures, relaxing spa retreats, and its unpolluted night sky.
It is also known for the spiritual, new-age vibes that permeate across the city.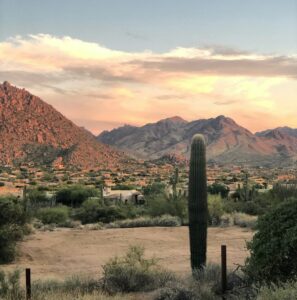 Meanwhile, Scottsdale is quite popular among the jet set crowd as well as golfers and urbanites who love shopping and the nightlife.
Scottsdale is also popular for its admirably beautiful and clean environment, luxury shopping malls, high-end resorts, energetic nightclubs, and lively bars.
It is also one of the finest cities for art, with countless number of galleries across the city, including in Scottsdale's Arts District that is located in its historic Old Town.
If you are looking to visit or move to either Sedona or Scottsdale, it is recommended that you pick the one that best matches your vibe.
4. Scottsdale vs Sedona – Things to Do
In this section between Scottsdale vs Sedona, we found the three best attractions that each city has to offer.
This stunning garden features thousands of arid-land plants that have been collected across the world. Also, there are large-scale arts exhibits that are always on display.
With over 300 days of sunshine, you are bound to experience one of the over 200 high-caliber golf courses that Scottsdale has to offer.
This massive 255 miles nature preserve welcomes hikers, mountain bikers, and horseback riders in its protected desert habitat.
This marvelous architectural beauty features a chapel wedged between the beautiful red rocks of Sedona and is a sight to behold.
If you are looking to hike in Sedona, Bell Rock and the more daring Devil's Bridge are both good locations. Also, the unpolluted Sedona night sky is also a great treat for stargazers.
Many travelers seek out Sedona to experience its unique vortex energy sites that are located across the city. They are thought to help a person's energy flow for improved mindfulness and mental health.
5. Scottsdale vs Sedona – Safety
When comparing the crime rates in Sedona vs Scottsdale, we see that they are both quite safe overall.
According to AreaVibes, Sedona's crime rates are 62% lower than the national average. This small desert city has also seen a steady 6% decrease in crime year-over-year.
Meanwhile, Scottsdale's crime rates are 24% lower than the state average.
While they are both generally regarded as safe places to live, it seems like Sedona is a bit more secure.
6. Scottsdale vs Sedona – Cost of Living
This comparison section will matter most to those who are looking to move to either Scottsdale or Sedona.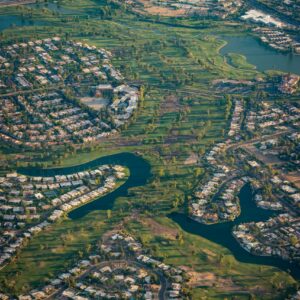 The cost of living in Scottsdale is 28% higher than the Arizona state average.
While most everyday costs like groceries and healthcare are actually lower in Scottsdale, it is housing that makes the biggest dent in the budget.
Housing costs are over 90% higher here than in the rest of the US. In fact, the average home in Scottsdale is currently selling for $750,000 to $850,000.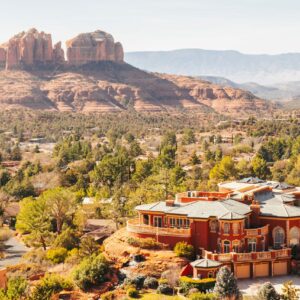 Meanwhile, the cost of living in Sedona is 35% higher than the rest of Arizona.
Just like Scottsdale, Sedona's high cost of living is primarily driven by its elevated housing costs.
The average home in Sedona is being sold for around $850,000, according to the latest sales data from Zillow.
The bottom line is that both are not cheap places to live due to their housing costs. But, their everyday costs are pretty much in line with the rest of the state, so travelers do not need to fear excessively high living costs while visiting these areas.
Scottsdale vs Sedona – Summary
We hope that this detailed evaluation of Sedona vs Scottsdale has helped you to understand which city fits your needs and preferences the best.
Whether it is for your next trip or for your next move, we are confident that this guide will give you the information you need to make the right choice, although there really isn't a wrong answer when it comes to these two fine cities.