Is Hilton Head a Good Place to Live? 8 Pros and Cons of Living in Hilton Head SC in 2023
Is Hilton Head a good place to live in 2023? We found the top 8 pros and cons of living in Hilton Head SC so that you can get an unbiased look into this city.
Based on a series of criteria, helpful data, and the opinions of residents and visitors of Hilton Head, we have determined the top 4 pros and top 4 cons of living on this island in South Carolina.
Known for being a touristic island where families and young adults spend their vacations, Hilton Head is home to approximately 40,000 full-time residents.
It is also regularly considered as one of the best vacation destinations in the United States.
You can enjoy its renowned beaches right on the Atlantic Ocean and the touristic amenities all year round. But, is Hilton Head worth living in throughout the whole year? Are there any issues to consider before moving to Hilton Head?
Indeed, not every aspect of living in Hilton Head is positive and there are some negatives that need to be considered before relocating, which we have also detailed below.
So, let's embark on this journey to South Carolina to answer the question, "is Hilton Head a good place to live?"
Pros and Cons of Living in Hilton Head SC – Top 4 Pros
1. Attractions of Every Kind
The first pro of living in Hilton Head SC is the opportunity to enjoy an extremely wide range of activities and attractions all year round, especially in the great outdoors.
It was even named as the best island in the US by Travel + Leisure Magazine.
Hilton Head Island features beaches, museums, parks, biking trails, excursions at sea, and nature reserves all at your disposal during every season.
Hilton Head truly offers attractions and activities for everybody, from young families to retirees.
For example, there are museums and art galleries such as the Coastal Discovery Museum and the Nash Gallery that boost the cultural aspect of the island.
Additionally, there are parks like Coligny Beach Park that offer a moment of relaxation. Of course, there are also miles of sandy beaches that are home to a wide range of amenities and activities right on the Atlantic Ocean.
Hilton Head is also home to numerous small, locally-owned boutiques and numerous gourmet restaurants that will satisfy virtually all your cravings.
2. A Safe Island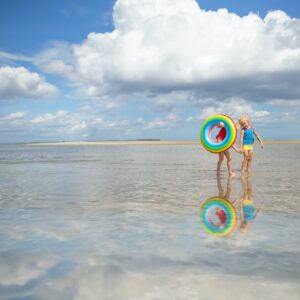 Among all the pros and cons of living in Hilton Head SC, future residents will be happy to know that this island is an extremely safe place.
According to the data available, the crime rates in Hilton Head are about 40% lower when compared to the national average.
This is probably due to the fact that Hilton Head is well-regarded as a tight-knit community where people look after each other.
So, is Hilton Head a good place to live for those who want a secure place in the sun? Then, the answer is yes.
3. Comfortable Weather All Year Round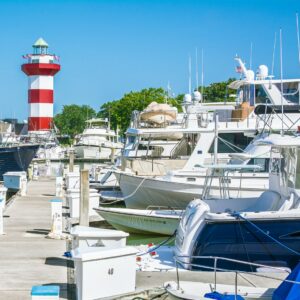 Overall, Hilton Head, SC is a city that enjoys extremely good weather all year round.
The high temperatures during the year range between 59°F and 89°F, so it is rarely ever too hot or too cold, which creates a pretty mild and livable climate.
You rarely have to worry about snow on the island and you can get away with wearing a t-shirt or light jacket throughout most of the year.
Summers may be a bit oppressive because of the humidity, but the highest temperatures that are reached in July here are still lower than the South Carolina state averages.
On the other hand, winters are far warmer than in the rest of the state, with temperatures that are around 7°F higher on average.
4. Strong Employment Region
When evaluating the pros and cons of living in Hilton Head SC, we found that the job market is another positive aspect of living in this city.
Since tourism is a major part of Hilton Head, the hospitality and service industries generate many job opportunities for the region.
The city's largest employers include hotels like Marriott and Hilton alongside many other retail and healthcare companies.
The construction and real estate sector is also a large part of the job market, making up almost 15% of the total number of employees in the area.
Additionally, the data shows that Hilton Head's income per capita is far higher than the national average and almost double the rest of South Carolina.
Unemployment and poverty rates are also lower than the national average.
Pros and Cons of Living in Hilton Head SC – Our Top 4 Cons
1. Risk of Flooding and Hurricanes
Despite an overall good climate, one of the biggest issues about living in Hilton Head Island is the risk of natural disasters and flooding that its residents may face.
Properties that are closer to the island's borders at low elevations are the most at-risk of flooding, especially during the rainy season.
Most of you are probably well-aware that South Carolina is in the direct path of many hurricanes each year. But, it is also one of the most affected states for tornadoes as well.
Therefore, living in Hilton Head may expose you to several natural risks.
2. Higher Cost of Living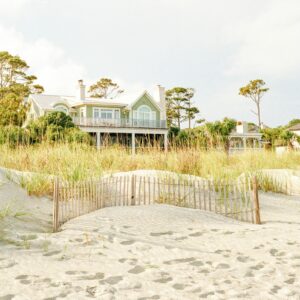 Another negative of living in Hilton Head is its higher cost of living when compared to the state and national average.
Excluding utilities, most of the goods and services, such as health care services and groceries, are more expensive in Hilton Head than in the rest of South Carolina.
Overall cost of living is roughly 35% higher in Hilton Head than in the rest of the state.
This elevated figure is mainly driven by the high costs of housing. In fact, the median home cost here is almost double the rest of the United States while rentals are also pretty expensive.
The average price for a home in Hilton Head is currently around $600,000 to $700,000 in 2023.
Of all the pros and cons of living in Hilton Head SC, we think that this issue will likely have the biggest impact on your decision to relocate, so plan ahead and check out the real estate market beforehand.
3. A Car Dependant Island
According to Walkscore, Hilton Head has an extremely low walkability score of 13 out of 100, while its bike score is a 46 out of 100.
If we exclude the bike trails on the beach, the town does not have a lot of bike lanes or infrastructure.
Ultimately, most errands will require a car around Hilton Head. There isn't really a walkable downtown area, as most commercial areas are spread out and not as dense as places like downtown Charleston.
But, you can still find some pedestrian boardwalks around town that connect different plazas.
So, is Hilton Head a good place to live for those looking for an extremely walkable and bikeable beach community? Then, the answer is no.
4. Overcrowded During Summer
If you're looking for peace and quiet all year round, the summer months in Hilton Head Island may become a bit challenging for you.
It is one of the most famous tourist destinations in the US and brings in about 2.5 million visitors each year, especially during late spring and summer.
That is a huge influx for an island that is just 12 miles long and 5 miles wide.
Despite its great support for the local economy, such big crowds in a relatively small town and island may make full-time residents feel a bit congested and not so relaxed.
Is Hilton Head a Good Place to Live? Summary
These are all the top pros and cons of living in Hilton Head SC in 2023. If you are looking for a small and safe town with tons of amenities and attractions, then Hilton Head may be the place for you.
But, if you prefer a lower cost of life and less tourists, then you may want to look for another place.
If this is the case, take a look at our unbiased review of the top cities to live in South Carolina to find other options.