Charleston vs New Orleans – 2023 Full Comparison Guide
This in-depth guide will give you all the details about Charleston vs New Orleans if you are trying to decide between these two charming Southern cities.
Whether it is for your next trip or for the next city to live in, both Charleston, South Carolina and New Orleans, Louisiana are wonderful American cities with individual cultures, histories, and qualities that make each city unlike any other.
But which should you choose for your next vacation destination? Which one offers a better lifestyle for its residents all year-round? It all depends on what you are looking for during your experiences.
Therefore, we will compare both cities across six major categories:
Overview

Location

Reputation

Things to Do

Safety

Cost Comparison
Read on to learn more about each of these colorful American cities and see if you belong more in New Orleans or Charleston.
Charleston vs New Orleans – Overview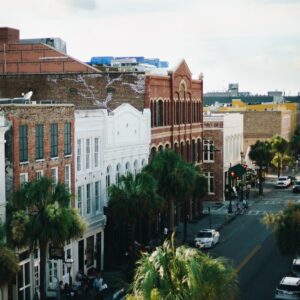 Despite its popularity, the small city of Charleston is only about a third of the size of New Orleans, with a population of around 135,000 compared to the Big Easy's population of over 390,000 according to the 2020 U.S. Census.
If you are one who doesn't like crowds, Charleston might be better for you, as its smaller population helps it maintain its slow pace and Southern Charm that is difficult to attain in a larger city.
We also listed Charleston as one of South Carolina's top cities for 2023.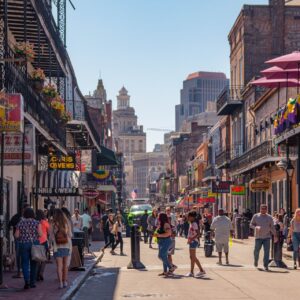 On the other hand, New Orleans' larger population is actually what makes it unique, but we will cover the specifics further down.
Charleston, SC is somewhat walkable, with a walkability score of 40 and a bikeability score of 50. It has minimal public transportation, so keep this in mind if you choose Charleston as your next destination.
New Orleans, LA is the more walkable and bikeable of the two cities, with a walkability score of 58 and a bikeability score of 66. It also has more reliable public transit than Charleston, making it more possible to get to various destinations within the city.
Charleston vs New Orleans – Location
If you compare the location between New Orleans vs Charleston head-to-head, you will see that they are about 760 miles apart. That is about an 11 hour drive or a 2 hour flight. Therefore, it is really not possible to visit both cities in one trip.
Here is a link to Google Maps to show the distance between these two cities.
Charleston, SC
Charleston is located in the eastern part of South Carolina right on the shores of the Atlantic Ocean and lies within 15 minutes of two iconic South Carolina beaches, the closest being the popular Folly Beach and Sullivan's Island. Both beaches are considered among the best beaches along the South Carolina coast.
Its proximity to the beaches is a great asset to consider if you are planning on vacationing in the summer when you are searching for a way to cool off in the sticky Southern heat.
Just over a half hour's drive from Charleston lies the beautiful and tranquil Wadmalaw Island, where you can tour the Deep Water Vineyard and the Charleston Tea Plantation, where the only American-grown tea is from.
If you have some extra time on your hands, Myrtle Beach is a 2 hour drive from Charleston. Additionally, Beaufort, SC is an ideal attraction for history lovers and is about 1.5 hours from Charleston.
New Orleans
Meanwhile, New Orleans is situated right in the heart of the Deep South and is located in the southern part of Louisiana on the warm waters of the Gulf of Mexico.
While New Orleans has a plethora of attractions within the city, it lies within driving distance of several points of interest as well. One notable attraction is Houmas House Plantation and Garden, which is one of the best preserved plantations in existence.
If you are more adventurous and want to spend your vacation checking out local wildlife and all the scenic beauty that southern Louisiana has to offer, check out Old Mandeville and Fontainebleau State Park, both of which are a roughly 50 minute drive from New Orleans.
Charleston vs New Orleans – Reputation
Charleston
This South Carolina port city is most known for its historical significance and deep southern roots. Its architecture reflects its heritage from the 1800s and helps add to its distinct culture. It is also routinely ranked as one of the best places in the US to visit and to live in.
In addition, locals report that the city offers a small-town community vibe, despite the city's relatively large size.
New Orleans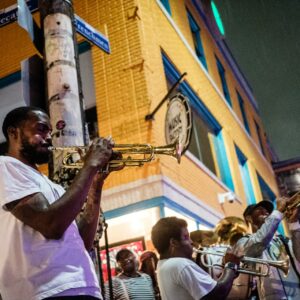 This famous city is known most for its vibrant nightlife, music, food, Mardi Gras celebrations, and a unique blend of cultures – most notably French and Haitian Creole.
It is also known as the birthplace of jazz, where the early versions of this popular genre reflected African and Haitian Creole influences. The city is also well known for its distinctive and delicious Creole and Cajun cuisine.
Charleston vs New Orleans – Things to Do
Charleston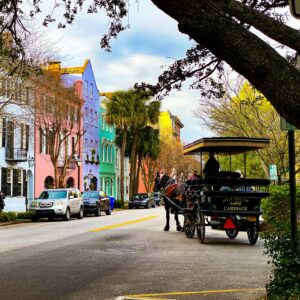 You don't just have to experience the history of Charleston just in the architecture of the city. A plethora of museums and historical sites are sure to satisfy any history buff, including Fort Sumter National Monument and the Nathaniel Russell House.
For those preferring to enjoy the outdoors, consider a boat tour along the coast or a carriage tour through downtown Charleston. Walking tours are also available through various parts of the city – just don't forget to wear comfortable shoes along its famous cobblestone streets.
New Orleans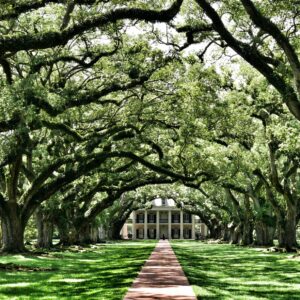 Whether you are an avid sightseer or a cultured foodie searching for the ultimate Cajun cuisine, New Orleans has something for everyone. You can take a steamboat tour through swamps teeming with native flora and fauna or visit some of its famous historical sites, such as the well-preserved Oak Alley Plantation.
If you're brave, there are many ghost tours available, as New Orleans is considered one of the most haunted cities in America.
No New Orleans vacation is complete without visiting the historic French Quarter, which is marked by its notable French and Spanish architecture and vibrant nightlife along Bourbon Street.
Charleston vs New Orleans – Safety
Charleston
The crime rates in Charleston are about 18% above the national average, but they are about 15% lower than the rest of the state, which makes it a relatively safe place for both locals and out-of-towners.
The downtown core of Charleston has a reputation of being quite safe, while there are several outlying neighborhoods like in North Charleston that historically have higher crime rates.
New Orleans
Despite the popularity of the city for both vacationers and residents, New Orleans' crime rates are about 240% above the national average.
Still, locals say that they feel relatively secure. You just have to use some common sense and have some awareness, just like in any other major city.
Charleston vs New Orleans – Cost Comparison
Charleston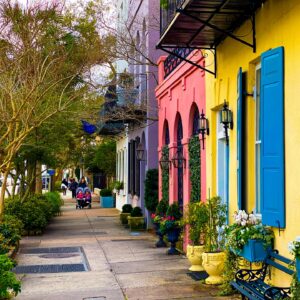 It costs about $136 per person per day during a trip to Charleston. This means for a one-week vacation for two adults, you'll end up spending just shy of $2,000 total. Of course, it is more if it's a family vacation and you have children.
Despite being the cheaper vacation destination of the two cities, Charleston has a much higher cost of living compared to New Orleans. With housing prices a whopping 35% above the national average, it might be better to visit than to live here.
New Orleans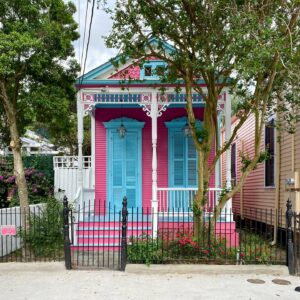 New Orleans proves to be the more expensive destination of the two, with a daily cost of about $191 per person. For two adults to take a one-week vacation, you will end up spending roughly $2,600.
The cost of living in New Orleans is only 1% above the national average, with housing and healthcare costs just slightly higher. Between New Orleans or Charleston, the Big Easy proves the cheaper city to live in.
Charleston vs New Orleans – Summary
Overall, there really isn't a wrong choice between New Orleans vs Charleston. Both offer a unique blend of Southern charm and exciting things to do for virtually all ages to enjoy.
Both cities also offer great action along their waterfronts and an excellent, walkable core.
While Charleston is a bit cheaper for travelers, it is more expensive to live in overall.
So, your choice will ultimately depend on your preferences and budget, but we think that you will certainly be happy either way.