Fort Lauderdale vs Orlando – Full Guide for Visiting & Living in 2023
Are you wondering about the difference between Fort Lauderdale vs Orlando to travel to or to move to? Our in-depth guide breaks down all the details for you.
Orlando and Fort Lauderdale are the 4th and 10th largest cities in Florida and offer different lifestyles and experiences based on these cities' cost of living, culture, and unique surroundings.
Each city also has various and unique things to do for its residents and visitors that the other one does not offer.
So, let's see all the details on the key points that you must consider when choosing between Fort Lauderdale or Orlando.
1. Fort Lauderdale vs Orlando – Overview
Fort Lauderdale is a stunning coastal city that is located 30 miles north of Miami. It is known as the "Venice of America" due to the series of canals and waterways that can be found across the city.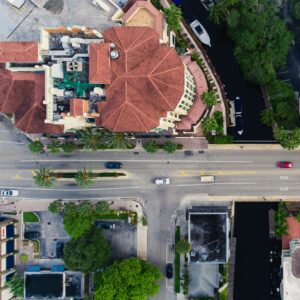 It is also recognized as the yachting capital of the world, with 50,000 registered yachts and 100 marinas.
Meanwhile, Orlando is located right in the middle of Florida and is one of the most visited cities globally because of its theme parks and the major events that it hosts. It has also earned the nickname "The City Beautiful" for its tranquil green landscape.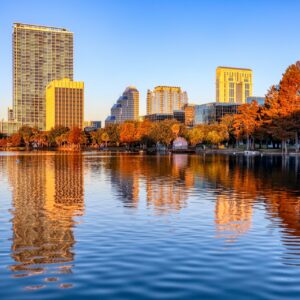 Orlando is spread over a larger area than Fort Lauderdale and is also more densely populated.
Fort Lauderdale is adjacent to the Atlantic Ocean and is blessed with a 24 mile stretch of beaches that you can walk on or relax on.
On the other hand, Orlando is filled with lakes that offer lakefront paths and wooded trails that you can explore.
Due to their size, you will definitely need to take a car to get around both cities.
They both offer public transportation, but it is not as extensive as you may need it to be.
2. Fort Lauderdale vs Orlando – Climate
There is not much of a difference between Fort Lauderdale or Orlando when it comes to weather as both cities offer many days with warm sunshine the whole year-round.
Fort Lauderdale has a tropical rainforest climate, meaning it has only a wet and dry season. Orlando's climate is defined as a humid subtropical climate with only two basic seasons, hot and rainy.
Additionally, there is only a slight difference in their average high temperatures. In Fort Lauderdale, the average highs range from 75°F to 90°F throughout the year, while in Orlando, the average highs range is a bit larger, ranging from 71°F to 92°F.
3. Fort Lauderdale vs Orlando – Cost of Living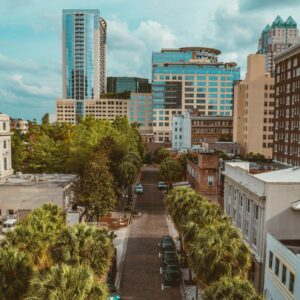 The cost of living in Fort Lauderdale is 15% higher than the Florida average, while in Orlando, it is actually 2% lower.
That makes Fort Lauderdale roughly 17% more expensive than Orlando when you compare them head-to-head.
Expectedly, Fort Lauderdale is quite pricey because it is Florida's 7th most expensive city.
A big factor that drives this difference between Orlando vs Fort Lauderdale is housing costs. The average home value in Fort Lauderdale is roughly $400,000 to $500,000 these days while average Orlando prices are a more reasonable $300,000 to $400,000.
Still, many are attracted to relocate to these Florida cities as the state's tourism-related tax revenues help to offset state taxes, meaning that there is zero state income tax.
Learn more about how much you can save in Florida on income taxes in our latest research article.
4. Fort Lauderdale vs Orlando – Job Market
Although both cities' job markets have grown over the past few years, job growth is stronger in Orlando than it is in Fort Lauderdale.
The tourism industry in Orlando generates a lot of job opportunities through the numerous theme parks, resorts, and hotels in the area. The downside is that wages are 22% lower than the national average.
Still, the predicted job growth for both places remains positive. In Orlando, the expected 10-year job growth is 51%, while in Fort Lauderdale, it is expected to expand by 38%, which are both much higher than the national average.
Ultimately, when it comes to Orlando vs Fort Lauderdale for jobs, Orlando is the place to be for people looking for the most number of job opportunities.
It is also becoming one of the region's leading tech and finance hubs, with numerous small startups flocking to Orlando in recent years.
5. Fort Lauderdale vs Orlando – Things to Do for Travelers
When it comes to the activities in Orlando or Fort Lauderdale, each city offers a vastly different experience for travelers.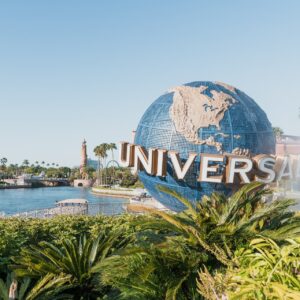 Orlando is known for its numerous theme parks for local and foreign holidaymakers.
Orlando is also one of the most-visited cities globally, mainly due to tourism, conventions, and other major events.
On the other hand, Fort Lauderdale offers a more serene and picturesque experience on its sandy beachfront.
Orlando is known to outsiders as a tourist city, with 51 million tourists visiting each year. In this splendid city, you can find two of the largest and most popular tourist attractions, Walt Disney World and Universal Studios Orlando.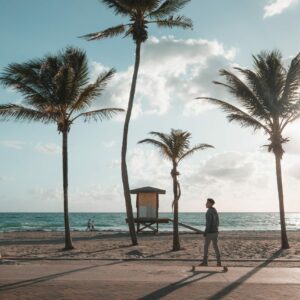 Meanwhile, Fort Lauderdale receives an average of 23 million tourists every year, almost only half of what Orlando gets. But unlike Orlando, travelers can experience a different kind of vacation in Fort Lauderdale, which is more relaxed and more in tune with nature.
Orlando certainly wins as a family destination, but Fort Lauderdale may be preferred for those who just want to relax. Also, Fort Lauderdale is only 40 minutes from Miami.
6. Fort Lauderdale vs Orlando – Things to Do for Residents
The way of life in Orlando vs Fort Lauderdale differs in several key areas.
In Orlando, the lifestyle depends on the area you choose for your home. Expect a bustling lifestyle if you pick a place in the downtown district, where streets are lined with nightclubs, restaurants, and concert halls. Orlando also offers lakefront houses that are more suburban and laid-back.
When you consider living in a city where you are on vacation the whole year round, Fort Lauderdale must be the place for you. The weather, the sights, and the laid-back atmosphere is enough to lure travelers of any age into extending their vacation indefinitely.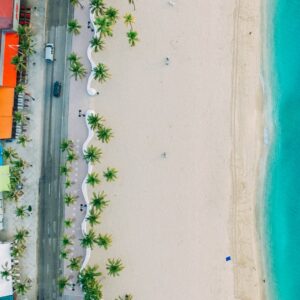 You can also find tons of parks and recreational activities outdoors in Fort Lauderdale that can keep you on the move. For example, you can go for a walk with your dog, swim, run, hike, kayak, paddleboard, or ride a bike outside as there are tons of activities that individuals or families can enjoy.
But, Fort Lauderdale also offers a nice downtown district. Don't miss the chic Las Olas area, which is home to galleries, boutiques, fine dining, and cocktail lounges.
7. Fort Lauderdale vs Orlando – Culture
Orlando is bustling with numerous festivals and events throughout the whole year. Some of the most popular events that residents and tourists enjoy are the Orlando Wine Festival, where you get to taste wines from around the globe, as well as the Caribbean Food and Music Festival.
On the other hand, Fort Lauderdale is a quieter and more relaxing place. Fort Lauderdale has its share of music and food festivals, such as the Tortuga Music Festival, a three-day party that is held by the beach. The city is also full of art galleries, historical sites, and museums if you prefer a quieter way to spend your day.
Overall, the vibe in Orlando is more family-oriented in most parts and quite down-to-earth. Fort Lauderdale's reputation is more as a glamorous place where people don't hide their wealth, but also where the pace of life is slower.
Fort Lauderdale vs Orlando – Summary
When comparing Orlando vs Fort Lauderdale, both offer a great location and a variety of experiences for residents and travelers alike.
If you are more attracted to an active city life and love going to theme parks, then Orlando is your answer.
But, if you are looking for an upscale experience with a quieter and laid-back lifestyle near the sand and sea, then Fort Lauderdale is your best fit.